Meet Derek and Julianne Hough's Three Lookalike Sisters
Julianne and Derek Hough are one of the most iconic pair of siblings in the entertainment industry. Both are professional dancers, actors and overall entertainers that have taken the industry by storm since making their TV debut in "Dancing with the Stars."
The brother-sister duo shares more than just a striking physical resemblance: they're also passionate professional dancers with a desire to help others and make the world a better place.
The youngest of five siblings born to Marianne and Bruce Hough, Julianne and Derek have three older sisters that are not part of the entertainment industry, but support them in all their endeavors.
MEET THE SISTERS
Sharee Hough is the eldest of the bunch.
She is a mother of six and married to Mark Selman; surprisingly, none of the children are his.
Sharee was married before for over two decades to a man named Randell, with whom she shares daughters Paris, Skye, and Star, and sons, Quaid and Bronson.
She's also a dance teacher, fitness instructor, trainer and world traveler.
Marabeth Hough has been married to Michael Pooles since 2012 and they share son Aidan.
She's a certified Holistic Health Coach and also works as a realtor.
She once tried her luck in the entertainment industry making stunt work in the films "Johnny Tsunami" and "White Wolves 3: Cry of the White Wolf."
Katherine Hough is a mother of three girls, Ariana and Adilynn, whom she shares with ex-husband Tony Phillips; and Avery, her first daughter with fiancé T.J. Drechsel.
In 2011, Katherine was a backup dancer in a cowboy dance scene in the movie "Footloose," where her sister Julienne had the main role.
Katherine has been an esthetician for 18 years and owns a spa called Skin by Katherine in Utah.
The three sisters are proud of their little siblings' achievements, and they have been their biggest supporters from day one. So, here's a look back at Julianne and Derek Hough's rising careers as dancers.
STARS ON THE MAKING
It all started when Julianne was 10 and Derek was 12, when their divorcing parents decided to send them to London to live and study with their coaches and family friends Corky and Shirley Ballas.
There, Julianne and Derek enrolled at the prestigious Italia Conti Academy of Theatre Arts, where they received training in theatre, gymnastics, and several dance genres like jazz, ballet, and tap.
It was a rough time in the siblings' life, as not only did they had to follow a strict routine that started at 6:45 am, but Julianne said she also endured physical and mental abuse from her coaches.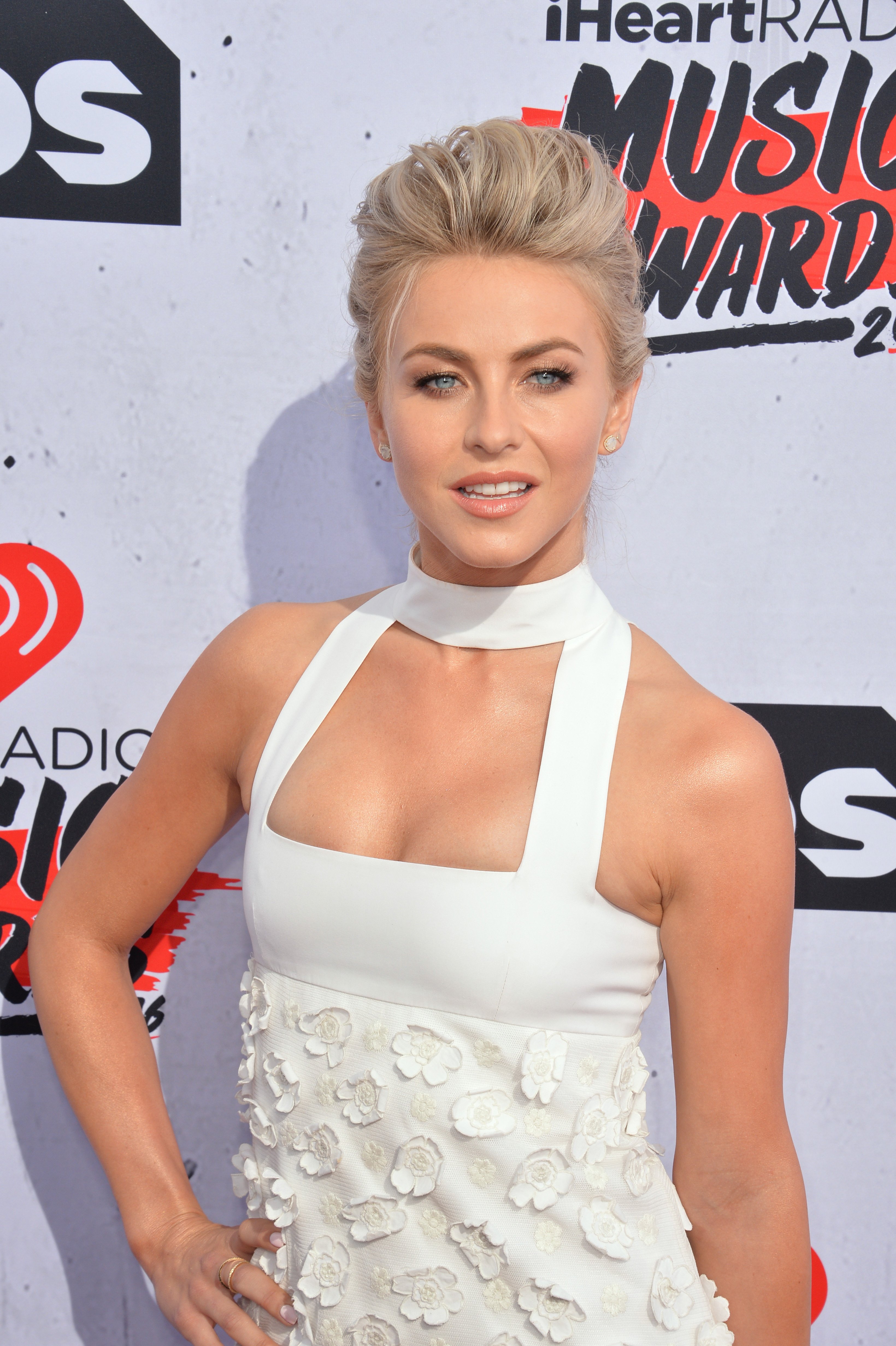 "While I was in London, I was abused, mentally, physically, everything," she told Cosmopolitan, adding that things got worse "when I started hitting puberty when I started becoming a woman and stopped being a little girl."
At 15, Julianne became the youngest contestant to win both the  Junior World Latin Champion and the International Latin Youth Champion at the Blackpool Dance Festival. She returned to the U.S that same year, while Derek remained in London for five more years.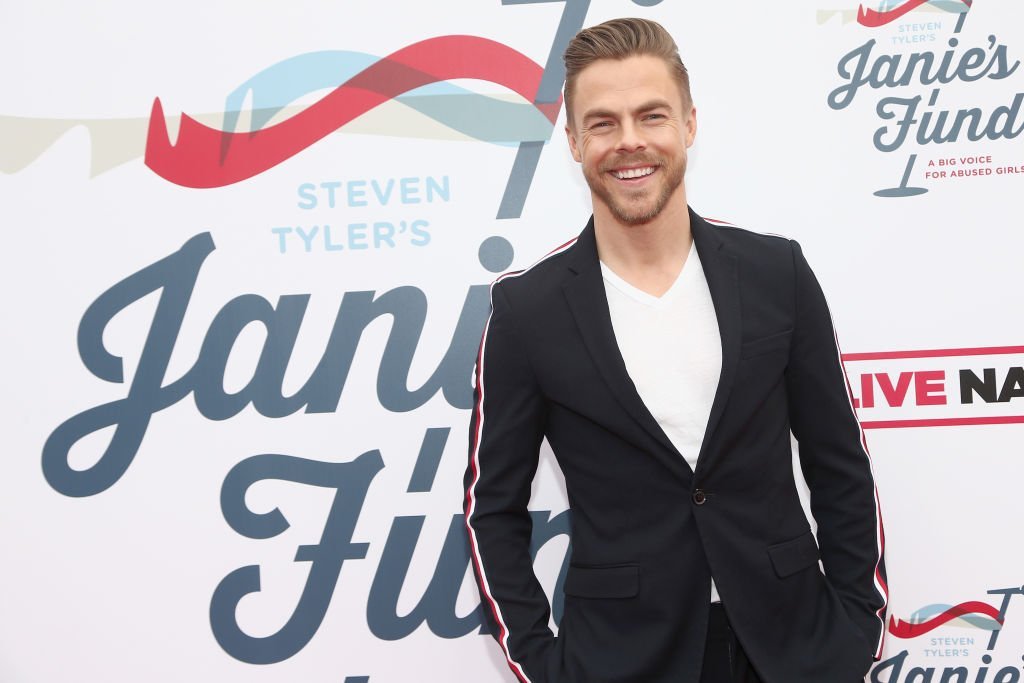 DIFFERENT PATHS, SAME DREAM
Although Julianne and Derek have followed similar career paths, their approach was different from the start.
Derek made his debut in theaters playing the lead in "Jesus Christ Superstar" at the Millfield Theatre in 2004. The following year, he joined the dancing ensemble in a "Chitty Chitty Bang Bang" production at the London Palladium, and in 2006 he brought the role of Ren McCormack to life the UK national tour of "Footloose: The Musical."
Back home, Julianne joined the Million Dollar Dancers in the 2006 ABC game show "Show Me the Money."
REUNITED ONCE AGAIN
In 2007, Julianne joined "Dancing with the Stars" on its fourth season alongside Olympic speed skater Apolo Ohno. Derek made an appearance as a guest instructor helping his sister and Ohno.
Julianne and Apolo won the first place in the competition, making her the youngest pro-dancer to win the show.
Both Julianne and Derek returned to the show on its fifth season. This time, Julianne was paired with  Indianapolis 500 champion Hélio Castroneves, while Derek made his debut as a pro-dancer alongside Jennie Garth.
Derek and Jennie were eliminated in the semi-finals, finishing in fourth place. Julianne and Hélio became the winners.
Julianne returned to the show three more seasons after that but was eliminated in all of them. She did return to perform several times on the show and even substituted Len Goodman as a guest judge in 2013. The following year she returned as the show's permanent fourth judge.
Derek, on the other hand, participated in 16 seasons more and now holds the record for most wins in the competition with six trophies under his belt.
OTHER ADVENTURES AND RECOGNITIONS
The Hough siblings are Primetime Emmy Awards winners on the Outstanding Choreography category.
They have also taken part in networks live musicals—Julianne was Sandy in Fox's "Grease Live" and Derek was Corny Collins in NBC's "Hairspray Live!" — and have joined the judging panel in dancing competitions on TV.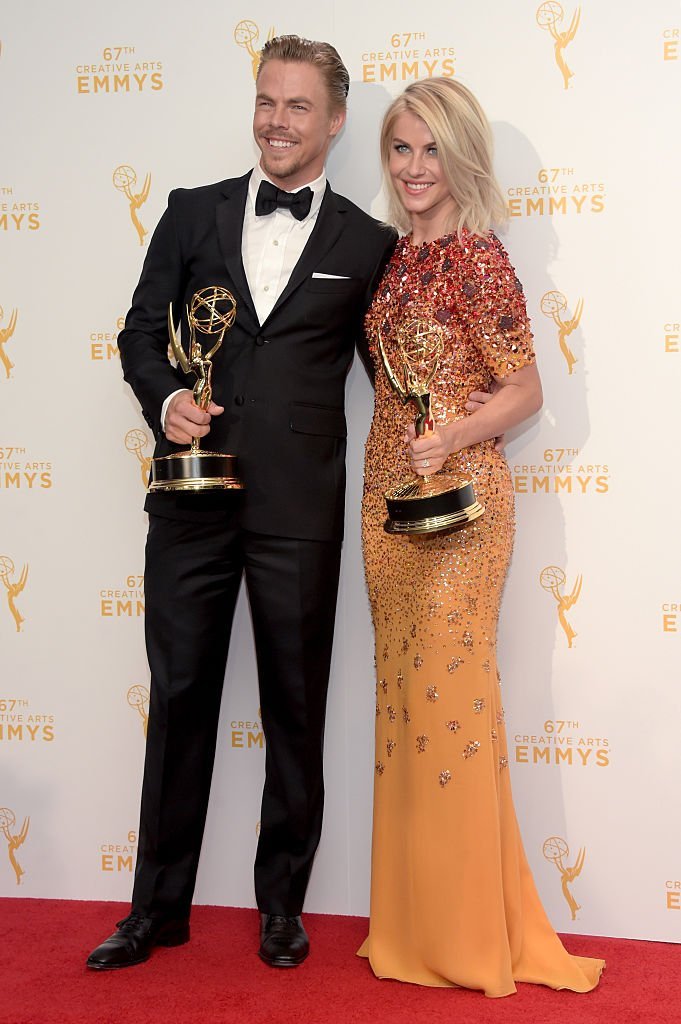 "To have somebody that close, that's like in the same world as you, that understands it ... we've both been very, very lucky to be each other's support." - Julianne Hough.
Derek is currently a judge on "World of Dance" alongside Jennifer Lopez and Ne-Yo; and Julianne joined the panel of "American's Got Talent" with Simon Cowell, Howie Mandel, and Gabrielle Union this year.
"I am so thankful to have the opportunity to share something that I love, with someone that I love. You're an incredible sister and even more so an amazing human being." Derek Hough.
Julianne tried her luck on the music world with a self-titled album that debuted on the number 1 spot of the Top Country Albums in 2007. She also won the Top New Artist award at the 44th Annual Academy of Country Music Awards in 2009.
Both siblings have taken acting roles in several series and movies, and they've toured around the country with their joint show "More Live on Tour."
PERSONAL LIVES
Julianne married NHL player Brooks Laich in July 2017.
Although the couple has been trying to enlarge their family, Julianne was diagnosed with endometriosis, making it difficult for them to conceive.
In July, Laich revealed they began the IVF process last year, praising his wife for being a "warrior" throughout the entire process.
Derek, on the other hand, has been dating fellow dancer Hayley Erbert since 2015.
Although there have been rumors about their engagement, Derek once revealed that he wants to be sure the timing is right whenever he proposes because he wants to marry once. He told Entertainment Tonight.
"I want to be with that person that I love dearly. I want to get to know that person. I feel like, if anything, it's something that I don't feel like should be rushed into doing at all."
SUPPORTING EACH OTHER
While Derek and Julianne continue shining with their incredible talent, their bond has remained intact throughout the years. If anything, it has grown stronger because they can share the struggles of being under the spotlight.
"I am so thankful to have the opportunity to share something that I love, with someone that I love. You're an incredible sister and even more so an amazing human being," Derek once told his sister on an Instagram post.
Julianne, on the other hand, said that "to have somebody that close, that's like in the same world as you, that understands it ... we've both been very, very lucky to be each other's support."