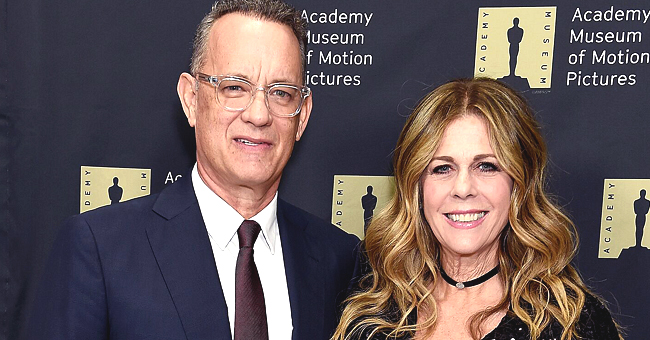 Getty Images.
Rita Wilson Shares Rare Throwback Photo from a Date Night with Young Tom Hanks
Rita Wilson and Tom Hanks have been together for years. She shared a rare throwback photo from one of their date nights, and they looked charming.
Rita Wilson loves her husband, Tom Hanks, with the same intensity she did when they first met. She shared a rare throwback photo of the two of them on Instagram, from one of their date nights in the 1980s, and they looked charming.
In it, a young Hanks dressed in a black suit, white shirt, and bow tie, had his left arm around Wilson who wore a black dress. In the accompanying caption, the actress-singer wrote,
"@Tomhanks and I have been on a lot of date nights over the years, even with the bad '80s hair."
Wilson, who accompanied the photo with her new song, "Date Night," asked her followers to make sure they get it "where music is sold and streamed." Her followers commented on how they love her long-standing marriage with the actor and how talented she is.
The "Sleepless in Seattle" star and Hanks have been together for over three decades. They met for the first time on the set of "The Brady Bunch," but didn't become friends until meeting again while filming "Volunteers."
At the time, the actor has divorced his first wife, Samantha Lewis, and started a relationship with his now-wife. By 1988, the "Volunteers" co-stars got married, and have since stayed that way.
Hanks, while explaining the success of their marriage to Oprah Winfrey, said,
"Our relationship is not magic."
He added that they got married for all the right reasons, explaining,
"The success of our marriage was a matter of timing, maturity, and our willingness to have an intimate connection."
In a separate interview, Wilson reiterated her husband's words, saying,
"We make a conscious decision to make our relationship work… Not only do we love each other, we really like each other, and we like being together. We support each other and keep the communication line open."
The couple's marriage is a testament to those words, and when the actress got diagnosed with breast cancer in 2015, Hanks stood by her and supported her till she got well.
In a candid Instagram post in March, Wilson relieved that time of her life, stating that when she confronted her mortality, she told Hanks, to ensure he is sad for a long time, and afterward, throw her a party.
Fortunately, that didn't happen, and Wilson and Hanks, are still together, going on date nights, and having the time of their lives.
Please fill in your e-mail so we can share with you our top stories!