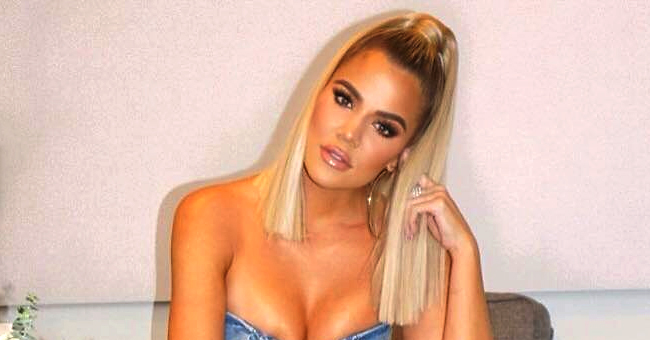 Instagram/khloekardashian
Khloé Kardashian Responds to Criticism over True & Chicago's 'Counting Calories' Photo

Khloe shows she has no chill pill as she claps back at hater who shames her for True and Chicago's 'counting calories' photo.
Kim and Khloe Kardashian are having a swell summer in the exotic islands of Bahamas, and usual, they are not without their 'mini-me.'
The super mums took their girls, Chicago and True on the adventurous trip and have been keeping their fans up to date with all that has been happening with amazing photos of the gram.
Unfortunately, the updates have not been without criticism.
In the spirit of chilling, Khloe took to Instagram to share, and adorable photo of BFF cousins, True and Chicago in their beach wears. True was in a leopard-print swimsuit with a super cool shade on while Chicago was rocking a cute black-and-white lace bathing suit.
After sharing shots of the girls sipping water from their cops, the 35-year-old posted three images of the little cuties downing bags of snacks. True was digging her hands in a pack of Garden Veggie straws while Chicago had Cheetos Puffs.
The "Revenge Body" host chose to go playful with the caption of a conversation between the girls. She wrote:
"Chi: I heard my mama say "vacation calories don't count"
True: Don't tell me twice, Chi."
Although it was hilarious, many internet users took it wrongly and slammed the mother-of-one for 'introducing the diet culture' to the girls.
Of course, Khloe didn't allow internet users to misinterpret her message without going down with a fight, as revealed by PEOPLE.
To the post on Instagram, a user wrote:
"Omg, a baby doesn't need to be counting calories."
To which Khloe replied:
"Obviously. You're not well if you think babies count calories," with an eye-rolling emoji."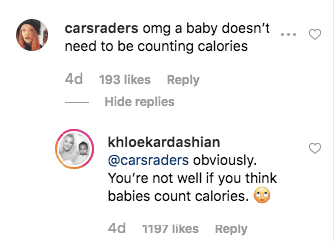 Instagram/khloekardashian
The week hasn't been free of mum shamers for Khloe, but she has proven to be their worst nightmare at every avenue.
When a mum-shamer accused her of using baby True as an accessory, the doting mum responded gracefully to the backlash saying:
"Would you like a parent NOT to create memories and traditions with their child? Would you like someone else to watch my child and me to do these things on my own?. I am her mother, and we will celebrate life together every day. True and I are creating magical memories TOGETHER FOREVER."
Khloe is no doubt on fire! Hopefully, this will teach the mum-shamers will stay clear of her!
Please fill in your e-mail so we can share with you our top stories!