Kelly Ripa Posts Throwback Family Photo as Her Daughter Lola Heads to College
Kelly Ripa and her husband, Mark Consuelos get emotional as they prepare to send their daughter, Lola Consuelos, off to college.
The "Live with Kelly and Ryan" host, Kelly Ripa and "Riverdale's," Mark Consuelos are preparing to say those dreaded goodbyes to their college bound daughter, Lola Consuelos. The couple have been married for 20 years and have three children together, Michael Consuelos, Lola Consuelos and Joaquin Consuelos. 
According to US Weekly, Ripa named her daughter after the Barry Manilow's song "Copacabana." Ripa was in labour and on her way to the hospital when the hit song started playing in the taxi. The lyrics mention the name "Lola," and in that moment the couple knew it would be a perfect name for their daughter.
Their eldest, Michael is already in college. But that doesn't make preparing Lola to leave any easier for the family. An emotional Ripa shared a throwback picture of Lola's christening with the caption:
"#tbt 2001 from your Christening to college. In the blink of an eye. I'm not crying. You're crying ?(actually Daddy's sobbing) ?"
The crying emojis in Ripa's post have caused a ripple effect with her fans, her comment section has several people sending out crying emoji's too. 


One mother who can understand what Ripa is going through right now, is Lisa Rinna, the "Real Housewives of Beverly Hills" star recently travelled to New York with her husband Harry Hamlin to drop off their сollege bound daughter, Amelia Gray Hamlin. Relating to what Ripa is going through Rinna writes:
"I'm sobbing!!!!!!"

It is not all tears, fans also sent out congratulatory messages to the mother of three.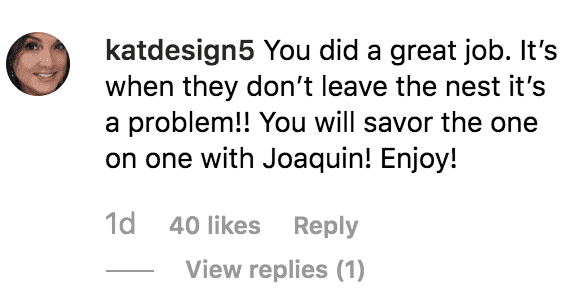 Lola is Ripa and Consuelos' only daughter. Looking strikingly like her mother, she has a close relationship with the television host. Ripa often shares hilarious anecdotes about Lola such as, her walking in the couple being intimate, on her 18 birthday. Ripa recalls the moment saying:
"She shuts the door and you hear, 'You just ruined my birthday! And my life!"
Now that Lola is off to college, the couple might be able to get a little more privacy. Ripa has always joked about how excited she is to be an empty nester. With two out the door, they have one more child wating for fly out the nest.
Ripa has always stayed relatable to audiences, often sharing and over-sharing details of her life. With two children in college, she is sure to keep viewers entertained with college mom stories.