Amy Schumer's 3-Month-Old Son Gene Chews on Her Sister Kim Caramele's Hand in a New Video
Amy Schumer writes a hilarious caption for a video of her son nibbling on her sister's hand. 
It is snack time for Amy Schumer's three-month-old son, Gene Attell. The comedian shares a video of her sister, Kim Caramele, enjoying some bonding time with Gene. For the caption she writes:
"Gene treats Kim's hand like ?"
The corn emoji alludes to Kim's hand being like a cob of corn. Sweet corn we hope, because Gene seems enamoured. Sitting on Kim's lap, Gene nibbles on her hand while she lovingly looks down at him. Schumer can be heard in the background saying:
"Gene are you eating your aunt?"
The precious moment has fans gushing over Gene, and who can resist, he looks adorable.


The video has fans noticing how much Gene looks like his famous mother. Others may beg to differ and think he looks like his father. Either way, fans are all in agreement that Gene is adorable.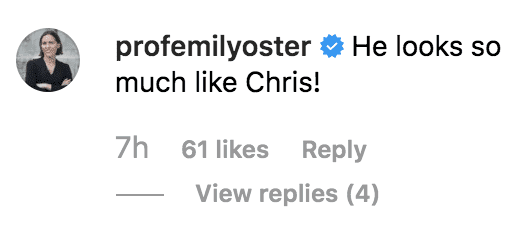 Schumer and her husband, Chris Fisher welcomed Gene on May 5. At only three-months-old, Gene has already experienced his fair share of media attention. His unique name had Instagram buzzing about the its origin. Schumer also famously defended her son with a witty comeback, when a fan asked how she would cope if Gene had inherited autism from his father. The Comedian responded:
"I'd be disappointed if he liked the Big Bang theory and nascar not if he has ASD." 
After revealing in her Netflix special, "Growing," that her husband has been diagnosed with an autism spectrum disorder, Schemer faced backlash for the joke. Never one to take herself seriously she shares:
"Once he was diagnosed, it dawned on me how funny it was, because all of the characteristics that make it clear that he's on the spectrum are all of the reasons that I fell madly in love with him."
The unapologetic mother has taken off all filters when it comes to motherhood. She confidently posts her content make-free, wearing casual clothes that often has people mocking her.
Schumer has introduced social media to the real side of parenting from pregnancy nausea, C-section scars in stretchy hospital underwear, pumping milk to hilarious texts from best friend, Jennifer Lawrence feeling jealous of the baby. Motherhood could not get any more real.