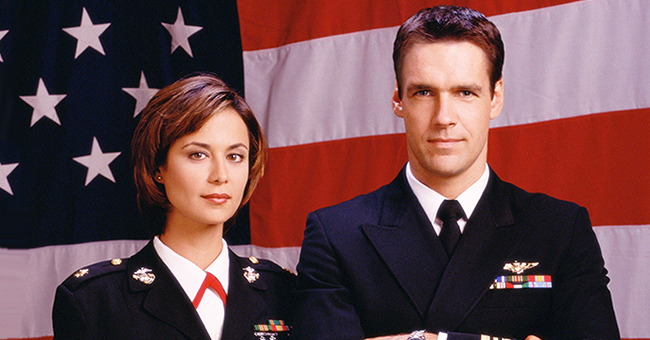 Getty Images
NCIS: LA Hints There Could Be a Chance for Jag's Mac and Harm
Fans of "NCIS: LA" could be in for a lovely surprise when the eleventh season of the hit series premieres. The surprise comes in the shape of a reunion of "JAG" characters Mac and Harm in "NCIS: LA's" new season.
When the final season of CBS's "JAG" ended, many of its fans were left with the notion that stars of the series, Mac and Harm, played by Catherine Bell and David James Elliot respectively, were bound to get married.
However, those feelings were crushed in the final episode of CBS's "NCIS: LA" when the onscreen couple revealed in a video chat that they hadn't seen each other in years.
However, there could be hope for the couple and fans alike when "NCIS: LA" makes its return to the screens.
WHAT TRANSPIRED IN "NCIS: LA" SEASON 10 FINALE
The final episode of the series' tenth season ended with Mac and Harm's reunion, though via a video chat. While investigating a crisis, Callen and Sam met with Harm, who is now the XO of the USS Allegiance.
After making further discoveries, the trio needed the help of a Russian Diplomat, and thus had to call Mac, who was serving as a Marine liaison to the US Secretary of State.
Fans were left shocked after Mac's revelation to Hetty that she hadn't seen him (Harm) in nine years.
Apparently, they had lost contact after Harm passed up an opportunity to take up a "JAG" position that would have seen him and Mac go to San Diego. He later took up a job at the State Department, thus ending their pretentious marriage.
When the couple saw each other via the video call, Harm complemented Mac on her looks, while she told him he hadn't changed, and that he was well suited to a life at sea. However, "JAG" fans were not so enthused, as their hopes of the pair ending up together were dashed.
THERE IS STILL HOPE
Those fans could have their hopes renewed following the released photos of "NCIS: LA"'s eleventh season which premieres on September 29. The photo shows Mac and Harm posed together, sparking rumors that they could reunite.
The series' showrunner, Scott Gemmill explained that the couple's chapter wasn't written yet, as the new season would see their paths get closer as the story unfolds, and that they may ultimately end up face to face in the same room again.
Since "NCIS: LA" began airing, it has done nothing but serve up more intriguing and suspense-filled moments, while making fans get so close to some of its many characters.
After over a hundred episodes and ten seasons, the show and its stars continue to amaze, much more than many may know. With the eleventh season arriving this fall, fans would undoubtedly be in for a swell time.
Please fill in your e-mail so we can share with you our top stories!