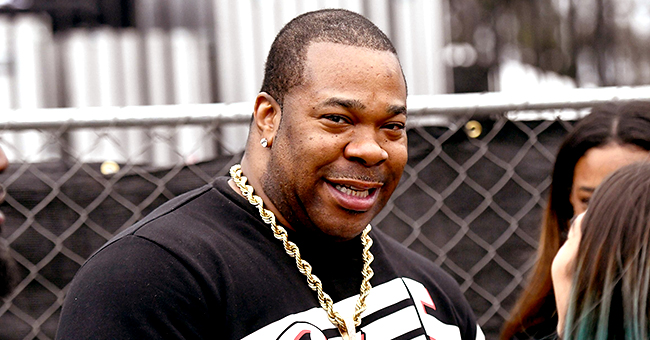 Getty Images
Busta Rhymes Kisses Youngest Son on the Forehead as He Sends Him off to College

Busta Rhymes' 18-year-old son is headed to Lincoln University in Pennsylvania, and the proud father kissed him on the forehead before he went off on his newest adventure.
Busta Rhymes' 4th child is headed to college, and the proud father made sure to give him a proper send-off.
Off to a New Chapter
His son Trillian is beginning his first year at Lincoln University this month, and the proud dad made sure to share a short but sweet message for him on this new journey:
"Another young King of mine, off to begin the new chapter. Congrats @originaltrillian. The World is Yours young King. #LincolnUniversity"
Busta Rhymes' three older children are already in college. His daughter Mariah graduated high school in 2017, his eldest son studied in Quinnipiac College in New York, while his other son T'Khi is currently attending Pace University in New York as well.
The rapper, whose real name is Trevor George Smith Jr., has five children with three different women.
Busta Rhymes' Five Children
Although his relationships with his baby mamas aren't exactly the greatest, he made sure that this didn't affect his relationships with his own children.
His daughter Mariah Elizabeth Miskelly was born in 1998. His ex-girlfriend, Jill Miskelly, took the rapper to court and made him take a paternity test to confirm he was Mariah's father. Even before the test was confirmed to be positive, he was already paying $1200 in child support per month.
However, through it all, Mariah decided to take on her mom's last name instead of Smith.
Busta Rhymes' eldest son is T'Ziah Wood-Smith, born in 1993. His mom, Joanne Wood, is also the mom of his other two kids, T'Khi Wood-Smith born in 1999, and Trillian Wood-Smith, born in 2001.
Last but not least, Rhymes also has a daughter named Cacie Smith, who was born in 1998, the same year as Mariah. Cacie decided not to enter college and instead is an Instagram model with more than 5000 followers.
Please fill in your e-mail so we can share with you our top stories!