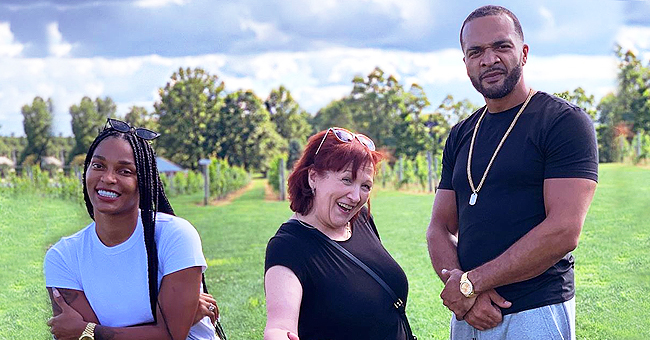 Instagram/joseline
Joseline Hernandez Looks 'Happier' & 'Different' in Recent Photo with Mom & Boyfriend
Popular actress and rapper, Joseline Hernandez has a new boyfriend she loves showing off on social media. Joseline Hernandez, popularly known as "The Puerto Rican Princess," is a Puerto Rican-American reality TV personality, rapper, and actress.
Joseline Hernandez achieved fame as the main cast member of the VH1 reality series "Love & Hip Hop: Atlanta." She took to Instagram to post a picture which featured herself, her mom and her boyfriend, DJ Ballistic, striking different poses for the camera.
The actress looked gorgeous dressed in a white round-neck and off-white pants with her hair braided, her mom wore all black, and her boyfriend had on a black t-shirt coupled with a pair of grey joggers.
"Family, Wine, Mom, My heart," she captioned the post replacing the heart with a heart emoji.
The post attracted several positive comments from fans of the 32-year-old mother:
"You should smile more! You look happy and peaceful," a fan wrote.
"You look so pretty and happy," another stated.
Earlier in May, Joseline uploaded an Instagram story which featured Ballistic spending time with her daughter, Bonnie. She hashtagged the post "Daddy's girl," referring to him as her daughter's father.
The post was met with mixed reactions from her fans on social media as they disagreed with the term. However, Joseline claims Bonnie and her father have not spent quality time together for as long as a year.
"Faith Evans pays her child support, and he did not even buy anything or call Bonnie Bella for her birthday, maybe one day he will change. I'm keeping my hopes up. Every kid needs their parents," Joseline revealed in March.
Bonnie is the only product of the union between Joseline Hernadez and Stevie J. The pair initially claimed to have married in 2013. However, in 2016, Stevie J. revealed that the marriage was staged for publicity.
His claim was confirmed later that year by Joseline in court documents where she stated that they were in a long term relationship and never legally married. Stevie and Joseline recently reunited when Joselin reportedly broke her custody agreement and was to show up in court.
The proud mother allegedly took Bonnie to Los Angeles on July 28 when she was supposed to be in Stevie's custody. The incident was reported to the Judge, and an arrest warrant was issued for Joseline. The Judge also granted Stevie full custody.
The crisis was resolved when Joselin took Bonnie back to Miami and handed her over to Stevie's mature daughter. Afterwards, Stevie and Joselin were joined by their "Love and Hip-Hop castmates," Joselin's boyfriend, her daughter, and Stevie J's attorney for lunch.
Please fill in your e-mail so we can share with you our top stories!