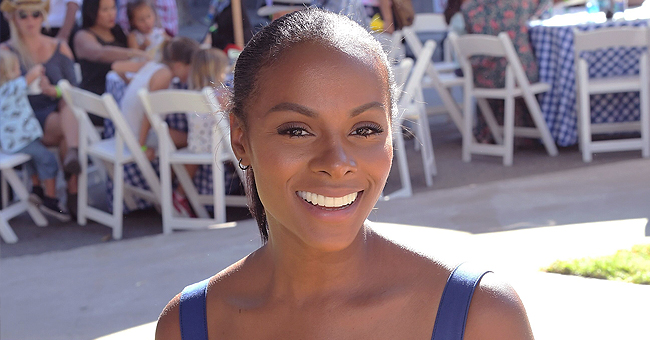 Getty Images
Tika Sumpter Sparks Fans' Excitement as She Hints about 'Soon' Wedding in Reply to Follower

Tika Sumpter stirred her fans to speculate about a possible wedding coming soon after her cryptic reply to a fan who asked about her probable real-life wedding.
Tika Sumpter recently posted a photo of herself in a wedding dress with a caption pertaining to her series "Mixed Ish's" premiere date on the 24th of next month. One follower asked the actress about a possible real-life wedding, which sparked excitement among her fans.
"TV," Sumpter replied when asked whether the wedding was on screen or not. "But real life soon come," she added.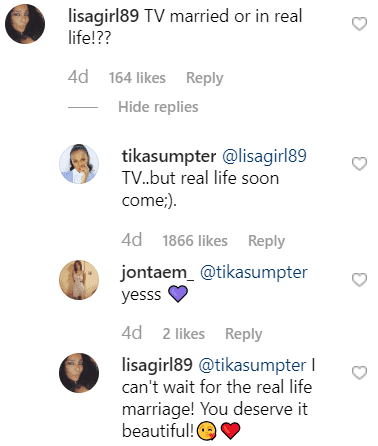 Screenshot of the comments. | Source: Instagram.com/Tikasumpter
Fans of the actress immediately shared their sentiments and excitement on the comment section, with many saying she deserves to live a happy life and that they "can't wait."
"I get so excited every time I see you in the ads. Congratulations!! Can't wait!"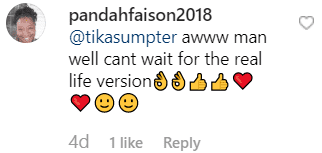 Screenshot of the comments. | Source: Instagram.com/Tikasumpter
Sumpter has been engaged to her "The Haves and the Have Nots" co-star, Nicholas James since 2017. The announcement came during her appearance on the daytime talk show "The Real," after co-host Loni Love unexpectedly asked about the ring on her finger.
She no longer hid the news and confirmed her engagement, which took place on Christmas Day the year before. She went on to talk about how the proposal went about, narrating:
"He did all of these amazing things. I went on a little hunt in the house. I thought he was going to propose. And it was a Peloton bike he'd bought me, and I was like, 'Oh, that's cool!"
James shortly pulled a letter from behind their baby, Ella-Loren, and said: "Ella has something to say to you." He went on to read the letter and proposed.
The couple's relationship faced criticism because of their interracial status, causing a stir on social media. However, Sumpter remains positive about their future and accepts the fact that not everyone is happy with their union; after all, you can't please everyone.
"There are a few haters, which is fine because I feel like something's going on in your own life that you're not happy about for you to be all up in my love life," Sumpter said.
The pair met on the set of the OWN series and now share a daughter. According to the actress, her husband-to-be has been nothing but a "great dad" who is "very present" in their child's life.
James sees his fiance in the same light and can't wait to marry her despite what others may think. Both are very much in love, and there's no stopping their union from happening soon.
Please fill in your e-mail so we can share with you our top stories!