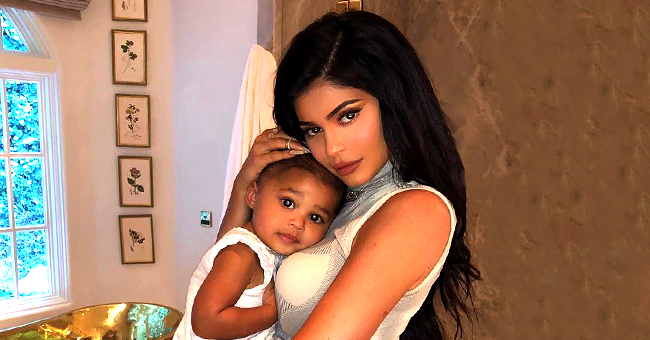 Instagram/kyliejenner
Kylie Jenner Talks about 'Smart' 1-Year-Old Daughter Stormi Saying New Complex Word
Kylie Jenner can't get over her daughter Stormi Webster's latest new word. The reality star mom gave us a peek into Stormi's milestones during her red carpet debut earlier this week.
Travis Scott (birth name Jacques Webster) premiered his Netflix documentary in California on Tuesday night, but it was his and Kylie's 18-month-old daughter that was the star of the show.
Speaking to E! News on the red carpet, the "Keeping Up With The Kardashians" star confirmed that Stormi "always steals the scene for sure." When asked what Stormi has been up to in recent times, Kylie revealed that her daughter says a new word every day.
The cosmetics mogul shared further:
"This morning it was 'trampoline.' I'm like, 'How do you know how to say trampoline? You're one and a half.' She's so smart."
Stormi seems to be on a roll with words these days, as only last month, Travis, 28, shared a video of the tot echoing his words.
Still To Come: "Everyone thinks Kylie will be pregnant with her second baby soon. They are trying."
"All done! Hi! Bye!" the rapper said as his daughter made her best attempt to mimic him.
Meanwhile, Stormi's appearance at the premiere of her father's Netflix doc "Travis Scott: Look Mom I Can Fly" marks her first time gracing the red carpet.
For the event, Stormi was garbed in camouflage top-and-bottoms and white sneakers while her hair was styled in two puffs. She posed for pictures with both parents and, in one of the images posted by Kylie, was spotted giving daddy a kiss.
The 22-year-old Kylie Cosmetics founder chose a more glamorous look with her backless white dress and matching pumps, sleek ponytail and generous amounts of makeup. Alongside his girlfriend, Travis looked dapper in a chocolate brown suit.
Kylie and Travis started dating since 2017 and welcomed their daughter a year later in February. Although the couple doesn't seem to be in a hurry to tie the knot, recent reports claim they don't mind giving Stormi a sibling.
An insider reportedly disclosed:
"Kylie loves being a mom and can't wait to give Stormi a sibling. Everyone thinks Kylie will be pregnant with her second baby soon. They are trying."
Kylie recently unveiled her new skincare line and jetted off to Italy with family and friends to celebrate her 22nd birthday, so life is pretty good for the reality TV offspring. Having another baby should top things off nicely.
Please fill in your e-mail so we can share with you our top stories!