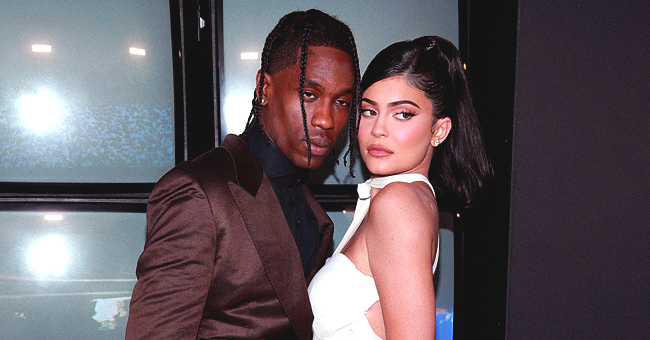 Getty Images
Kylie Jenner Reveals Daughter Stormi Is so Smart at Travis Scott's Netflix Documentary Premiere
Stormi Webster, Kylie Jenner's daughter finally made her red carpet debut. Her mum did nothing but gush on how smart she is, and the milestones she's achieved.
Kylie Jenner and Travis Scott stepped out for the premiere of his Netflix documentary, "Travis Scott: Look Mom I Can Fly," in Santa Monica, and made it a family affair. They had their daughter, Stormi, with them, and she stole the show.
STORMI IS A SMART 1-YEAR-OLD
Jenner told E! News that stealing the show was nothing new to her little girl. She said:
"She's the scene-stealer in every movie; she always steals the scene for sure."
The proud mum didn't stop there; she went on to tell the news outlet just how smart her little girl is. The KUWTK star gushed:
"She says a new word everyday… she's so smart."
Jenner revealed that her daughter said the word, "Trampoline," and she wondered how she knew it since she's just a year old. The beauty mogul also told E! that Stormi recently had another milestone, eating green beans.
JENNER HAS NOT SEEN THE DOCUMENTARY
The mum-of-one said she had not seen the documentary which features not only her daughter's father's rise to fame but also her pregnancy.
The Netflix production will give the reality star's fans a chance to see how she carried her daughter, as she kept her pregnancy a secret from the public.
Jenner, after giving birth to Stormi on February 2018, explained that she wanted to carry her baby to term, away from the spotlight. In a Twitter post at the time, she called it the "Most beautiful, empowering, life-changing moment" of her life.
A LOVE WITHOUT LIMITS
While the young billionaire might have been unwilling to share her pregnancy with the world, things have changed since she gave birth to her daughter. The TV star shares Stormi's photos nonstop on social media.
During their recent luxurious vacation to the Italian coast, Jenner captured every moment spent with her daughter and Scott. In one of the snaps, she wrote in the caption:
"A love without limits."
Jenner enjoys her role as a mother, and according to People, she and the "Astroworld" singer are already considering baby number two. The news outlet reported that the "Life of Kylie" star wants to give Stormi a sibling, and hopes to do that soon.
The documentary, "Travis Scott: Look Mom I can Fly," is available for streaming on Netflix.
Please fill in your e-mail so we can share with you our top stories!