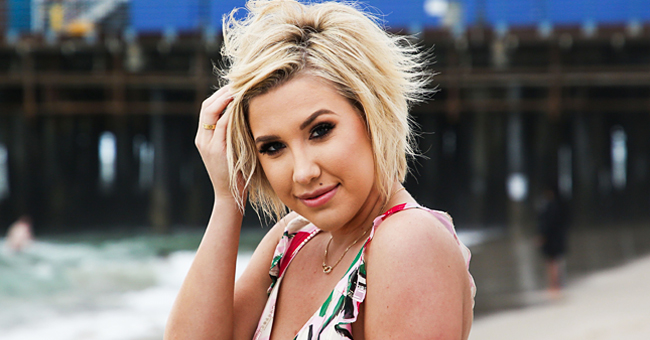 Getty Images
Todd Chrisley's Daughter Savannah Posts Pic of Mom & Niece Chloe Amid Tax Evasion Drama

"Chrisley Knows Best" star Savannah Chrisley takes to social media to share a picture of herself and her mother, Julie. It comes soon after reports that her brother, Kyle, was rushed to the hospital.
Savannah, who is known to compete in beauty pageants, updated her Instagram feed yesterday. The gorgeous reality star held her phone camera high so that the shot also included her mother and little niece.
"A WHOLE LOT OF SASS" IN ONE PLACE
The picture features Savannah wearing a white tee with her face sporting sleek makeup like many know her for. Her luxuriously blonde hair is styled into an elegant cut that framed her face and did much to compliment her stunning blue eyes.
Just behind her, Julie, the matriarch of the Chrisley family, can be spotted sitting on a brown couch with her cute granddaughter, Chloe, on her lap.
Julie rocked a hairstyle much like her daughter's, and this is perhaps the reason their resemblance is so obvious. Savannah captioned the beautiful photo saying:
"A WHOLE LOT of sass in one photo hahah #mygirls."
You'd have to be a hermit not to know the Chrisley family. Thanks to the success of their reality series, "Chrisley Knows Best," the large family has become one of the most famous names in Hollywood.
The actual extent of their fame is made evident on social media where each member has a massive following. Much like her many other posts, this new update on Savannah's Instagram feed has amassed nearly 95k likes.
There are also hundreds of comments from fans. In awe, one wrote:
"Got to have beautiful Sass to have Class, and you have it all !! Im such a huge fan of you and your whole family!!!"
THE POST COMES SOON AFTER NEWS OF KYLE'S EMERGENCY HOSPITALIZATION
As beautiful as the snap looks, it can't be missed that the time of Savannah's post comes soon after the news of her brother, Kyle's hospitalization. According to Popculture, it came just a few hours after the report of Kyle getting rushed to the hospital surfaced on the internet.
While some may criticize the timing of the post, it should be noted that sharing something so happy and beautiful might be Savannah's way of coping with the harsh reality of it all.
After all, just earlier that same day, Savannah had been pictured alongside her family at Kyle's bedside. Her father, Todd Chrisley shared the photo and captioned it with a bold declaration, saying:
"NOT TODAY SATAN, NOT TODAY… God shows up and shows out, now won't he do it? Kyle is great, and we are back to the grind."
According to a representative for the Chrisley family, Kylie's hospitalization was as a result of an adverse reaction to his medication. Get well soon, Kyle!
Please fill in your e-mail so we can share with you our top stories!