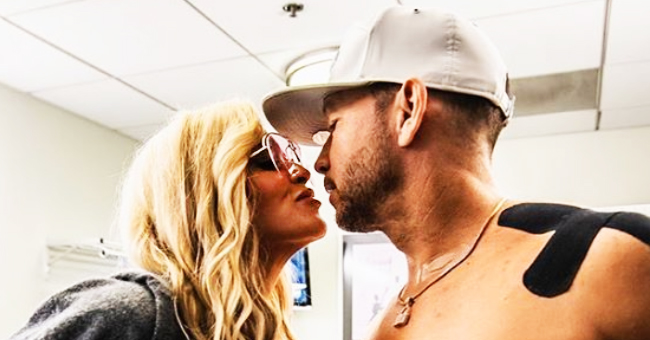 instagram.com/donniewahlberg
NKOTB's Donnie Wahlberg & 'Masked Singer's Jenny McCarthy Mark 5th Wedding Anniversary with Video

After five years of marriage, Donnie Wahlberg and Jenny McCarthy are still going strong. They celebrated their anniversary singing to each other and reminiscing their wedding day with a throwback photo.
Donnie Wahlberg and his wife, Jenny McCarthy have a beautiful love story. After five years of marital bliss, they celebrated their fifth anniversary in an adorable and heartfelt way.
A LOVE FOR ALL LIFETIMES
McCarthy shared on her Instagram, a photo of herself and Wahlberg walking down the aisle, hand in hand, after getting married. They beamed widely, looking very much in love.
In the accompanying caption, the actress wrote,
"To my soul mate, my inspiration, my rock; I will adore you, I will love you, I will grow old with you, from the moment I said 'I do' until the end of eternity."
She added that their love would survive every lifetime, because,
"… I can't even imagine any other lifetime without you," ending with the words, "Happy anniversary, my love."
IT TOOK FORTY-FIVE YEARS, BUT IT WAS WORTH THE WAIT
Wahlberg, on the other hand, repeated the picture the TV host used and added a video of the two of them singing "Happy Anniversary," to each other. The clip showed the couple on a beach, wearing sunhats, sunglasses, and being very affectionate.
At the end of their rendition, they shared a kiss, before water washed out the anniversary message they wrote on the beach. The "Blue Blood" star in the accompanying write-up, wrote,
"Happy anniversary Jenny! It took forty-five years for me to find you, or you to find me, or for us to find each other, or for whoever had the grand plan to unite our spirits."
The dad-of-two added that it was worth it, and he is,
"Proud, honored, and blessed to be your husband, my queen," concluding with, "Here's to many more lifetimes of growing together in every way with you."
HOW WAHLBERG AND MCCARTHY MET
Wahlberg met the "The Masked Singer" judge in 2013, five years after he divorced his wife of nine years, Kimberly Fey. The couple met on McCarthy's former VH1 show, "The Jenny McCarthy Show," when the actor came for an interview. They felt an instant connection but didn't go on a date until two weeks after.
By July 2013, the actor and the mum-of-one publicly acknowledged their relationship, and by April 2014, they got engaged. They got married in August that year, and have been inseparable since. On their anniversary last year, the former "Playboy Playmate" wrote about her man,
"You are proof that fairy tales do come through."
Wahlberg and McCarthy can't get enough of each other and went as far as getting tattoos of each other's name. They've perfectly blended their family, which includes their three children, Xavier, Elijah, and Evan, from previous marriages.
Please fill in your e-mail so we can share with you our top stories!