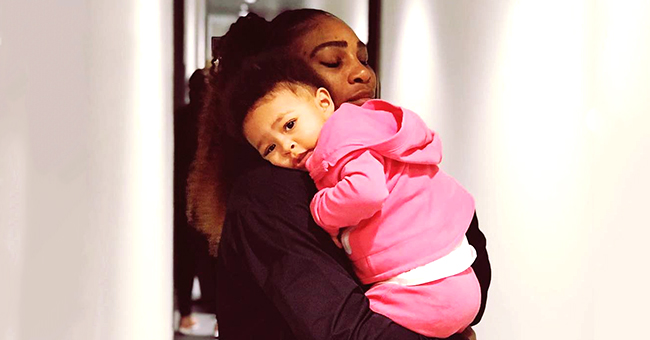 Instagram/serenawilliams
Tennis Star Serena Williams' 2nd Birthday Tribute to Daughter Olympia after Round 16 of US Open
Serena Williams is one proud mama as she pays tribute to daughter Olympia Ohanian on her 2nd birthday.
Serena can probably fill rooms with her accolades, but none mean as much to her like the birth of her daughter with husband, Alexis Ohanian.
The tennis pro took to Instagram on Sunday, September 1, with a candid shot from Olympia's delivery and a message that has our hearts melting.
"The last 2 years have been my greatest accomplishment," Serena wrote alongside a pic of her cradling the newborn in a hospital bed while Alexis looked on.
SOCIAL MEDIA REACTIONS
"This photo just made me tear up. So beautiful," plus-size model Ashley Graham commented under Serena's post.
"Love you guys!!" another fan wrote. "Such wonderful humans that are constantly inspiring the world."
DADDY'S GIRL
Alexis, 36, also celebrated he and Serena's daughter in an emotional post. Sharing a pic of their hands intertwined with Olympia's, the tech mogul wrote:
"How has it already been two years? Happy cake day @olympiaohanian Thank you for being the greatest thing we've ever done."
HOW SERENA SPENT OLYMPIA'S BIG DAY
For Serena, 37, part of Olympia's birthday was spent competing in the Round of 16 at the US Open. The 23-time Grand Slam winner faced-off with Croatia's Petra Martić to advance to the quarterfinals.
Late last month, Serena opened up about her struggle to balance a career with motherhood. "I actually prefer playing in the day because I get to go home and see my baby," she told Forbes. "I've been missing her the last few nights when I play."
SERENA'S STRUGGLE
Serena added:
"In the beginning, she would really be upset when I left. And now she's a little bit better. I think I'm a little more upset. But at the same time, she definitely still takes it a little hard. She's still super young. …You know, it's hard. Sometimes my heart literally aches when I'm not around her."
NO BIRTHDAY PARTIES
Despite Serena and Alexis' undeniable love for their daughter, Olympia will not be having a birthday bash or marking the milestone with any celebration.
The world-renowned athlete revealed in a press conference last year that her faith has a Jehovah's Witness prohibits birthday celebrations. "Olympia doesn't celebrate birthdays. We're Jehovah's Witnesses, so we don't do that," she had said.
According to the Christian group's website, birthday celebrations "have pagan roots" and "the Bible never refers to a servant of God celebrating a birthday."
Olympia may not be missing much, however, since dad and mom don't mind throwing her a party "just for fun," like the carnival-themed affair she enjoyed in February.
Happy birthday, Olympia!
Please fill in your e-mail so we can share with you our top stories!