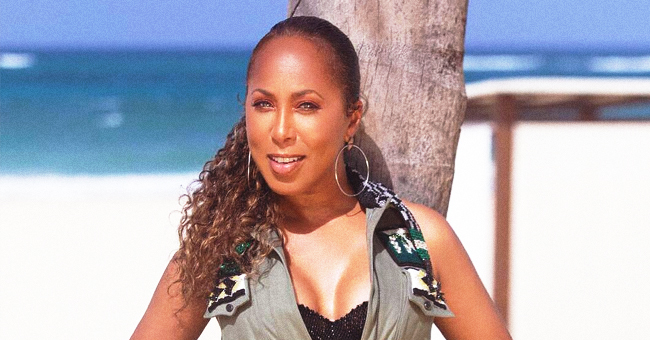 Instagram/marjorie_harvey
Steve Harvey's Wife Marjorie Shares Photos of Her Parents Cuddling & Napping on a Boat

Marjorie Harvey has Instagram users all up in their feelings with photos of her aged parents cuddling and napping on a boat. The socialite's recent post is the stuff dreams are made of.
Marjorie, 54, has been happily married to Steve Harvey for 12 years now and we may just have found who her marriage role models are.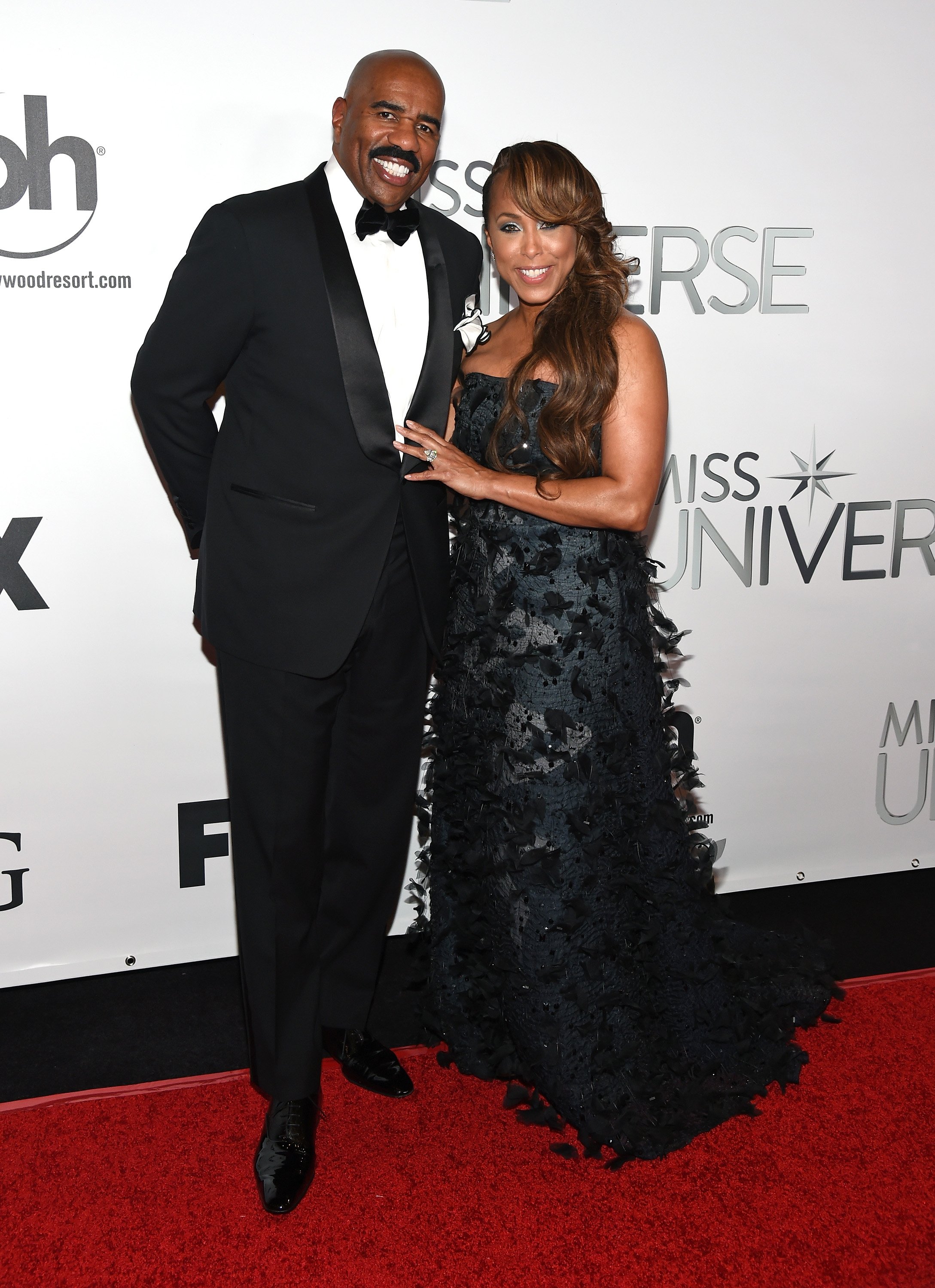 Steve & Marjorie Harvey at the 2015 Miss Universe Pageant on Dec. 20, 2015 in Las Vegas | Photo: Getty Images
The fashion enthusiast took to Instagram with pictures of her interracial parents enjoying some me-time on what looked to be a vacation.
Still To Come: The couple continue to make things work despite constant divorce rumors and financial challenges
In one pic, Marjorie's mom, wearing a black t-shirt and matching shorts, puts an arm around her husband, who sports beige shirt and slacks.
In another snapshot, the lovebirds enjoyed a quick nap, with the wife resting on her hubby's chest. A third image showed them smiling for the camera. A proud Marjorie declared in the caption: "Goals For Real."
"Awwwww #relationshipgoals," a fan agreed in the comment section.
"This truly warms my heart," added another. "I pray God sends everyone their special someone."
Marjorie's admiration for her parents is apparent, but sadly, it was called to question last year after she shared pictures of their home online.
Marjorie had posed for pictures at her parents' Tennessee home and subsequently faced backlash from trolls who accused her of not taking care of the elderly couple.
Some Instagram users went as far as comparing the alleged price of Marjorie's footwear in one of the photos to the value of her mom and dad's home.
Marjorie eventually responded to the naysayers, making it known that she is a daughter who will always respect her parents' wishes.
"I take excellent care of my parents and would buy them any house of their dreams. However, my father is proud and absolutely loves the house that he built for his family and could not dream of living anywhere else. I would never insult my parents by telling them it's not good enough…"
If there was ever any doubt about Marjorie's love for her parents, that classy clapback put it to rest. Plus, it won't be unlikely that the aged couple is Marjorie's blueprint for a successful marriage.
After two failed marriages, Marjorie married Steve in 2007. The comedian/TV host had two failed marriages in the bag as well, but he and Marjorie seem to have the perfect love story today.
The couple, who have a blended family of seven children (four from Steve's previous marriages and three from Marjorie's) continue to make things work despite constant divorce rumors and financial challenges.
"Happy anniversary to the chick of my dreams," Steve, 62, gushed in June while celebrating 12 years of being Marjorie's husband.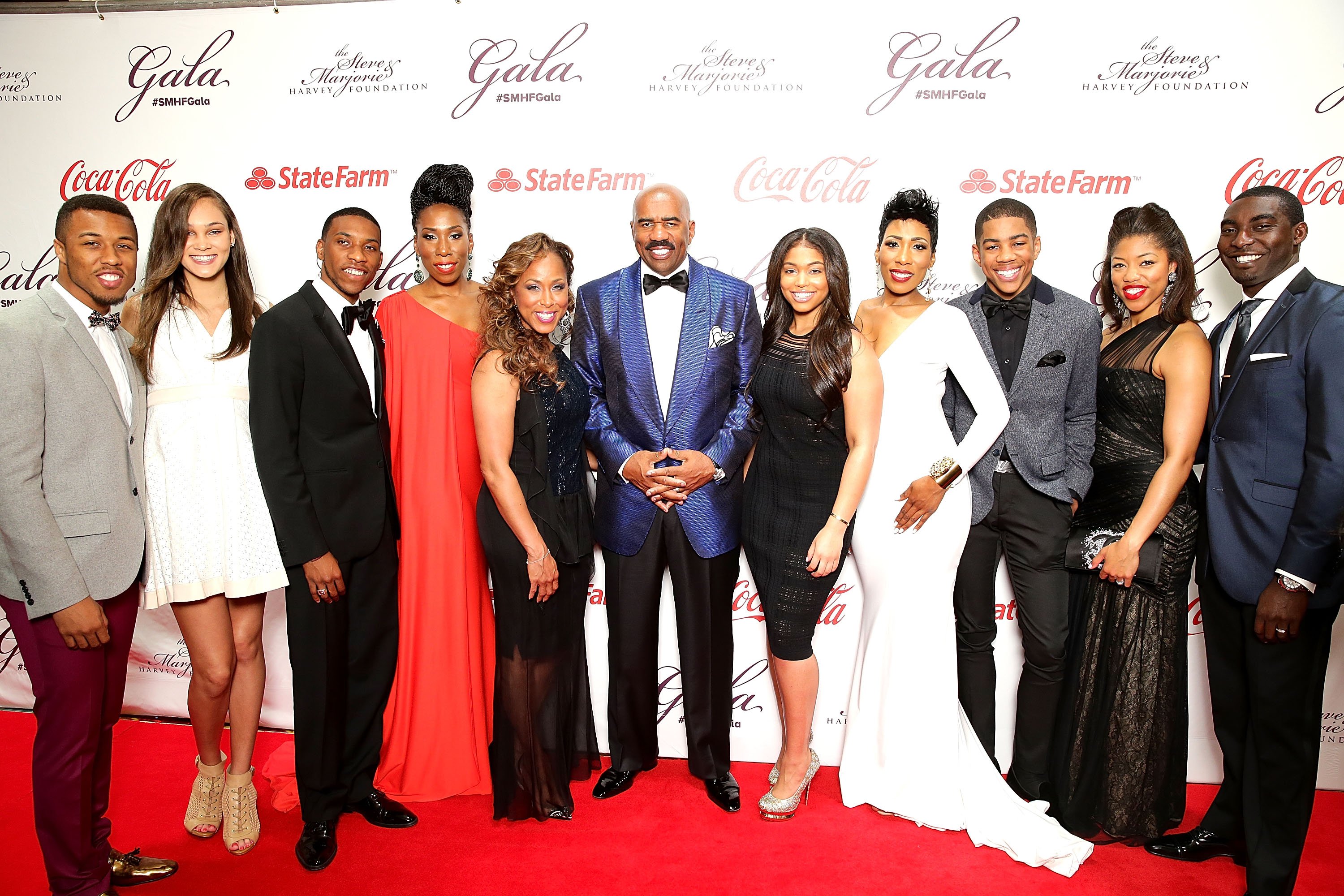 (L-R) Jason Harvey, Amanda Harvey, Broderick Harvey Jr., Brandi Harvey, Marjorie Harvey, Steve Harvey, Lori Harvey, Karli Harvey, Wynton Harvey, Morgan Hawthorne & Kareem Hawthorne at the Steve & Marjorie Harvey Foundation Gala on May 3, 2014 in Chicago | Photo: Getty Images
Here's to many more generations of love!
Please fill in your e-mail so we can share with you our top stories!