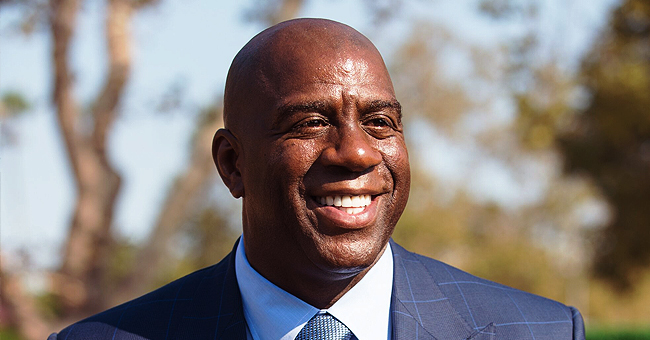 Getty images
NBA Legend Magic Johnson Poses with Wife Cookie, Elisa & EJ during 60th Birthday Celebration
Basketball icon Magic Johnson turns 60 years old and celebrates in style.
On August 14, 2019, basketball legend Magic Johnson celebrated his 60th birthday on board a luxury yacht.
Johnson has been spending the summer sailing in the Mediterranean accompanied by wife Cookie, his children and friends, and spent the big day in St Tropez
"What an incredible start to celebrating our 60th birthdays ? yesterday, I can't wait to see what Earvin has planned for tonight!!" Cookie Johnson/ Instagram
A THREE DAY CELEBRATION
And because one day just isn't enough to celebrate six decades, Johnson splurged on a three-day party.
The party started on the beach with lots of balloons and champagne, and a gigantic sandcastle cake decorated with Johnson's and Cookie's faces.
DANCING THE NIGHT AWAY
Johnson and Cookie, their children and friends danced the last night of their epic celebration to the sound of several music legends.
"What a way to end our three-day birthday celebration with some of the greatest music legends: Jeffrey Osborne, Cheryl Lynn, Eddie Levert, Chaka Khan, Charlie Wilson, and Earth, Wind, and Fire. We danced for six straight hours and no one sat down!" wrote Johnson.
MAGIC JOHNSON NEVER THOUGHT HE'D SEE HIS 60th BIRTHDAY
Johnson never imagined he'd see his 60th birthday, let alone celebrate it in full health. The basketball player discovered he was HIV positive at the age of 32, but luckily he did not transmit the virus to his wife or child.
"I just want to make clear, first of all, that I do not have the AIDS disease. My wife is fine. She's negative, so there's no problem with her."Johnson said.
MAGIC JOHNSON'S ACTIVISM
It was 1991, and little was still known of the HIV virus, or the disease it could erupt into: AIDS:
Johnson took the lead and became one of the first celebrities to admit to being infected with the virus, and to campaign for safe sex.
"I will now become a spokesman for the HIV virus, because I want young people to realize that they can practice safe sex. Sometimes you're a little naive about it, and you think it can never happen to you. You only thought it could happen to other people and so on and on. It has happened, but I'm going to deal with it. And my life will go on," Johnson said.
His life did go on, and he has kept his health and his ever-positive attitude.
Happy Birthday, Magic Johnson!
MAGIC JOHNSON SHARES TOP 60 LISTS
IN order to celebrate his 60th birthday, Magic Johnson shared lists of his 60 favorite things.
And what are the basketball legends' 4 favorite things? His favorite films, travel destinations, favorite athletes, and his favorite television shows.
At the top of the movies is "The Godfather"; places to travel, Amsterdam; athletes, Aaron Rodgers, and TV Show, "21 Jump Street.
Nice choices, Magic!
Please fill in your e-mail so we can share with you our top stories!