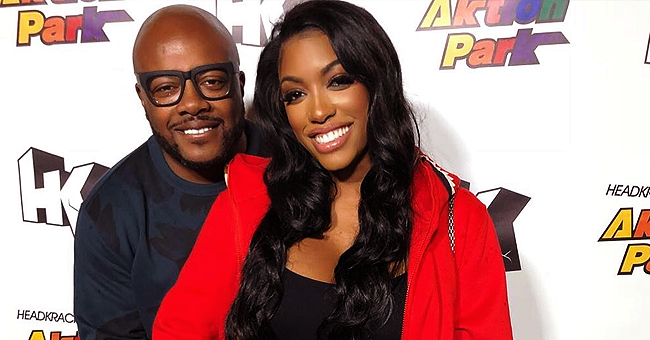 Instagram/porsha4real
RHOA's Porsha Williams & Dennis McKinley Are Back Together after Labor Day Weekend Vegas Trip

Love is in the air at "Real Housewives of Atlanta" as Porsha Williams and ex-fiancé show clear signs of reconciling.
Porsha Williams and Dennis McKinley broke up in June 2019, just months after they welcomed their daughter Pilar Jhena, after rumors of infidelity.
Now it looks like the couple have been kissing and making up, especially after they posted several photos taken in Las Vegas...
"These false and slanderous allegations against me are made solely to damage my reputation, jeopardize my ongoing businesses, and negatively impact my family." Dennis McKinley
LABOR DAY WEEKEND IN THE CITY OF PLEASURE AND LEISURE
Porsha and Dennis took the opportunity for a romantic getaway to Las Vegas over Labor Day weekend, and if the photos are anything to go by, they surely heated up those Vegas nights.
The posts show Porsha and Dennis and some friends at what looks like a very exclusive adults-only party.
Fans eagerly commented on how happy they were to see the couple back together.
PORSHA SIZZLES IN VEGAS
Several of the snaps show Porsha in a very skimpy yellow and leopard skin bikini that leaves little to the imagination and shows that her stunning figure is fully recovered from childbirth.
IS THE ENGAGEMENT BACK ON?
The two were very cozy, and Porsha had hinted that they were "working" on their relationship. The first hint of reconciliation came when Porsha posted a photo of Dennis on his Birthday.
PORSHA WILLIAMS STILL IN LOVE
Porsha, who had gone through a miscarriage during a previous relationship, revealed how important Dennis' support had been throughout her pregnancy with Pilar Jhena,
"No one will ever understand what it means to me—for me to have gone through a miscarriage before, all by myself, without the person who made that child with me as my support, to now be pregnant and have the man who is the father of my child be so loving, so thoughtful, it means the world to me," Porsha said.
Now that their misunderstandings seem to have been overcome, we can't wait to see Porsha and Dennis tie the knot!
FANS ARE OVERJOYED AT RECONCILIATION
Porsha Williams' fans were overjoyed to see the photos the reality star posted from her romantic getaway with her fiance, Dennis McKinley and a few of their friends, including Shamea Morton.
Fans eagerly commented on how happy they were to see the couple back together.
"Lawd everybody gonna end up pregnant!"
"I like you and Dennis together, I'm happy to see these pictures 2
"Yayyyyyyyy the bling is back on!!!! I love you guys together."
The happy couple have already hinted that they are thinking about giving Pilar Jhena a little sister or brother.
Please fill in your e-mail so we can share with you our top stories!