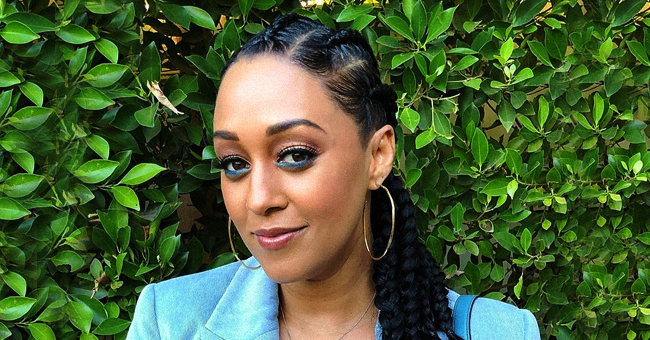 Instagram/tiamowry
'Sister, Sister' Star Tia Mowry Spoke about How Hard It Was to Be a Mom and a Friend to Her Kids

In an exclusive interview, "Sister, Sister" star Tia Mowry-Hardrict shares tidbits about her parenting methods. She humorously shared that her best quality may as well be her worst.
Tia, a mother of two, recently granted People an exclusive interview. There, she shared intimate details about her experience of motherhood as well as, little lessons she has learnt over the years.
WHY TIA THINKS HER CHILDREN RUN ALL OVER HER SOMETIMES
Tia and her husband of eleven years, Cory Hardrict are parents to daughter Cairo, who is a little over one year old, and son Cree, who marked his eighth birthday a few months ago.
During the exclusive interview, the "Twitches Too" star shared that her best quality as a mother is that she always strives to be her children's closest friend. She, however, explained that it is also her worst quality.
"I am fun. I'm funny; I am like your best friend. I love being with my kids; I love making my kids laugh. That would probably be my worst quality, as well!" Tia said, concluding the statement with a laugh.
The actress further explained that she tries to "draw that line" while reprimanding herself with the thought that it is the reason the kids "run all over you" sometimes.
TIA STILL WOULDN'T GIVE UP BEING HER KIDS' BEST FRIEND AND HERE'S WHY
The vlogger, however, explains that it is just that intimacy and level of trust that she finds very important in parenting.
"I want them to be my friend," she says. "You tell your best friend, everything. And I want to be that for my children," she shared.
She explained that it might become limiting when it is time for discipline and structure, so she realizes that it may not exactly be realistic. On a final note, she disclosed that the most important lesson she wants to instill in her growing children is "authenticity."
Tia related that staying true to who you are at all times is a crucial life lesson her parents taught her and her fellow actress twin sister, Tamera.
Tia and Tamera bear a striking resemblance to each other and may even seem a lot alike, but when it comes to parenting, they keep to different rules. During an interview on "The Breakfast Club," Tia labeled her parenting method "non-traditional" and her sister's, "very traditional."
About spanking, the gorgeous star honestly said:
"It's awesome, and it's great to an extent if that's the way you want to parent."
She continued explaining that spanking comes when parents are "impatient and just want to get things done, over with." Tia reveals that while that may work perfectly, she believes in the opposite because, in her opinion, it yields better results.
The gorgeous entertainer also loves to share adorable pictures of little Cairo and a fast growing Cree via her Instagram. She captioned one of the images,
"Be Brave, Be Kind, Be You."
While the second, which is a picture of Cree, has the proud mother declaring that it is a blessing to
"call you my son."first born. You light up my day. I can't believe how time is flying. Feeling very blessed to call you my son. #cree"
The actress thus truly have so much love for her adorable kids.
Please fill in your e-mail so we can share with you our top stories!