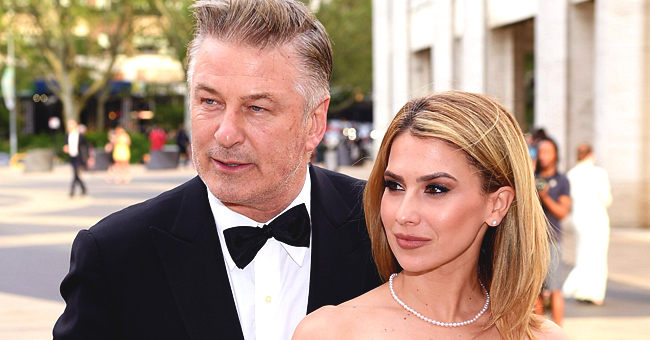 Getty Images.
Alec Baldwin from 'SNL' Reveals He & Hilaria Will 'Have a Fifth' Child While Hiking with Kevin Nealon
Alec Baldwin made a confirmation that he and his wife, Hilaria, will "have a fifth" child amid other reveals during his hike with actor and comedian, Kevin Nealon.
In the promo clip for Kevin Nealon's YouTube show, "Hiking with Kevin," Alec Baldwin made some exciting revelations. While hiking up a long trail surrounded by mother nature, the actor revealed that a fifth baby is an option for him and his wife, Hilaria Baldwin.
Baldwin told the host,
"We have four kids; she wants to have another one. We're having another one."
Nealon, needing to confirm if he just got a piece of exclusive baby news asked his former SNL co-host, "It's in the oven?" to which the actor responded,
"No, no, no, not that I know of."
Hilaria reiterated this fact with a post to her Instagram story. She noted that she was surprised when a friend congratulated her about having a bun in her oven. The fitness host, joked,
"Why didn't anyone tell me I'm having a fifth child right now? I really wish the world will keep me up to date on these things… I hate being the last to know something as important as this."
Baldwin's baby talk with Nealon stemmed from his revelation that if there's one thing he wished he had in abundance, it's a substantial amount of money. Explaining his reason, the "Hunt for Red October" actor said,
"… so I can leave it to my wife. Let's face it; I'm not going to be around much longer. I need to leave her a big pile, like a gigantic pile."
The actor and his "Mom Brain" podcast host wife share four children, Carmen, Alejandro, Leonardo, and Angel; Baldwin also has a child, Ireland, with his ex-wife, Kim Bassinger. The "30 Rock" star and Hilaria have been trying to get pregnant since she revealed she miscarried her fifth pregnancy in April.
At the time, the Spain native said she was sharing her story to help women overcome the stigmatization that comes with having a miscarriage, and she told People that she does not plan to go out on that note.
Baldwin, despite having reservations about having more children has since embraced the idea and is willing to try even though he might be 85 by the time his children graduate from school. Hopefully, the actor and his wife will have their wish, and baby number five will become a reality.
Please fill in your e-mail so we can share with you our top stories!