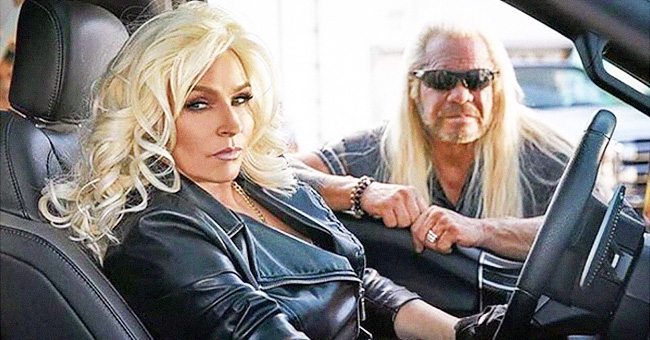 instagram.com/jamiepchapman
Jamie Pilar Chapman, Duane Chapman's Daughter-In-Law, Speaks out about Beth Ahead of the Premiere for New Show
In anticipation of the new season of Duane 'Dog' Chapman's show, 'Dog's Most Wanted,' his daughter-in-law pens a sweet tribute to the family.
September 4, had many fans of "Dog the Bounty Hunter," glued to their television screens for the premiere of "Dogs Most Wanted." The show follows the Chapman's who have been televising their bounty hunting escapades for decades.
The current season will feature that last footage of family matriarch, Beth Chapman, who passed away at 51-years-old to throat cancer, on June 26. In a tribute to her mother-in-law, Jamie Pilar Chapman promotes the new season saying:
"Tonight is THE NIGHT. This is what @mrsdog4real spent her last days fighting and working so hard for. Even though this woman always showed strength like a Lion, I know in my heart she was suffering. She would never show that face & she'd wake up and keep preserving and fighting till she knew she'd make @duanedogchapman a Legend. And she did just that!"
Jamie, who is married to "Dog the Bounty Hunter's" son, Leyland Chapman, married in 2016, she goes on to say:
"Tonight, thanks to Beth, my family, our friends, the wonderful camera crew, & WGN America, we get to share our lives with you."
"This season will be raw, emotional, hopeful, exciting, & an adrenaline rush. It's a insight to our family pride like you've never seen before. I hope you all tune into @wgnamerica TONIGHT at 9/8C for the SEASON PREMIERE of DOG'S MOST WANTED! #THISONESFORBETH," she reveals.
Jamie has admitted that all of the interviews "Dog" is doing have taken an emotional toll on the family. Revealing the she worries about her father-in-law she shares:
"I was worried for him when we were told he had a few interviews this week knowing how hard this has been for him. He's knocked every interview out of the park. Every time he cries, I've cried! He's handled everything with such grace and strength. I know you're making an angel above so proud."
Beth's passing has been a great loss for the show. She was a star and fan favourite, entertaining audiences with her tough yet feminine appeal. The new season of "Dog's Most Wanted" is sure to leave fans with lasting memories of the bounty hunting legend.
Please fill in your e-mail so we can share with you our top stories!