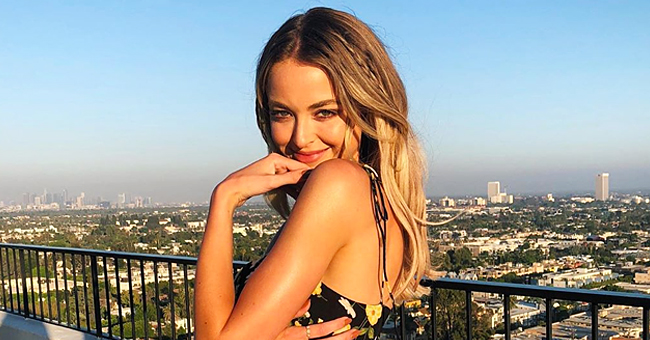 instagram.com/kaitlynn
Kaitlynn Carter, the Blogger and TV Personality Often Seen with Singer Miley Cyrus
Kaitlynn Carter's name has been plastered on almost every headline following Miley Cyrus and Liam Hemsworth's divorce. However, there is very little known about her. Here are some details on the reality star.
Going through a divorce, especially if you are a celebrity and have millions of people watching your divorce drama unfold.
Hours before Miley Cyrus and Liam Hemsworth announced their divorce, several pictures surfaced of Cyrus and Carter kissing in Italy. Shortly after their trip to Italy, Hemsworth filed for divorce, after 8 months of marriage. The former couple had been dating on and off for tens years.
There is been a lot of media speculation that Cyrus's marriage ended because of her relationship with Carter. Other reports suggest that Cyrus' marriage was over way before the pictures in Italy surfaced. Either way the question on everyone's lips is who is Kaitlynn Carter?
Carter studied at an ivy league school and eventually pursued a career as a blogger
According to Hollywood Life, she received an English degree from the University of New Hampshire. She initially started her career as a fashion, beauty and travel blogger for Western Wild, which she had rebranded, "Hey Miss Carter."
Her infamous trip to Italy wasn't the first time she had visited the country
While pursuing her career as a blogger she met her business partner in Italy. The two founded Foray Collective, it is an e-commerce site that allows customers to buy specially selected outfits worn by bloggers and other fashion influencers. Speaking on about her partnership she says:
"I met my now business partner Tiana Haraguchi in Italy a while ago. We stayed in touch for years."
She chose a destination wedding for her first marriage
Up until their divorce a few weeks ago, Carter had dated "The Hills" star, Brody Jenner. They had been together almost six years. The couple got married in June 2018 the Nihi Sumba resort in Indonesia. Their wedding venue was the same place Jenner proposed to her.
It has been reported that despite having an extravagant wedding ceremony, the couple never legally married.
Carter never saw herself on reality television
Making her television debut on the first season of "The Hills: New beginnings," the show featured Carter and Jenner exploring their relationship as newlyweds. Speaking about a career on television she explains:
"I've taken a meeting but it's never felt right to me because I don't want to be involved in a show that's based on character drama. But I'd be interested in doing a reality show based on women's careers in the blogging industry."
In a trailer for "The Hills: New beginnings," Carter and Jenner's rocky relationship is revealed. From arguing about open relationships, wanting kids to Jenner's late nights as a DJ, the newlyweds didn't have much of a honeymoon phase.
Please fill in your e-mail so we can share with you our top stories!