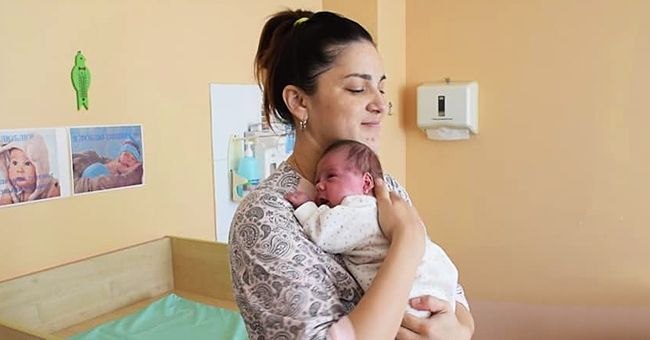 facebook.com/Облздрав Уральск
Kazakhstan Woman Miraculously Gave Birth to Two Babies Nearly 11 Weeks Apart Due to Having a Double Uterus

Miracle babies! A woman miraculously gave birth to two babies almost 11 weeks apart, and the story behind it is quite fascinating. It happened in Kazakhstan.
A Kazakhstan woman, Liliya Konovalova had what is best described as a miracle birth. She gave birth to two children nearly eleven weeks apart, and they are both doing well.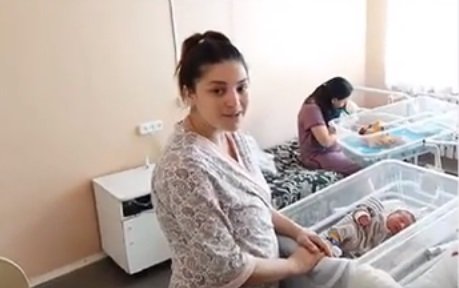 Liliya, mother who gave birth to twins 11 weeks apart.| Photo: YouTube/BreakingNews Channel.
HOW IT HAPPENED
On May 24, Liliya gave birth to her daughter, Liya, at 25 weeks premature. The baby weighed 2 lbs. and stayed in the ICU while she developed to term. The new mom also stayed back, because she had another baby to deliver, and was on bed rest.
Two months and sixteen days later, on August 9, Liliya gave birth to her son, Maxim, via caesarean section; he weighed 6 pounds 6 oz. The first time mum compared her son's birth to a heroic Russian folklore character, Bogatyr, and commended the doctors for her sound health, and that of her babies.
WHAT BROUGHT ABOUT TWO SEPARATE BIRTHS AND TWO BABIES?
"Thanks to our doctors, we prevailed… what they did is a miracle," she said.
Liliya and her children are getting ready to leave the hospital, and based on the post shared by the Kazakhstan Health Ministry on Facebook, the doctors and nurses who worked on the new mum and her babies could not be happier with the outcome.
While the birth of the babies seem to be a miracle, there's a rational explanation behind the time difference of their arrival. Liliya has a condition called uterus didelphys, meaning she has two uteri.
The condition is found in 0.5 to 5% of women worldwide, and most pregnancies end in a stillbirth or a miscarriage. Also, babies conceived in that state develop differently, which explains why the mum-of-two had two separate deliveries.
SOMEONE ELSE NEEDS A MIRACLE
In another country miles away from Kazakhstan, a UK woman Caitlin Stubbs, gave birth to a girl, Quinn, while in a coma. At 32 weeks pregnant, Caitlin suffered a brain bleed brought about by a medical condition, Arteriovenous malfunction.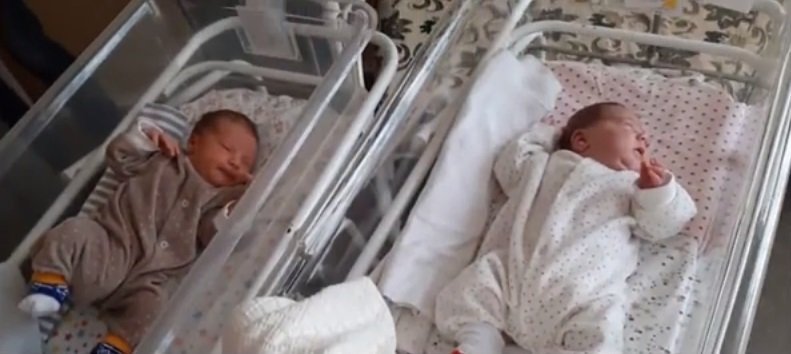 Babies born 11 weeks apart by the same mother.| Photo: YouTube/BreakingNews Channel.
The new mum slipped into a coma before getting into the hospital, and the next day, the doctors delivered the baby via cesarean section to save her life. Caitlin is yet to see her baby girl, and her fiancé, Jonathan Welch has been taking care of Quinn.
The UK woman needs a miracle as she continues to fight for her life. Hopefully, she'll have one like Liliya, and get to meet her daughter, awake and alive.
Please fill in your e-mail so we can share with you our top stories!