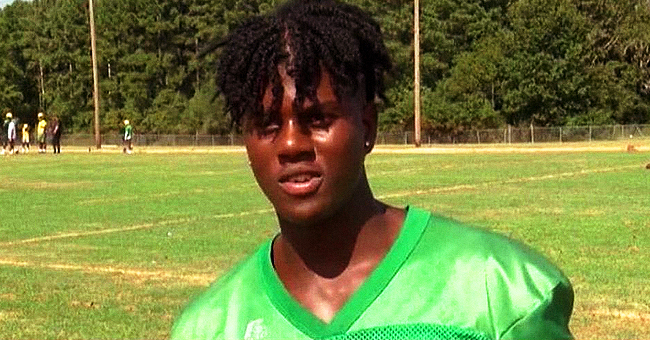 Twitter/247Sports
Louisiana High School Football Player De'Coldest ToEvaDoIt Crawford Goes Viral for His Unique Name

Names sets individuals apart, and some have a definitive meaning behind them. For one Louisiana high school football player, not only is his name unique, it turned him into an internet sensation.
Most people have basic common names; so often, it's not a name that sets a person apart but the accomplishments behind it.
In the case of a Green Oaks High School, Shreveport, Louisiana, student, De'Coldest ToEvaDoIt Crawford, both his name and his achievements, are what makes him unique.
GOING VIRAL
Crawford, who plays an as open receiver for his high school football team went viral after his name became a trending topic on Twitter following a news report by the Shreveport news outlet, KTAL.
While the news report focused on the high school sophomore student's upcoming season with his team, Twitter users chose to focus on his unique name which Complex Sports called, "One of the greatest football names ever."
Several reactions has trailed the name with one Twitter user writing,
"Decoldest ToEvaDoIt. Boy if he don't make it big, [I will] be pissed," and another, "I'm a fan. My parents went basic while naming me; I still ain't over it."
HOW HE GOT THE NAME
While the name appears to place a lot of expectations on Crawford's shoulder, the young man told 247 Sports, that it's a testament to his mother's trust in his abilities to make it as an athlete.
He said,
"My mom came up with my name. She named me this because she knew I would be the best athlete out of everyone in the family."
At 6-foot-1, the high school footballer has proven that his mother's faith in his abilities was not misplaced.
HE IS THE STAR OF GREEN OAKS HIGH SCHOOL FOOTBALL TEAM
During the last season in his district, Crawford caught 18 passes for 203 yards and three touchdowns. He was instrumental in Green Oaks making the playoffs, a feat they've not achieved in two years, and scouts from Southern University and Southern Miss are already sending offers his way.
The wide receiver is setting his target on winning the District 1-3A championship. But with his team having a weak offensive, the young player has his work cut out for him.
Despite the challenges ahead, Crawford believes,
"… [everything is not] supposed to come easy, so, we got to work to win. I have faith in [my team] to win the district championship."
In the meantime, the teenager with "De'Coldest" name in the game of football, is enjoying his new status as an internet sensation, and want his new fans to keep it going.
Please fill in your e-mail so we can share with you our top stories!