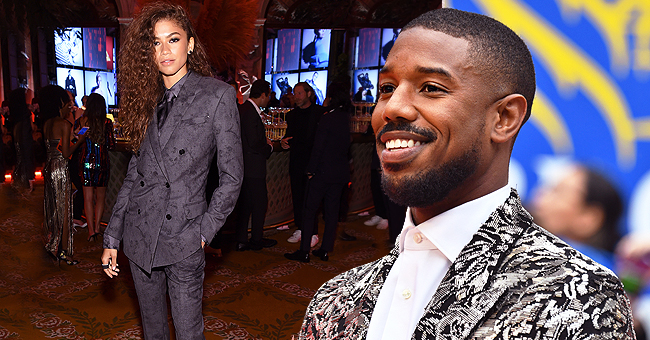 GettyImages
Michael B Jordan Reacts to Vote on Who Rocks the Same Suit Better: Him or Zendaya
Fashion breaks the gender barrier as Zendaya and Michael B. Jordan dispute "who wore it best."
How many times have we seen a side-by-side of celebrities in the same outfit with the caption "Who Wore It Best?" But you've never seen it like this before.
"Euphoria" star Zendaya and Michael B. Jordan rocked the same suit to different red carpet events, and the heat is on among the celebrities' fans as they debate who wore it better.
ANYTHING YOU CAN DO I CAN DO BETTER
Michael B. Jordan wore it first. He strutted his stuff at the Vanity Fair's Oscar party back in February in a stunning Bertuli suit.
But Zendaya stunned at a New York Fashion Week party in the same suit, and the clash was on.
"Who you got Z or B???? wearing @berluti," stylist, Law Roach wrote on Instagram.
Jordan as confessed that his priority right now is his career
NO CONTEST, ADMITS MICHAEL B. JORDAN
But Jordan is too big a man to hold grudges or to sulk, and he commented on the post shared by The Shade Room, conceding Zandaya the victory.
"@Zendaya hands down. No contest." Jordan commented on the post.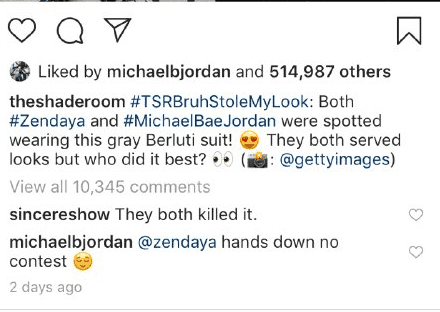 Comment by Michael B Jordan/ Source: Instagram/The Shade Room
FANS COMMENTS GOT HEATED
Of course, fans couldn't wait to comment and give their opinion, with even Jordan's admirers being forced to praise Zendaya.
"The fact that the "who wore it best" (expletive) is finally able to transcend gender is making me emotional. Anyway, the answer is obviously Zendaya."
"The entire world has agreed that Michael B Jordan is fine as hell so HOW did Zendaya come out here and out-dress him. How?"
MICHAEL B JORDAN AND ZENDAYA - HOW ABOUT A REMATCH?
Since we are fans of both these fine actors, we'd like to propose a rematch, just to give poor Jordan a chance at recovering his "coolest dude" title.
Better yet, would be to see these two working together in the same movie.
Now that would be heaven!
MICHAEL B. JORDAN - NO LOVE IN HIS LIFE
The actor who blazed into stardom with "Black Panther" and "Creed" revealed that he has no space in his life for love.
While he has been photographed looking flirty with several gorgeous stars at red carpet events, Jordan is adamant that all it is is friendship.
Jordan as confessed that his priority right now is his career and growing as an actor and that romance is not in his plans.
We are sure many ladies in Hollywood are disappointed to hear that,
Please fill in your e-mail so we can share with you our top stories!