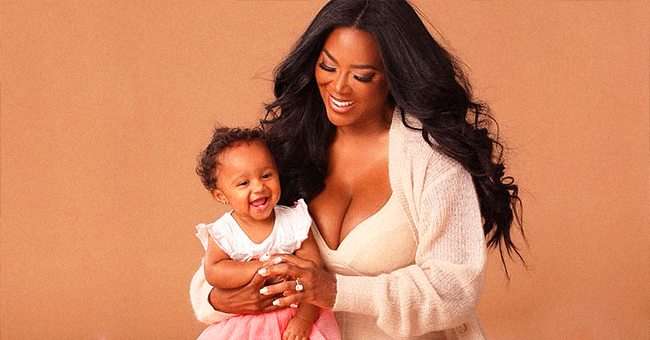 Instagram/thekenyamoore
Returning RHOA Star Kenya Moore Looks Happy Cuddling with Daughter Brooklyn in a Cozy New Photo

Kenya Moore melted her fans' hearts with the most recent photo she posted of herself with baby Brooklyn.
"Real Housewives of Atlanta" Kenya Moore shared yet another photo of herself with her adorable baby daughter Brooklyn Daly, and the fans were blown away by the glow of sheer happiness the reality star gives off.
The sweet mother and child portrait garnered over 125,000 likes on Instagram in just a few hours and dozens of comments from Kenya's followers.
A PORTRAIT OF UNCONDITIONAL LOVE
In the photo, Kenya is sitting on the floor in a soft palest peach knit set, holding in her arms a smiling Brooklyn.
Little Brooklyn wore a sweet dress with a white bodice and a pink voile skirt, but what made photo magical was the look of unconditional love on Kenya's face as she gazed at her baby.
Kenya shared the adorable clip of Brooklyn's swimming lesson on Instagram
FANS GUSH OVER ADORABLE SNAP
Of course, Kenya's fans who know what she went through during her difficult pregnancy and life-threatening deliver couldn't help but comment on her current happiness.
"I smile every time i see you n Ms. Brooklyn... i know how long you waited to meet her!!! And she didn't disappoint!!!?"
"Beautiful Mommy with a beautiful family! I'm so happy for you Kenya! ????❤❤❤❤❤"
"My heart smiles so big!!! You are finally living your fairytale Kenya. Your daughter is a gem!???"
"Beauuuutiful Just Stunning photo of you and your Baby Girl?????"
MISS BROOKLYN GOES SWIMMING WITH DADDY
But since Brooklyn is also a daddy's girl, she went for a swimming lesson with her father Marc Daly, where she showed she's not only not afraid of the water, she seems to be half a mermaid already.
KENYA MOORE ISSUES A CHALLENGE TO KAAVIA JAMES
Kenya shared the adorable clip of Brooklyn's swimming lesson on Instagram on September 12, along with a challenge to Gabriell Union's "shady baby" Kaavia James.
"This warms my coronary heart! Immediately my child was a rockstar in swim class. Her daddy was afraid to submerge her however she truly learns to swim that approach! She making an attempt to catch as much as @kaaviajames it's on!" she wrote.
Kaavia James is also 10-months-old and equally adorable, so maybe the celebrity moms will be setting up a pool-side play date very soon!
BROOKLYN DALY IS A MESSY EATER
You'd think that since her father Marc Daly is a restauranteur, Miss Brooklyn Daly would be minding her Ps and Qs and her table manners...but no luck!
Not that Kenya Moore is complaining, since 10-month-old Brooklyn has now started feeding herself and doesn't turn her nose up at the vegies and fruit mom provides.
Kenya shared an adorable photo of Brooklyn on Instagram grinning happily at piles of mangos, peas, and tomatoes. Bon Appetit!
Honestly, who minds the mess with such a sweet toothy smile as a reward?
Please fill in your e-mail so we can share with you our top stories!