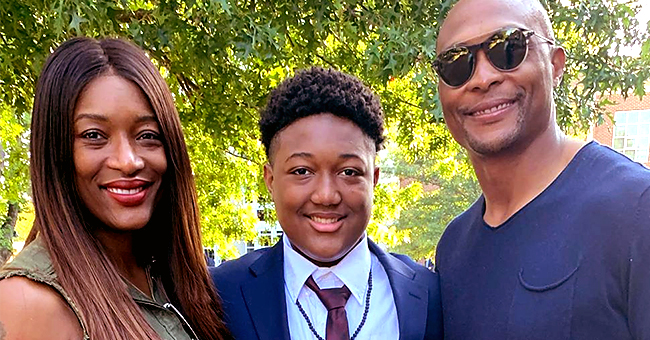 Instagram/tajgeorge
Ex-NFL Star Eddie George's Teen Son with Taj of SWV Recently Got His Freshman Patch
Eddie and Taj George are proud parents in a photo with their only son on the day he got his freshman patch. The couple who've been married for 15 years revealed earlier this year that they underwent the same procedure to treat their common injuries.
NFL star Eddie George and SWV singer Taj's only son, Eriq Michael George is now a freshman in high school and his parents couldn't be happier.
Proud mom Taj, aka Tamara Johnson George shared photos from the day he got his freshman patch and you can tell they were very supportive.
A smiling Eriq was flanked by his parents in the first photo in a series. Dressed in his blue high school blazer with the patch he just acquired, the young boy extended his arms behind his parents who smiled proudly with him.
Other photos revealed Eriq in solos with each parent. Taj hugs him dearly in their pic which only proves he's still her baby.
"My big baby received his Freshman patch this morning. So proud of him. Now, it's off to Montgomery," the 48-year-old captioned her slide show. No doubt there were tears of joy while she was writing it.
With Eriq being her only son, Taj must be overwhelmed with joy seeing her baby grow into a young man.
It wasn't too long ago when we saw a photo of him with his half-brother, Jaire David George, Eddie's son from a previous relationship.
Jaire was in college at Vanderbilt at the time, committed to playing for the university's football team. A young Eriq, who also played football in his school joined him for a pic on a field.
In May, Jaire graduated from college, a moment Taj also marked though she wasn't there for the occasion.
"Somehow, I manage to always miss the best moments with my family," she wrote to accompany a photo from Jaire's graduation day. "kudos to you on a job well done. We're all so very proud of you. Thank you for setting a positive example for your little brother. You're an amazing young man"
Taj and Eddie have been married for 15 years and it's clear their union is here to stay. They first met when Eddie wasn't a famous football star yet and Taj was making waves with her group, SWV. Eddie claimed the singer brushed him off then.
However, their stars aligned during their second meeting after the former NFL star won the Heisman Trophy.
He was out celebrating with his friends and Taj just happened to be there with a group of girls. Now close to a decade later, they have a son who's in high school.
More recently, we learned that Taj and Eddie share more than a son. Both have undergone stem cell treatment (the same one "Flip or Flop" star Tarek El Moussa had for his back injury) to relieve the pain in their knees.
Taj tore her ACL and meniscus twice prompting her to opt for the procedure that transferred stem cells from her stomach to her knee.
Meanwhile, Eddie had the procedure months before Taj to treat his swollen kneecaps. He proudly revealed that not only did he feel no pain, he also lost 15 pounds from working out and dieting due to the procedure.
It's nice to see that through sickness and health, Eddie and Taj are solidifying their union. We look forward to more happy milestones from these two in the years to come.
Please fill in your e-mail so we can share with you our top stories!