Story behind Taylor Swift and Kanye West's Long-Time Feud
The feud between Taylor Swift and Kanye West reached the level where it celebrated its tenth anniversary in September 2019. From the eventful 2009 MTV VMA's that started it all to the diary entry Taylor shared about Kanye in August 2019, we looked closer at everything in between.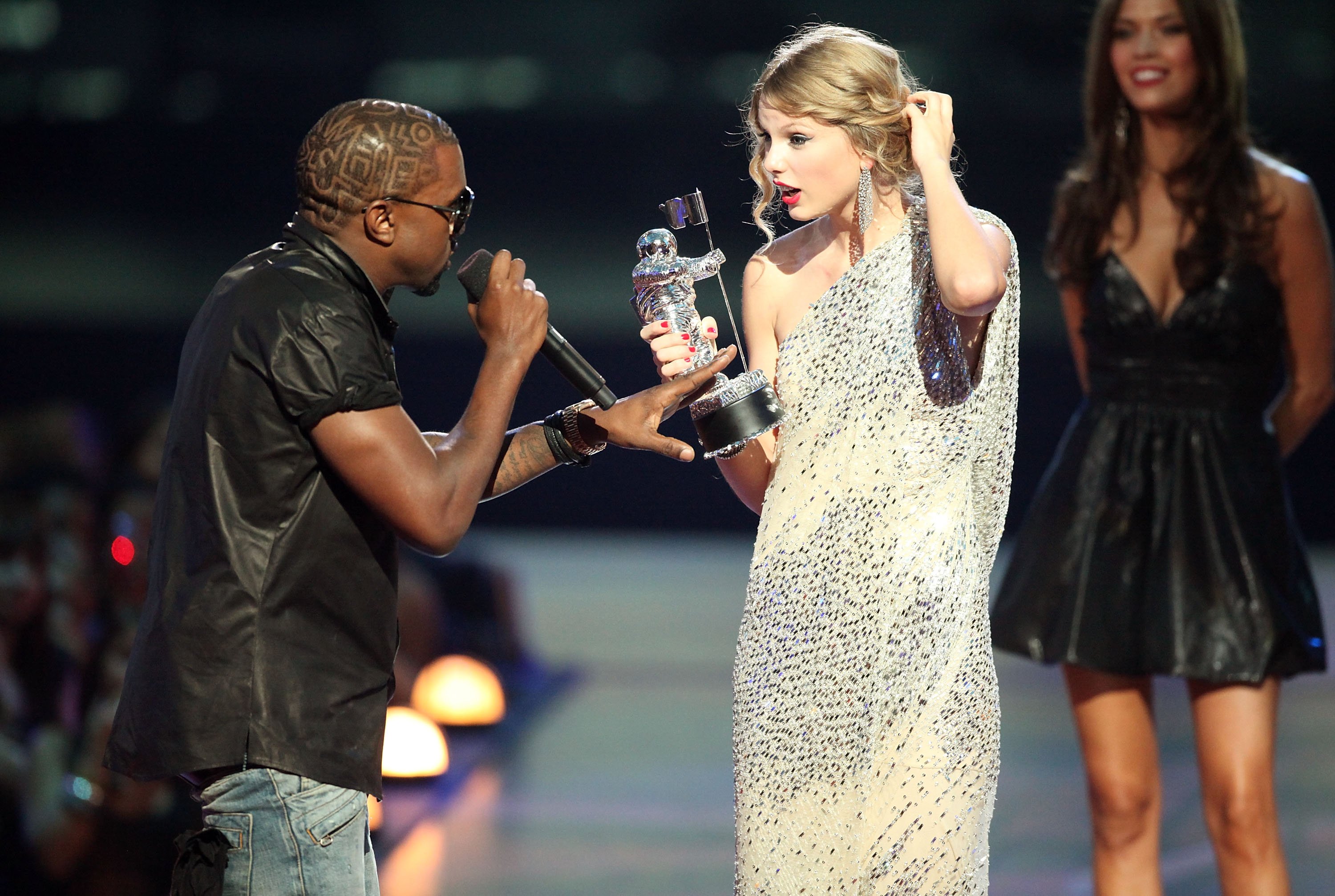 KANYE INTERRUPTS TAYLOR'S VMA ACCEPTANCE SPEECH
On September 13, 2009, Taylor Swift took to the stage to accept the Best Female Video Award for "You Belong With Me" at the MTV VMAs.
But as she started her acceptance speech, Kanye hopped up on stage and took the mic from Taylor and said, "Yo, Taylor, I'm really happy for you. I'm going to let you finish, but Beyoncé had one of the best videos of all time!"
It didn't matter that Kanye referred to Beyoncé's music video of "Single Ladies (Put a Ring on It)," the horrified faces told another story. By the time Kanye finished his interruption, the shocked Taylor Swift had no time to finish her acceptance speech.
During the show's commercial break, P!nk berated Kanye over his behavior while Beyoncé cried backstage. When Beyoncé won Video of the Year later on in the evening, she invited Taylor onstage to finish her speech. After the show, Kanye apologized for his actions on his blog.
THE PUBLIC APOLOGY
A week after the VMAs, Kanye appeared on "The Tonight Show With Jay Leno" and apologized for his actions with tears in his eyes as he said, "I immediately knew in the situation that it was wrong and it wasn't a spectacle, it's actually someone's emotions that I stepped on. It was rude, period. I'd like to apologize to her in person."
Taylor responded with public acceptance of Kanye's apology at the VMAs the following year with a debut performance of her song "Innocent." 
While her performance included clips of the famous interruption the previous year, the lyrics read, "It's okay, life is a tough crowd /Thirty-two and still growin' up now / Who you are is not what you did / You're still an innocent."
THE RETRACTION
For three years it seemed like the two had put their differences aside until Kanye took his apology back in June 2013.
During an interview with The New York Times, Kanye blamed peer pressure for his apology and added that his interruption of Taylor's acceptance speech "only led to awesome truth and awesomeness."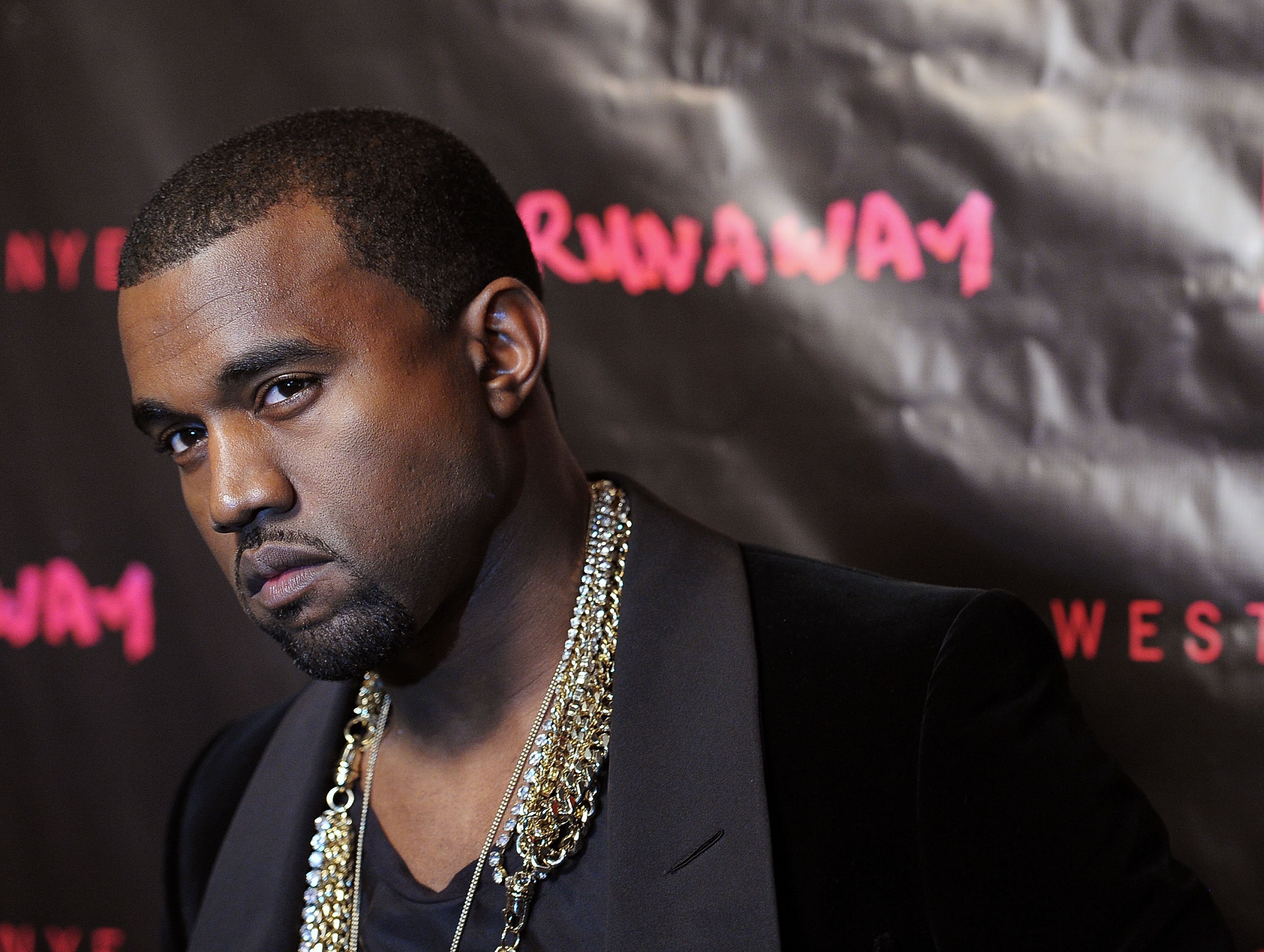 Two years later at the 57th Annual Grammy Awards, the pair seemed to have made amends as they hugged it out in front of the cameras.
Two months later, during an interview with ET April 2015, Taylor spoke highly of Kanye and confirmed that they have talked about a music collaboration. "He's one of those people that's just like idea, idea, idea," she said. "We've talked about it, but we've also talked about so many other things…I completely respect him as a producer. So, that's all I know now."
At the VMAs on August 30, 2015, Taylor further cemented her thoughts on Kanye West when she presented him with the Video Vanguard Award. 
"I've been a fan of his for as long as I can remember because Kanye defines what it means to be a creative force in music, fashion and, well, life," Taylor said. "So, I guess I have to say to all the other winners tonight, I'm really happy for you, and I'm going to let you finish, but Kanye West has had one of the greatest careers of all time."
THE TABLES TURN
When Kanye released "Famous" from his album, The Life of Pablo in February 2016, lyrics from the song about Taylor Swift sent their feud back to a simmer. 
"I feel like me, and Taylor might still have sex / Why? I made that [expletive] famous," the lyrics read. For much of the rest of the year, Kanye defended his actions by insisting that he pre-approved the lyrics with Taylor, while she claimed that Kanye didn't tell her about all the lyrics he intended using.
During her acceptance speech after winning the Album of the Year award at the 58th Grammy Awards, Taylor encouraged young women not to let people "undercut your success or take credit for your accomplishments and your fame," but to keep focused on their goals and dreams.
In June 2016, Kim Kardashian decided to intervene and insisted during an interview with GQ that Taylor approved all the lyrics, and has a recorded phone conversation to prove it.
The next month, Kim released parts of the conversation between Kanye and Taylor on Snapchat after Kanye's music video for "Famous" caused further upheaval. 
The video features various naked celebrity wax figures laid out on a massive bed, and next to Kanye on the bed is none other than a figure of Taylor among the likes of Rihanna, Donald Trump, Caitlyn Jenner, Bill Cosby, among others.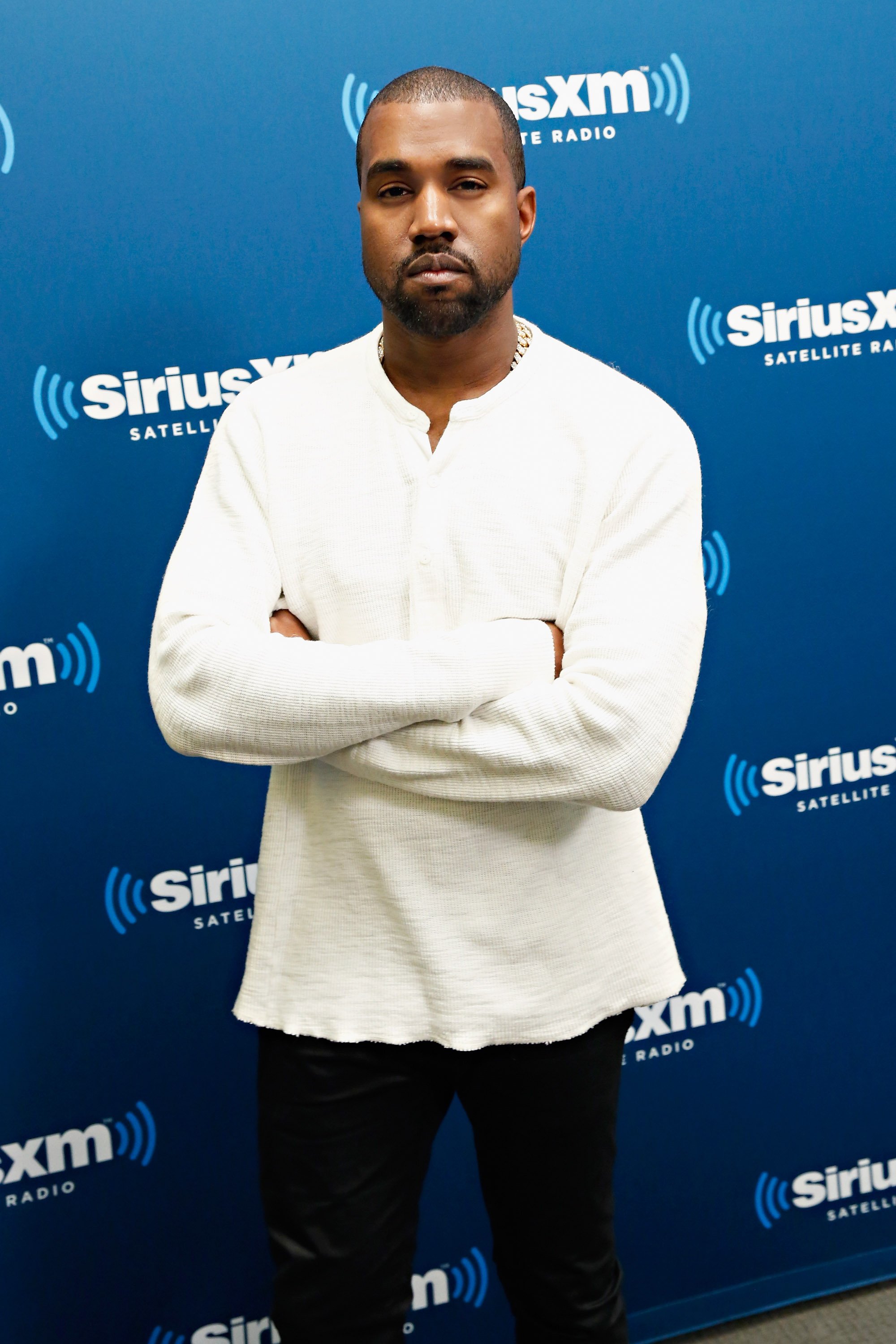 While the video got slammed as a "disturbing" artistic attempt by Lena Dunham, the audio recordings released by Kim Kardashian heard Taylor take the lyric in question as a "compliment," and she even planned on making sure reporters knew about her blessing ahead of time.
A SLITHERING SNAKE
Kim's defense of her husband didn't stop at the GQ interview. On July 17, 2016, she took to social media and wrote with a whole bunch of snake emojis, "Wait it's legit National Snake Day?!?!? They have holidays for everybody; I mean everything these days!"
The fights soon spilled over into social media, and it didn't take long before the hashtag #KimExposedTaylorParty trended. Taylor didn't keep quiet and clapped back that Kanye never told her that she would be called an [expletive] in his song.
"Being falsely painted as a liar when I was never given the full story or played any part of the song is character assassination," she also stated. "I would very much like to be excluded from this narrative, one that I have never asked to be a part of, since 2009."
When Taylor released her album with the debut single, "Look What You Made Me Do" in November 2017, she took several stabs at Kim and Kanye. 
While the stage got titled in reference to Kanye's Saint Pablo Tour, the lyrics to her song were equally conspicuous, "I don't like your little games / Don't like your tilted stage / The role you made me play / Of the fool / No, I don't like you."
Feeling the need to further reference, Taylor also wore snake rings on her fingers which many fans took as a stab to Kim's Tweet. 
Taylor drove the message home again during her summer tour in 2018 when she took a massive inflatable cobra she named Karyn along on tour. After being placed front and center stage, Taylor referred to the cobra as "the Stadium Tour equivalent of responding to a troll's hateful Instagram comment with lol."
TAYLOR SLAMMED KANYE AND KIM AS BULLIES
During an interview with Elle for the April 2019 edition, Taylor elaborated on how the name-calling on social media affected her.
"A few years ago, someone started an online hate campaign by calling me a snake on the internet. The fact that so many people jumped on board with it led me to feel lower than I've ever felt in my life," Taylor told the publication.
In June 2019, Taylor spoke out about continually being "bullied" again after she found out that Scooter Braun purchased her previous record label. "I learned about Scooter Braun's purchase of my masters as it was announced to the world. All I could think about was the incessant, manipulative bullying I've received at his hands for years," Taylor wrote on Tumblr.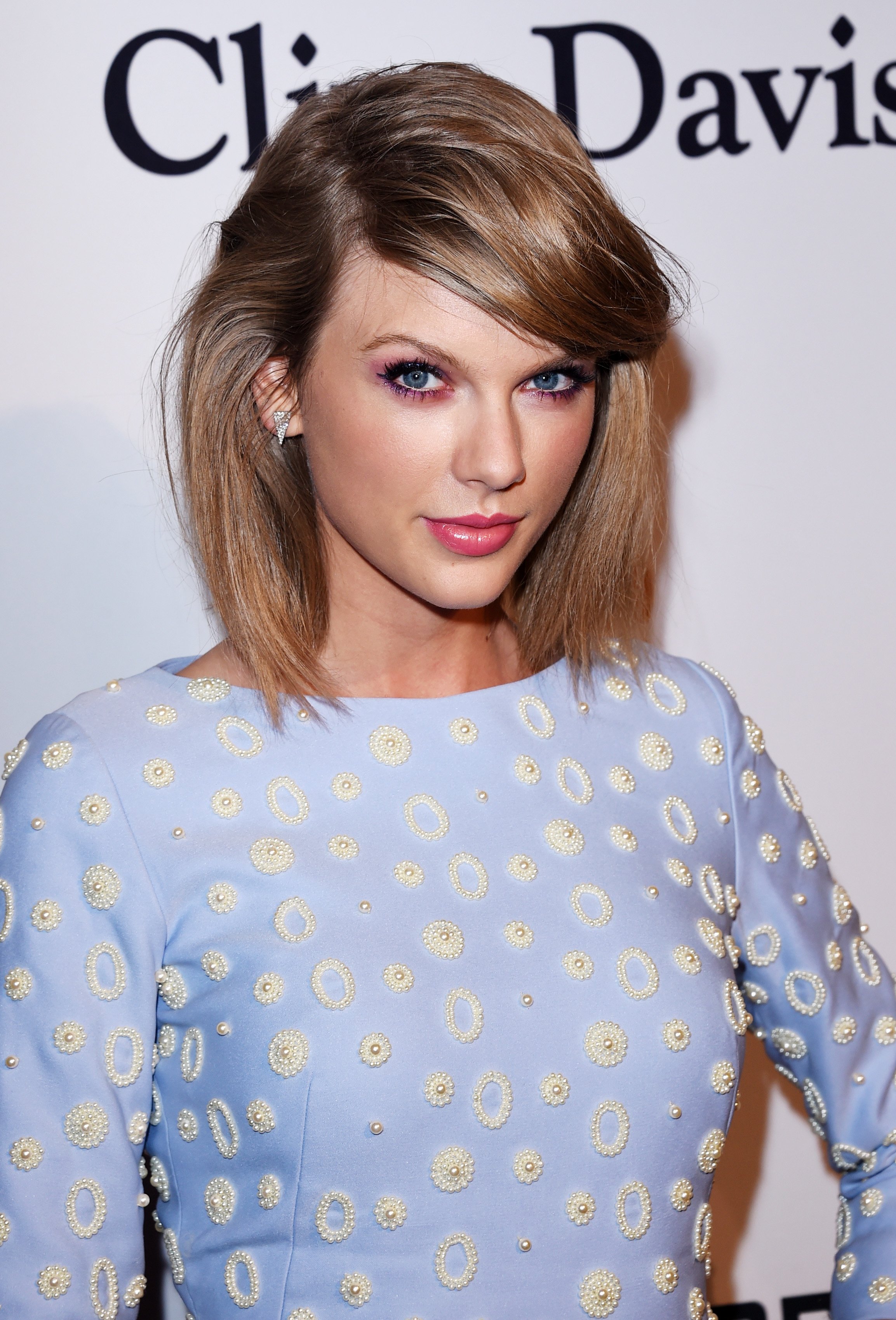 But the rant extended to Kanye and Kim as well as she added, "Like when Kim Kardashian orchestrated an illegally recorded snippet of a phone call to be leaked, and then Scooter got his two clients together to bully me online about it. Or when his client, Kanye West, organized a revenge porn music video which strips my body naked."
Two months later Taylor released personal entries from her diary as part of the deluxe version of her album Lover, which included her thoughts after the unforgettable night at the 2009 VMAs. "If you had told me that one of the biggest stars in music was going to jump on stage and announce that he thought I shouldn't have won on live television, I would've said, 'That stuff doesn't really happen in real life,"  she wrote.
Relatedly, fans of the famous musical "Cats" recently got a glimpse at what to expect from the likes of Jennifer Hudson, Taylor Swift, and Idris Elba in the upcoming release of the classic's remake.
In July 2019, Taylor shared a teaser of the upcoming film with a clip that showed the cast busy with rehearsals while she shared her experience working on the movie.