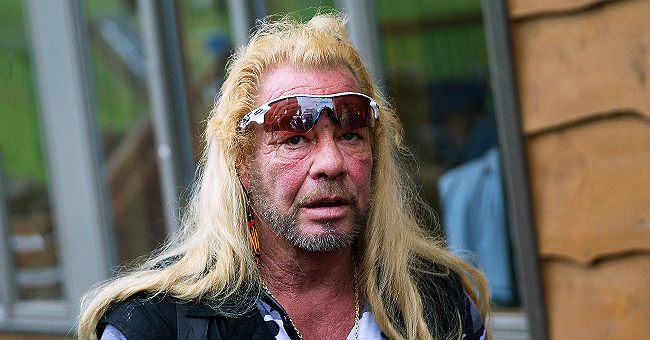 Getty Images.
Duane 'Dog' Chapman Tweets about Addiction after Being Hospitalized with Chest Pains

The 66-year-old on-screen star, Duane Chapman recently got admitted over his health condition, but that didn't deter his use of social media to get through his fans.
The "Dog the Bounty Hunter" star was hospitalized during the weekend following his complaints of discomfort in his chest.
According to the information garnered by TMZ, Duane is yet to receive a diagnosis due to the series of ongoing tests to be completed.
However, he took to his social media page to tweet advice for people combating addiction. The tweet bore a message for addicts to seek help via his team's call line.
The post featured the TV star in a black colored outfit and glasses, while he folded his arms firmly in a combatant style.
The words, "1-833-2THEDOG. Addiction Shall Not Win. Call my team for help," were written on the image.
THE "DOG'S MOST WANTED" STAR'S RELATIONSHIP WITH HIS FANS
Duane's fans commended his gesture for helping others seek help irrespective of his health conditions. This is not the first time he will be reaching out to fans.
My wife is, was and always will be the heart and soul of Dog's Most Wanted
In the course of an interview, the "Dog's Most Wanted" star revealed how much he appreciates the loyal fans that stood by him during the most vulnerable period in his life.
The reality TV star explained that these fans were his comfort, just as they comforted his wife during her illness via their letters.
With the death of his wife, the on-screen star decided to take the bull by the horn and launched the new show, "Dog's Most Wanted" where he and his teammates were saddled with the responsibility of bringing offenders to book.
The 66-year-old mentioned that his wife was the brain behind the new show, and she would be fulfilled with the latest improvements.
"My wife is, was and always will be the heart and soul of Dog's Most Wanted. Beth wanted nothing more than the show to go on, and I am so proud of the legacy that she left behind. She lived and died for this show, and she would be so proud of how hard we were working, bringing these criminals to justice."
DUANE'S CONVICTION ON HAVING ANOTHER PARTNER
Duane, who lost his wife a few months ago has emphasized his invaluable and undying love for his deceased wife.
He established during an interview how he is trying to get used to her absence, and that he even searched the internet to help him deal with his loss.
The "Dog The Bounty Hunter" star stated that his heart is receptive to having another lover, but that he will never exchange marital vows with another woman.
He also joked about how he and Beth talked about having other partners but never settling with one.
Duane's love for his wife is admirable, but he also possesses a pleasant degree of passion for his career and his fans!
Please fill in your e-mail so we can share with you our top stories!