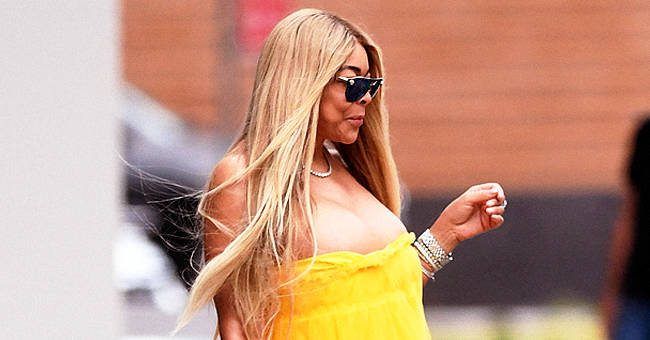 Twitter/HollywoodLife
Daytime Host Wendy Williams Flaunts Cleavage in Voluminous Yellow Dress before Taping of Talk Show

Wendy Williams is back in the studio for the new season of her show and she stunned in sunny yellow.
Wendy Williams rocked a fabulous sunny yellow tulle dress reminiscent of her famous hot-pink "poof" on her first day back on the "Wendy Williams Show" after her vacation
Wendy, who has gone through the trials of Job over this past year was radiant, showing that you just can't keep a good woman down
WENDY WILLIAMS COOL IN LEMONADE YELLOW TULLE
Wendy wore a full-length full-skirted flounced tulle dress, that left her arms and shoulders bare.
She accessorized with a silver choker and a slew of silver bangles and wore her long blond hair styled in casual waves to her shoulders.
Wendy later changed into a gorgeous form-fitting asymmetrical red dress
REMEMBER THE PINK "POOF"?
Remember that sensational pink tulle "poof" Wendy wore with such verve all summer? The lemon yellow dress exudes the same nonchalant chic, and suits Wendy to a "T."
A SUNNY BEGINNING TO THE NEW SEASON
Of course, Wendy later changed into a gorgeous form-fitting asymmetrical red dress for the show, but the sunny yellow dress seems to set the mood for the new Wendy Williams who has come through so much with such courage.
WENDY IS BACK ON TOP
Wendy has promised her audience in her first show that she won't be going soft, and that her Hot Topics will continue to be as controversial as ever.
"We will never stop working very hard to bring our dedicated Wendy Watchers and audience 'co-hosts' the freshest national daytime television. I heart you for watching," she wrote.
Watching her joy and energy on the show it is hard to believe that this is the same woman who has gone through hell this year.
From her relapse into substance abuse, her husband's mistress giving birth, and her heartbreaking decision to file for divorce, Wendy has come through it all like a phoenix rising from the flames.
Well done, Wendy!
WENDY WILLIAMS BREAKS THE NEWS
Wendy Williams chose the first episode of her new season to announce some fabulous news to her loyal audience.
Fox Television Stations has renewed Wendy's show for another two years, up until the end of 2022.
"I'm so excited to launch our 11th year by letting the world know I will continue to do what I love to do so much – and for a very long time. I want to tell Fox and all of our stations today how much their support and confidence means to me," she said.
Wendy Williams exuberant combination of emotion and pragmatism continues to charm her audiences, and the ratings prove it.
Please fill in your e-mail so we can share with you our top stories!