President Trump's Wife Melania Wears Sleeveless Dress & Heels for the Washington Monument Reopening
Melania Trump looks elegant, styled in designer attire from head-to-toe, at the re-opening of the Washington Monument.
The First Lady, Melania Trump, nails another fashion moment at the re-opening of the newly renovated Washington Monument. 
The monument has needed repairs from damage caused an earthquake in 2011, and a snapped elevator cable in 2016. The renovations included upgrades to it elevator and screening area. Sharing a video from the ceremony she captions:
"After three years of renovations, the Washington Monument is open! Thank you to all who supported the project. We need to preserve all of our national treasures for generations to come."
She arrived wearing a white short sleeved Prada dress. The form fitting dress was mid-length and showed off her slim figure. 
Although wearing white after labor day is considering tacky, the designer dress was simple and appropriate for the event. Prada fashion designer, Miuccia Prada once explained the vision behind Prada designs saying:
"I have always thought that Prada clothes looked kind of normal, but not quite normal. Maybe they have little twists that are disturbing, or something about them that's not quite acceptable. … Prada is not clothing for the bourgeoisie."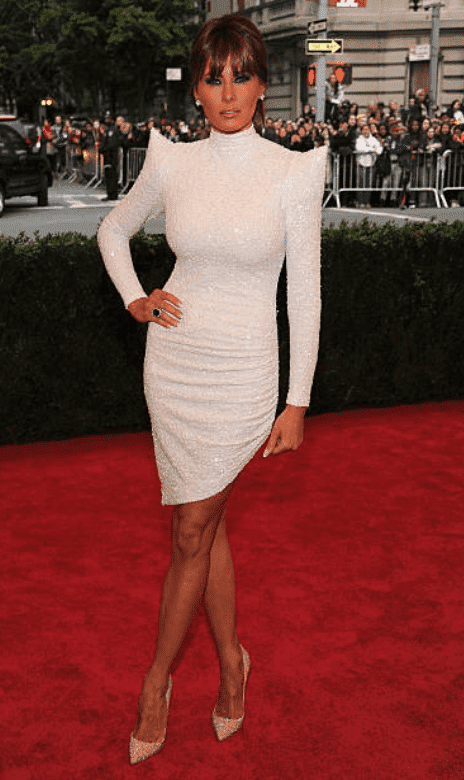 Melania is known for wearing countless designers over the years and Prada is always a common feature in her wardrobe. Having started modeling in Millan, where she lived with her sister, Ines Knauss, Italian designers have always been part of her style.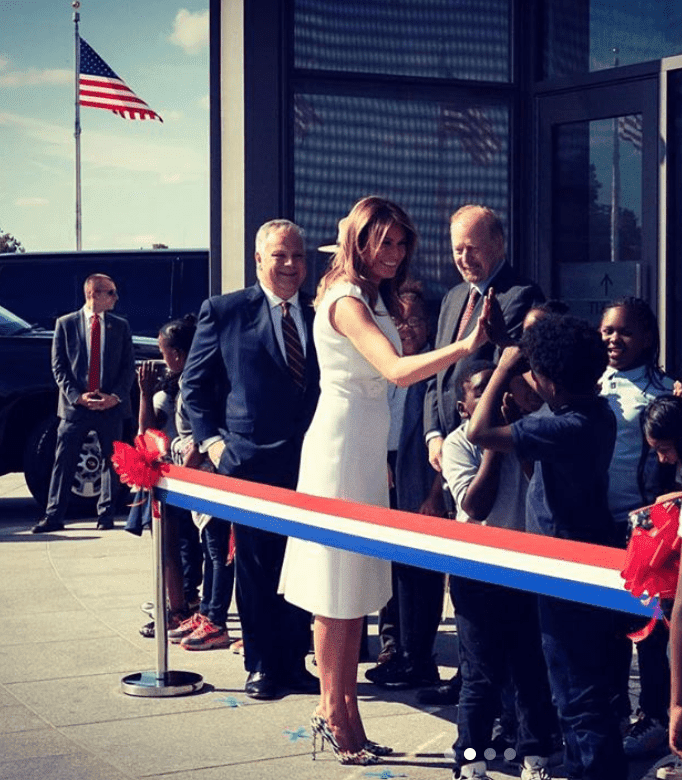 Adding a pop of color to her look, Melania wore colourful "BB Pump", snakeskin shoes by Manolo Blahnik. The versatile, yet elegant shoe is also another favourite of the First Lady.
Fashion designer and founder, Manuel "Manolo" Blahnik revealed that the "BB Pump" style was inspired by the 1950's French actress and singer, Brigitte Anne-Marie Bardot. During her time, she was considered a sex symbol. Detailing his inspiration, Blahnik explains:
"It reminds me of mid 20th century elegance and women like Suzy Park and Jean Shrimpton."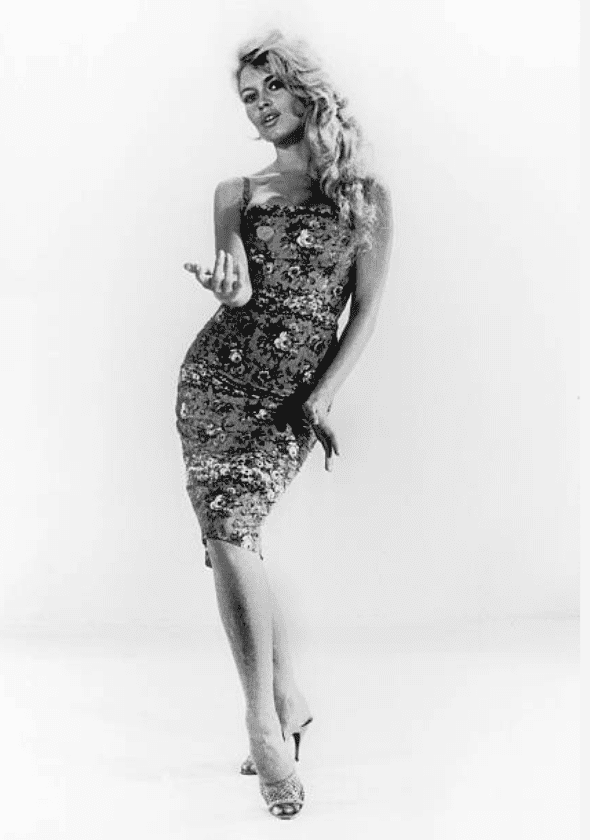 Normally, Melania's fashion moments are the talk of every event she attends. But this time an
embarrassing moment at the ceremonial ribbon
cutting left audiences focusing on more that just her fashion.
During the ceremonial opening, Melania's large scissors failed to cut through the ribbon, leaving her struggling to complete the task. Many users on social media had a field day mocking the incident.
.@FLOTUS Melania Trump participates in Washington Monument reopening. pic.twitter.com/UHhrLQQHd5

— The Hill (@thehill) September 19, 2019
However, the event went as planned and Melania continued the program, touring the Washington Monument with fourth graders from Amidon Bowen Elementary School in Washington. They went around the building and up to the very top, in the newly installed elevator.