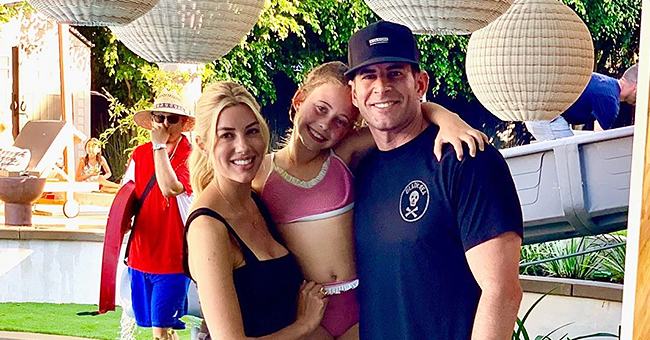 instagram.com/therealtarekelmoussa
Christina Anstead & Ex Tarek El Moussa Throw Huge Party for Daughter Taylor's 9th Birthday

Onscreen stars, Christina Anstead and her ex-husband Tarek El Moussa could not curtail their joy as their daughter, Taylor, turned 9. The proud parents went all out to celebrate their daughter's new age, and it was a colorful affair.
"Flip or Flop" star, Tarek updated his Instagram with a post featuring himself, his daughter and his lover, Heather Rae Young. The trio appeared hearty as they celebrated a pre-birthday party with the youngster in her mother's crib.
The ecstatic father detailed the order of the day, revealing that he and the kids who were invited to Taylor's party had a swell time.
The 38-year-old who was thrilled about his daughter's "actual" party stated that it was the first time the family was spending time with his beau, and he termed the experience as "great."
The pool-party featured kids from the celebrant's class enjoying meals from a colorful burger truck, a beautiful pink-dripping cake which had cups on it, to cheer to the new age.
CELEBRATING THE D-DAY
The former couple stopped at nothing to show that they love their baby girl. Although they share two kids, Taylor and her 4-year-old brother, Brayden James, Christina has a third child, 2-weeks-old Hudson London with her current husband.
Taylor's parents are divorced but share a healthy relationship for the kids
The mother of three took to Instagram to share how much she adores her little girl. She shared a series of images of her daughter, showing how much she has blossomed into a beautiful young girl.
Christina's caption showed that she adores the little girl's characters; the proud mother used words like "sassy," "smart," and "adventurous" to depict her princess's features.
Tarek also uploaded a photo, and his post's caption ran wide with words describing how much he loves his daughter. He expressed how Taylor's birth changed his perception of parenthood and got him ready to be a dad for the first time.
TAREK'S TAKE ON FAMILY
The father of two ensures to maintain a healthy relationship between his kids and his woman. Young and Taylor seem to have bonded a great deal. While she wished the young chap a "happy birthday," she detailed how well they fared during their hangout.
In an interview, the "Flip or Flop" star revealed that he was all about family bonding. He said that he would do all it takes to have a good relationship with his ex-wife's child because he is a "brother" to his kids.
Both Tarek and Christina divorced after sharing seven years, but they have managed to have a good relationship and are excellent parents to their kids!
Please fill in your e-mail so we can share with you our top stories!