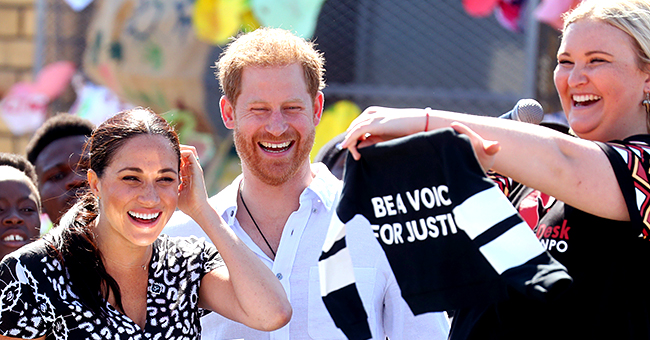 GettyImages
Prince Harry and Meghan Markle's Son Archie Given Traditional South African Name during Royal Tour

Duke and Duchess of Sussex get their "pillar of strength" while on their first family tour to Africa! The birth of baby Archie has taken another turn in the history of the British royals, as he gets a traditional name from Africa.
Prince Harry and his wife, Meghan, received the name as a "gift" while visiting Nyanga town in Cape Town.
The name, Ntsika which means "pillar of strength" was given by the township grandmothers while the couple participated in a workshop organized by an NGO called Justice Desk.
The workshop seeks to enlighten children and women about their safety, self-awareness, and rights. London-based pressman, Omid Scobie took to his Twitter page to announce the news.
After Meghan's speech at the event, Jessica Dewhurst announced they had a little gift for Archie.
"When your beautiful boy was born you gave him the name Archie," she said. "The name Archie means 'bravery and strength.' So to welcome Archie home, your family at the Justice Desk has given him the traditional South African name Ntsika. This name of Xhosa African origin means 'pillar of strength.' May you always be a pillar of strength for those who need you."
The four and half-month old was also presented a small hoodie with the words "be a voice for justice" at the rear.
The royalties landed in Cape Town for their visit to South Africa. Meanwhile, Harry will go to other African countries like Botswana, Angola, and Malawi alone before he comes back to his wife and son.
The gesture moved the couple
While receiving the certificate that affirms the Xhosa name given to Archie, both Harry and Meghan looked filled with emotions after the announcement of the new name.
According to a source who spoke to PEOPLE, the couple hopes to have Archie with them at some locations while on tour, but it's hard to decide because he is barely five months old.
Archie is yet to appear publicly in South Africa, but he is already playing a starring role in the official tour.
They have both always loved Africa!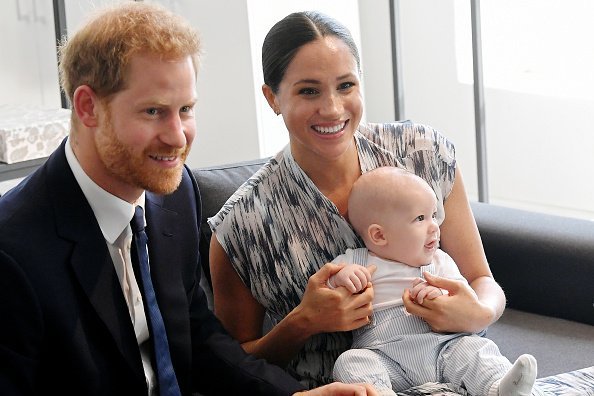 Prince Harry, Meghan Markle and their baby son Archie Mountbatten-Windsor at a meeting with Archbishop Desmond Tutu and his daughter Thandeka | Photo: Getty Images
After their first date in 2007, Harry and Meghan visited Botswana, spent some days and had the chance to know more about each other.
Harry also has a charity foundation in Lesotho, intending to help children and women living with AIDS. It was established in 2006.
The Royal Palace reports their visit to South Africa is on behalf of the UK government, courtesy of the Foreign and Commonwealth Office.
Prince Harry will also make a memorable visit to Huambo, the exact place his mother, the late Princess Diana was popularly pictured at a de-mined site and pay a visit to victims affected by the landmine.
The Duke plans to launch a program aimed at de-mining the country in different locations.
While in Malawi, Harry will make his stance against animal cruelty known by attending a demonstration opposing poaching of animals.
He will also meet locals working to rescue animals from being sold illegally. Meghan on the other hand is scheduled to engage in events aimed at improving women and girls' health while on tour.
She will also be discussing with young South African females about developing their country.
Harry and Meghan tied the knot in mid-2018; the latter is an American who worked as an actress. The traditional wedding ceremony stood out for the inclusion of African-American culture.
They welcomed their son, Archie in May this year. The baby is the great-grandchild of Queen Elizabeth I
Please fill in your e-mail so we can share with you our top stories!