Inside the Love Story of 'Full House' Star Candace Cameron and Her Husband Valeri Bure
Candace Cameron is not the same young girl who captivated the audience of "Full House" playing D.J. Tanner. She is now married to former NHL player Valeri Bure and has three children.
Born on April 6, 1976, Candace's career in the entertainment industry began at a very early age. She got her first acting gig in 1982 on the NBC series "St. Elsewhere."
"I'm so grateful and thankful for the man I married."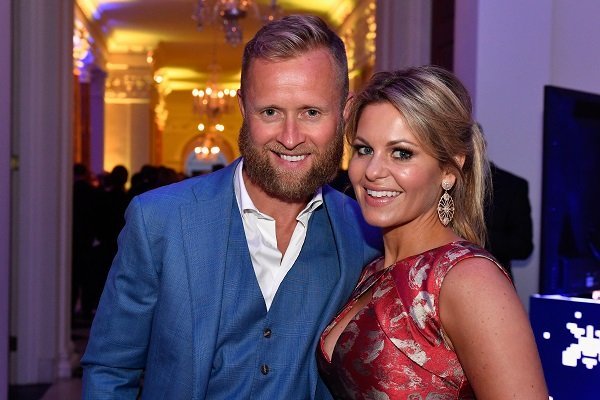 Candace Cameron's time on "Full House"
After that, she kept getting minor roles on different projects until she landed the role of D.J. Tanner on "Full House" in 1987. Her character was the eldest child of Danny Tanner, played by Bob Saget.
Apart from Bob and Candace, actors as famous as John Stamos (Jesse Katsopolis), Jodie Sweetin (Stephanie Tanner), and the Olsen twins Mary-Kate and Ashley (Michelle Tanner) also worked on the show.
Her career after "Full House"
After the show was canceled in 1995, she had a hard time landing another major role in an important project, so she would make guest appearances on shows like "Cybill" and "That's So Raven."
In 2009, she got the chance to be one of the principal stars of the ABC comedy-drama show "Make It or Break It," portraying Summer Van Horne during the three seasons that the series was on the air.
Competing on "Dancing with the Stars"
Candace Cameron kept working on TV films and making guest appearances on other shows before being selected as a contestant for the 18th season of "Dancing with the Stars."
She danced next to Mark Ballas and made it to the finals but ended up in third place. That year's winners were ice dancer Meryl Davis and Maksim Chmerkovskiy.
Candace's romantic life
Although the actress' career has been quite successful, her greatest gift is her family, and she has her "Full House" co-star Dave Coulier, who played Uncle Joey, to thank for it.
During a conversation with HuffPost, Candace revealed that Dave played in a charity hockey game in 1995 and invited the cast of the show. Candace and Lori Loughlin, who placed Aunt Becky, went together.
Dave had previously told them that two Russian hockey players would be at the game: Val and his brother, Pavel Bure. As soon as Candace saw Val on the ice, she knew that she wanted to meet him.
Playing cupid, Dave introduced the two, and they went on a date the next day. Less than a year later, the couple got engaged an, on June 22, 1996, they tied the knot.
Their children
In 1998, they welcomed their first child, Natasha, to the world. Their two sons, Lev and Maksim, were born in 2000 and 2002, respectively.
Although they are still married nowadays, Candace has admitted that their time together has not been "all roses."
In a Facebook post that the actress shared on their 20th wedding anniversary, she acknowledged that they have gone through "tough years" with bad attitudes and decisions, but that they have "persevered."
"We rode them out. We loved each other through them. We kept the focus; God's glory. We are both better for it. I'm so grateful and thankful for the man I married," Candace Cameron confessed.
Apart from that, she pointed out that neither of them was perfect and that they would keep making mistakes because that's human nature. However, they trust that it is all part of God's plan.
"To God be the glory. Thank you for an awesome 20 years together. I pray for another 60. Amen," Candace concluded.
Their relationship nowadays
In a different interview with Yahoo, the actress confessed that a man feels loved when he feels respected, so she always reminds her children to show appreciation to Val when necessary.
Apart from that, she said that making time for dates was also crucial for a healthy relationship: "you need that intimacy — not just romantic but also through conversation."
At the moment, Candace is still focused on her career in the entertainment industry. Starting in 2016, she has been playing D.J. Tanner on "Fuller House," the sequel of the original series.
Valeri, on the other hand, ended his professional hockey career in 2006 at the age of 31 due to a back injury. In 2010, he went back to the ice for the reality show "Battle of the Blades" and won the competition. Nowadays, he is taking care of his three children.