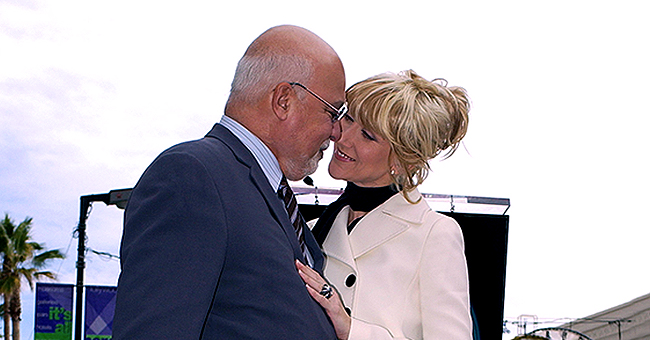 Getty Images.
Inside Céline Dion and René Angélil's Iconic Love Story

While René Angélil brought the world Celine Dion, they brought each other deep and lasting love. Their dedication to each other had "love win" against the odds to become of the most iconic romances of the era.
The French-Canadian beauty met René at the age of thirteen. One of her siblings had sent music manager René a tape of her singing, and he invited Celine to audition in Quebec.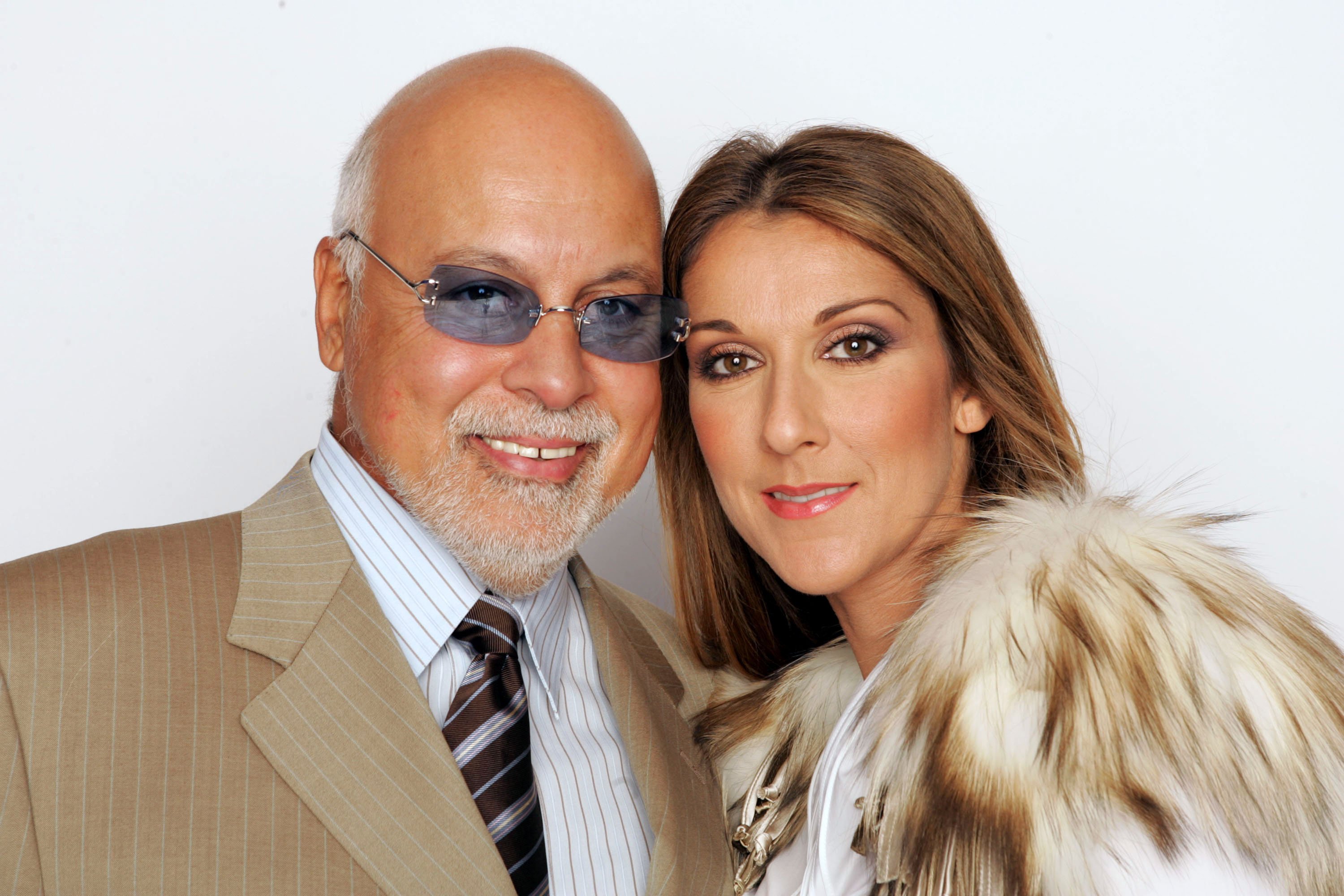 Celine Dion and her husband Rene Angelil pose for a picture backstage during the 2004 World Music Awards at the Thomas and Mack Center on September 15, 2004, in Las Vegas, Nevada. | Source: Getty Images.
René saw the star in Celine he later showed the world, and didn't hesitate to morgage his house in 1981 to finance her first album and her tour of Europe, Canada, and Japan.
As her manager, the man almost thirty years her senior did more than help transform Celine into a superstar, he fell in love, and so did she. After working together for several years, René and Celine started a romantic relationship and had their first official date after she turned nineteen in 1987.
Celine and René's significant age difference didn't bother them, but it did bother Celine's mother, who saw René in the light of a man who has had two failed marriages and three children.
"It was very difficult for her," Celine said. "When I told her I had some really strong feelings for René she tried everything to kill them and make me snap out of it."
The couple kept their relationship private even after their 1991 engagement due to Celine's career, and she relished at the moment she could finally call their relationship what it is.
"When I was at the age to be able to say to people," she said, "It was like bang! love! Love always wins." It won indeed, as the whole family fell in love with René by the time they got married on December 17, 1994. The lavish ceremony took place at Montreal's Notre-Dame Basilica, which Canadian television broadcast live.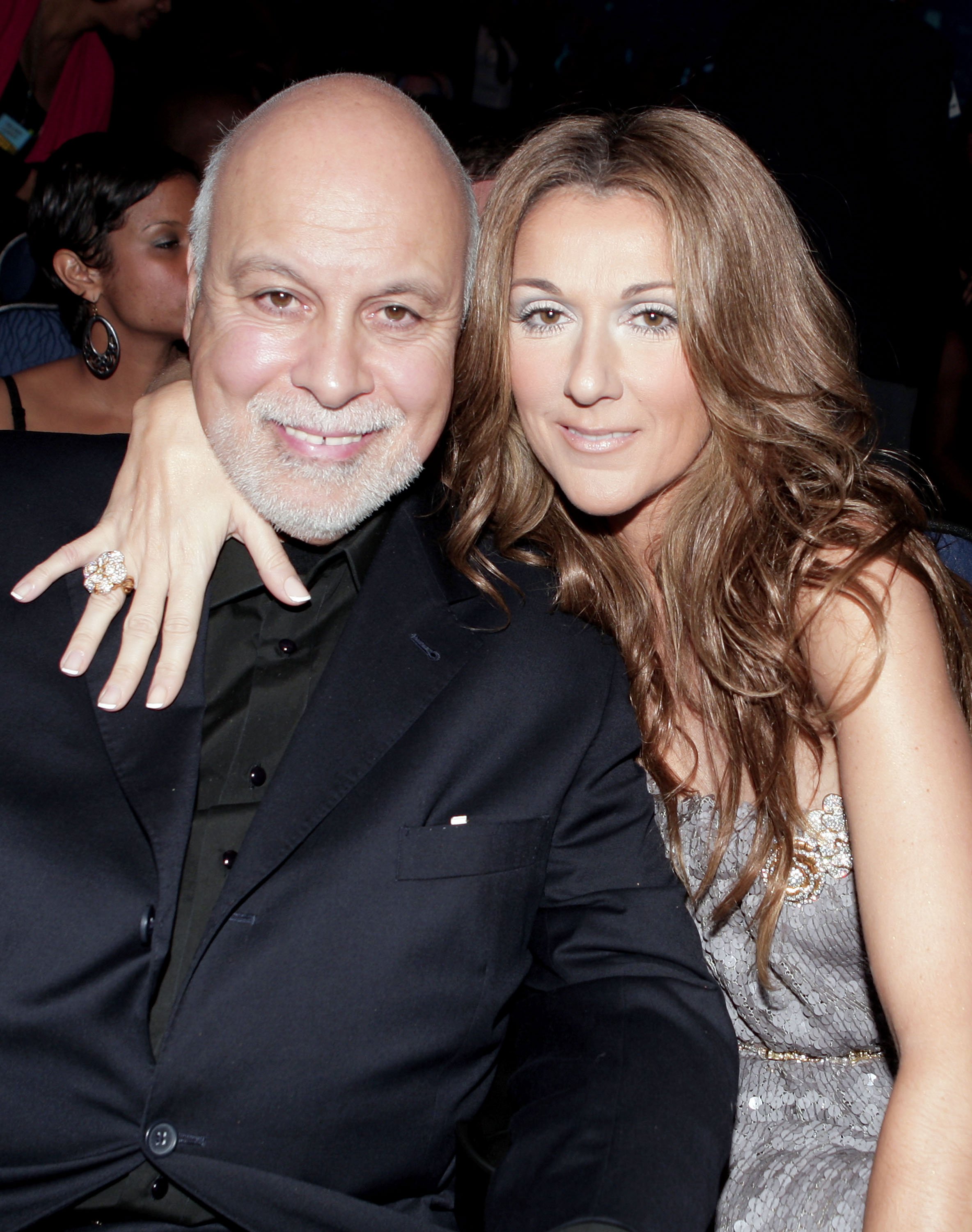 Rene Angelil and Singer Celine Dion in the audience during the 2007 American Music Awards held at the Nokia Theatre L.A. LIVE on November 18, 2007, in Los Angeles, California. | Source: Getty Images.
Three years later, Celine's career reached new heights when she sang one of the biggest hits of her career for the film Titanic, "My Heart Will Go On," which earned her an Academy Award for Best Original Song.
René and Celine faced two years of difficulty after René got diagnosed with throat cancer in 1998. Celine took a hiatus from her career to focus on René's needs until he got declared cancer-free in 2000.
As a celebration, Celine and René decided to renew their wedding vows in Las Vegas with a traditional Melkite Byzantine ceremony.
The couple longed for children of their own, and after years of fertility treatments, Celine gave birth to their son, René-Charles on January 25, 2001. That July, they baptized their newborn at the same place they married; the Notre-Dame Basilica in Montreal.
Feeling blessed by the returned health of her husband and the birth of their child, Celine released the album, A New Day Has Come in 2002 and announced her residency in Las Vegas at Ceasar's Palace the same year.
Celine's 717 performances at Ceasar's Palace sold nearly three million tickets, and the singer had the final show of her residency on December 15, 2007.
René and Celine wanted more children and she continued with rounds of IVF until she fell pregnant with twins, Nelson and Eddy, born on October 23, 2010.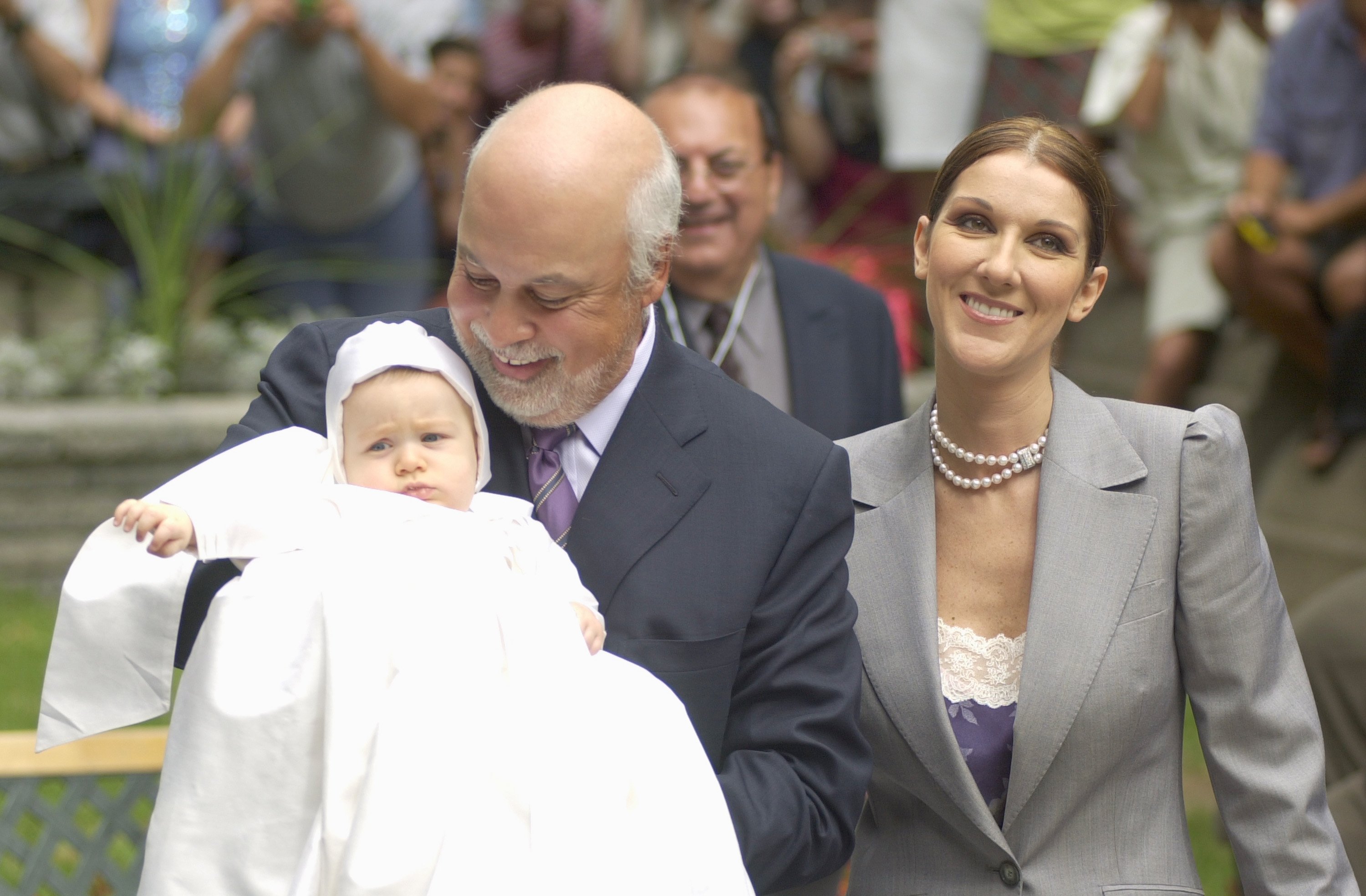 Celine Dion stands next to her husband, Rene Angelil, who holds their baby Rene-Charles July 25, 2001 as they arrive at the chapel of the Notre-Dame Basilica in old Montreal, Quebec before the baptism of their 6-month-old baby boy. | Source: Getty Images.
Eddy, named for the French songwriter Edd Marnay, and Nelson for the former South African President Nelson Mandela, the birth of Celine and René's twins just brought more joy to their world.
To Celine, her family takes precedence over her work, including her responsibilities as a parent, a role she cherishes, as she has said:
"My greatest reward is my children. Unless you are a mom you don't know what you're missing or what it even is really... It gives you true meaning to your life and it's the most important job. Who cares if people like me as a singer or not, they can find other singers and there will be other singers. But no other mother can be a better mother for my children than me."
In 2013, René's cancer returned and he underwent surgery that December to have it removed. A bitter fight with the illness ensued with Celine by his side every step of the way until he sadly drew his last breath on January 14, 2016.
Since René's passing, Celine kept away from romance and made it clear that her heart still goes on for the love of her life during an interview in September 2019.
The singer had just released tracks from her album, Courage, which is representative of the respective losses suffered after René died. Her children lost their father, she lost her husband and manager, but she found the strength to keep going.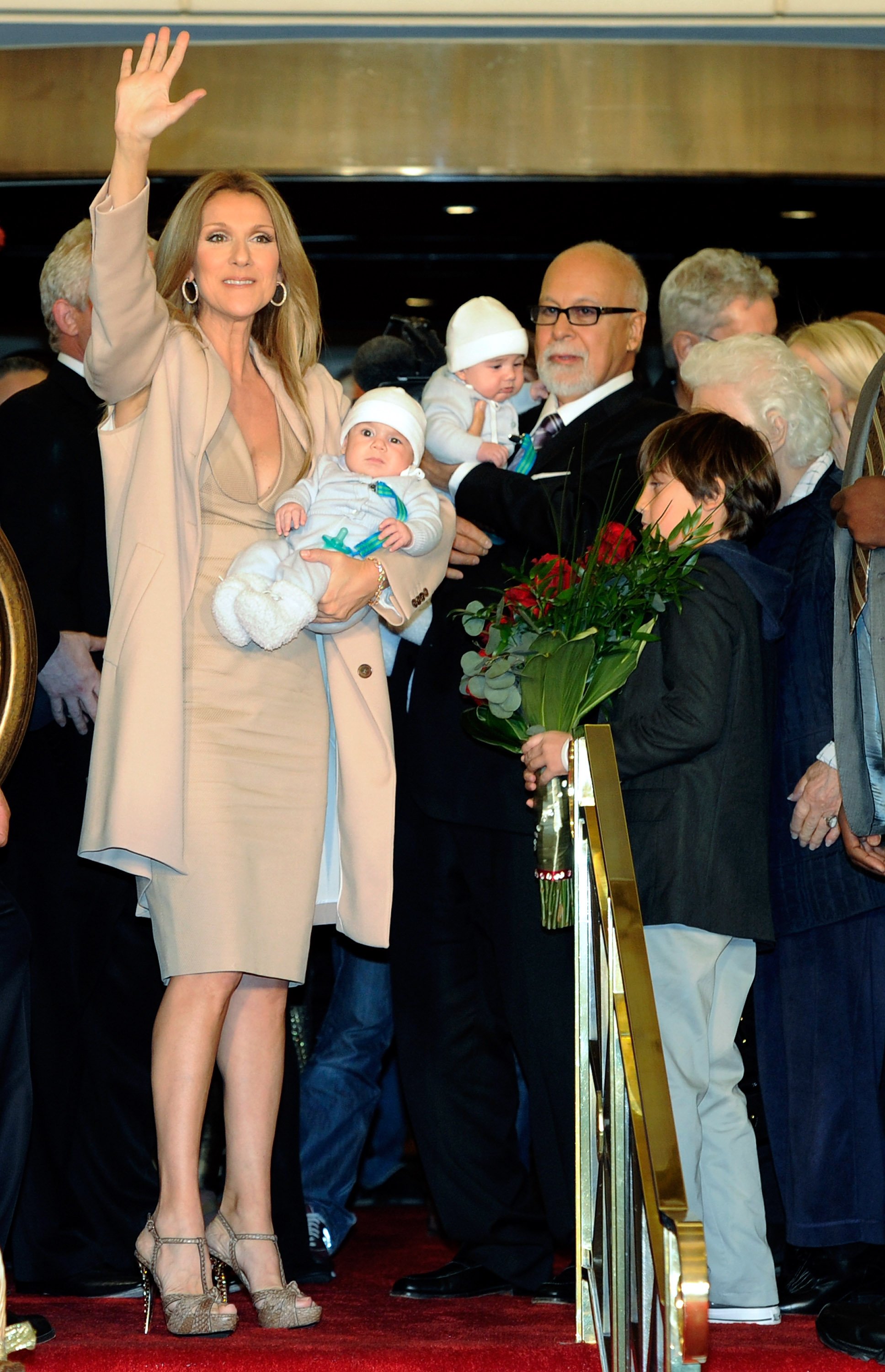 Celine Dion waves as she holds her son Nelson Angelil next to her husband and manager Rene Angelil, holding their son Eddy Angelil, and their son Rene-Charles Angelil arrive at Caesars Palace February 16, 2011, in Las Vegas, Nevada. | Source: Getty Images.
While Celine doesn't feel ready for a romantic relationship, she does miss certain things about being in one. "I'm very lucky and happy to have so many people in my surroundings…they make me laugh, but I miss to be touched, I miss to be hugged, I miss to be told, 'You're beautiful.' I miss what a boyfriend and I miss what a husband would do," Celine said.
Meanwhile, Celine and René's son, René-Charles turned into a teenager and decided to follow in his mother's footsteps.
In 2018, René-Charles published the first of his music and his songs became an instant hit and climbed to the top of the R&B and Soul charts on Soundcloud within hours of release.
Please fill in your e-mail so we can share with you our top stories!