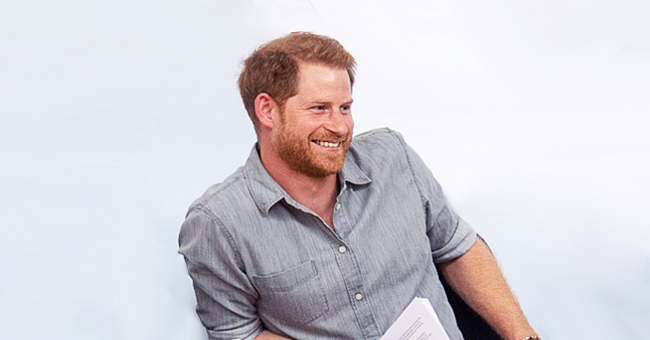 twitter.com/people
Prince Harry Reacted with a Wide Smile to Meghan Markle's Skype Call from South Africa While He Was in Malawi
Prince Harry made a solo trip to Malawi while his small family remains in South Africa. The Prince could barely hide his glee as he watched his wife make a surprise appearance to support him during the trip.
The Duke and Duchess of Sussex are currently on a tour of Africa with their son, Archie, who will soon be five months old.
Prince Harry is, however, making solo trips about the continent while Markle and little Archie stay back in South Africa.
He is presently in Malawi where he met with Women from the Nalikule College of Education.
"Hello Malawi, it's South Africa calling! Another incredible day on #RoyalVisitAfrica as The Duke arrived in Malawi, with The Duchess joining him via Skype to speak to women and girls who went to school with the support of CAMA and @camfed," an update on the couple's official Instagram reads.
It was there that Markle made a surprise appearance via Skype to be with the women.
The 35-year-old royal (Prince Harry) could barely contain his joy as he leaned in to watch his wife address the women.
His reaction has since been labelled "meme-worthy" as it captures how much he must have missed his wife.
The appearance of Meghan's face on the large screen elicited joyful singing and clapping from the young women and Meghan could be seen happily clapping along.
Prince Harry, on the other hand, had a heart-melting smile pasted on his face as he kept his eyes glued to the screen.
Equally smiling, Meghan excitedly expressed pride at having the opportunity to be a part of the Queen's Commonwealth and in turn provide support for the women.
"We're just so proud as president and vice-president of the Queen's Commonwealth Trust that we can support you in everything that you do because we cannot begin to express how valuable and vital that work is, we're just incredibly proud to be part of it," she said.
She continued the speech by letting on that she wished she could be with them before sharing a quick update about baby Archie.
"We're in South Africa right now — Archie's taking a nap. I'm with you in spirit. I'm so happy, and I can't wait to hear for the rest of the session," she said.
The Duke and Duchess have been making efforts to promote girls' education in Malawi, one of the most impoverished countries in the world.
Markle's supportive gesture making the surprise appearance, albeit via Skype, therefore signals the real importance of the program to them.
The retired actress is primarily known for her advocacy of providing education for the girl child.
Her efforts have not gone unnoticed as she was named patron of The Association of Commonwealth Universities earlier this year.
Markle admittedly makes the perfect partner for Prince Harry whose love and devotion for Africa is known far and wide.
What better proof of this than Prince Harry's gorgeous smile watching her speak during his Malawi trip?
The British royal is reportedly going to remain in Malawi until Tuesday when he will rejoin Archie and Meghan in South Africa.
Please fill in your e-mail so we can share with you our top stories!