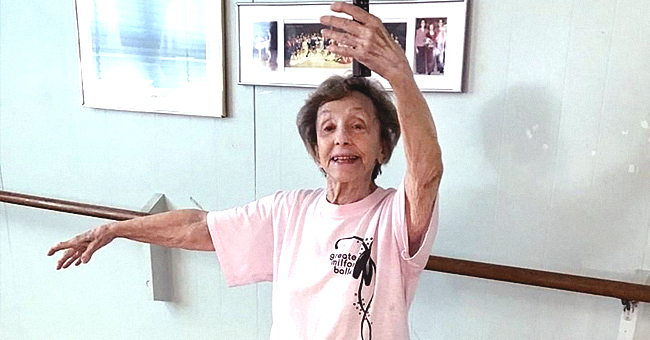 instagram.com/todayshow
Massachusetts Dance Teacher Who's 100 Shares Her Secret to Long Life

100-year-old dance teacher Georgia Deane has shared her longevity tips in an interview.
At 100-years-old, Deane, who has survived breast cancer, is still healthy and thriving. She is the founder of the Deane School of Dance in Mendon, Massachusetts, as reported by TODAY.
"You have to exercise until you can't move anymore," Deane said. "As far as I'm concerned, you never stop. If you never stop, then you have a very good chance to keep going."
She added, "I'm 100 and I can still do what I do, why should I retire? You keep going, that's what keeps me alive... the minute you stop moving, that's the end."
DEANE'S DIET
Speaking about her diet, Deane revealed that she only eat everything in small amounts. The centenarian dancer is a strong believer in two foods specifically.
She said, "If you eat a lot of olive oil and garlic, you probably live forever. Garlic kills all the germs and the oil keeps your joints moving."
Born on June 8, 1919, Deane began dancing at 4. She first performed at the age of 13.
After completing her college degree, she toured the country alongside her sisters. The siblings performed in nightclubs and different venues.
In 1976, she decided to open her dance school when she became bored.
ANOTHER INCREDIBLE LONGEVITY
Like Deane, Henry Danton, a 100-year-old ballet teacher in Mississippi, can't fathom retiring from his job as well, Yahoo reported.
"I see people who retire and they become so bored, they don't know what to do with themselves," he told TODAY. "That's when their health starts to go down."
Danton, who was born in London, celebrated his 100-year milestone on March 30, 2019, according to WLBT.
In the 1940s, he trained in classical ballet at the Royal Academy of Dancing. He then became a wonder that graced stages worldwide.
Danton started training dancers at Fokine School of Ballet, Ballet Arts, Carnegie Hall, and Julliard when his time on stage came to an end.
In 1996, he moved to Mississippi, where he keeps on teaching ballet around the state.
Please fill in your e-mail so we can share with you our top stories!