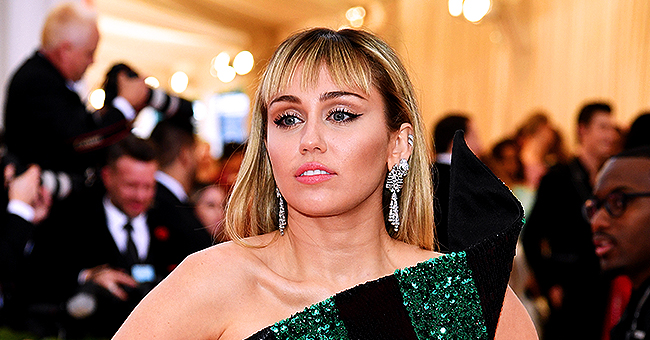 Getty Images
'Don't Call Me Angel' Singer Miley Cyrus Shares about Love after Liam Hemsworth & Kaitlynn Carter Splits
Miley Cyrus posts a message about love and loyalty on Instagram. The cryptic note doesn't specify any names, but it seems to be directed at one of her ex's.
Miley Cyrus started off her Sunday morning relaxing in bed with her two dogs. The moment must have given her some time to reflect on her past relationships, because she shared a cryptic message about love on her Instagram story, she says:
"Waking up surrounded by animals is my favorite way to start a morning. I am immediately reminded to LOVE without conditions…the best part about animals is that they are careless about the details."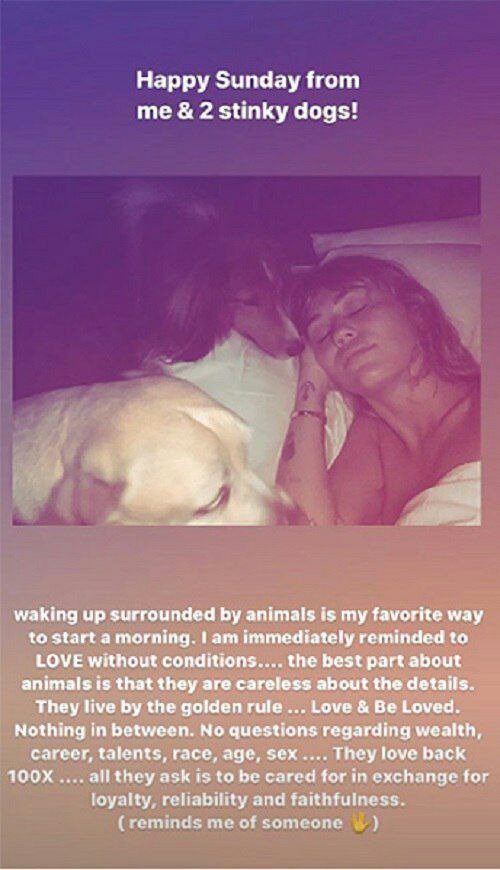 Laying in bed with her two dogs, Miley Cyrus shares a cryptic message about love on her Instagram story | Source: instagram.com/mileycyrus
"They live by the golden rule… Love & Be Loved. Nothing in between. No questions regarding wealth, career, talents, race, age, sex…they love back 100x…all they ask if to be cared for in exchange for loyalty, reliability and faithfulness (reminds me of someone)," she concludes.
Miley ends her message with a waving emoji, making it clear that the someone she is reminded of is herself.
It still remains unclear who she is directing the message at, but the normally carefree Miley clearly has a lot on her mind that could be stemming from her recent breakups.
After 10 years of dating and less than a year of marriage, she divorced her husband, Liam Hemsworth, in August. The reason for their breakup has not been announced.
On the same day that her divorce was made public, pictures surfaced of her kissing "The Hills: New Beginnings" star, Kaitlynn Carter, in Italy.
Before they abruptly split up, after a month of dating, the two were inseparable for weeks and rumored to have moved in together.
Recently Miley was joined by her mother, Tish Cyrus; sister, Brandi Cyrus and dog, Bean, for a girl's getaway. It is reported, she took the trip as a much needed getaway.
A source tells PEOPLE, after both of breakups, Miley is taking some time to herself; to be single and focus on her career, it is revealed:
"Miley split from Liam to focus on herself. Her relationship with Kaitlynn was a happy surprise. However, Miley was so invested in her relationship with Liam for a long time. She felt her relationship with Kaitlynn was almost moving in that direction, too."
Following their breakups, Liam is laying low and spending time with his family in Australia. He has declined to speak publically about his divorce.
Kaitlynn hasn't spoken about the breakup, but she has not shied away from the public. Just days after her breakup with Miley was confirmed, she was spotted in the audience supporting her friend, Witney Carson at "Dancing with the Stars."
Please fill in your e-mail so we can share with you our top stories!