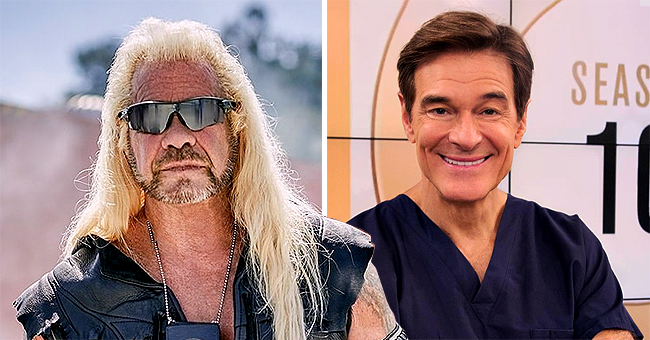 facebook.com/OfficialD TheBountyHunter // facebook.com/droz
'Dog the Bounty Hunter' Reportedly Has to Make Major Lifestyle Changes Following Health Scare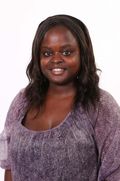 Duane 'Dog' Chapman sits down with Dr. Mehmet Oz to discuss his health challenges. The doctor gives him a grim perspective on the state of his health and encourages him to make serious lifestyle changes.
Since a recent health scare, which landed Duane "Dog" Chapman in the hospital for a few days, the reality star is reevaluating his lifestyle and working towards being healthier.
In a clip for an episode of "The Dr. Oz Show," he sits down with the famous physician, who reveals his health is in a serious crisis, Dr Oz explains:
"You're a ticking time bomb. You're not going to be here with the heart the way it is right now. Fear of death is normal. I'm surprised you don't fear death when you're chasing after convicts. But when you run away from doctor, that means you have to do your own doctoring."
A month ago, "Dog" was rushed to the hospital after experiencing severe chest pains. Initially it was suspected that he had suffered a heart attacked but his doctors soon discovered it was blood clots in his lungs and prescribed him blood thinners, he says:
"Eight minutes after I had the test on the heart, she took me into the room where they check blood clots and then said that on my lung I have a huge blood clot."
Since his interview with Dr. Oz, "Dog" admits that was surprised to hear how much his smoking and eating habits have affected his health, he reveals:
"Dr Oz kind of freaked me out about the smoking…None of my children smoke. So they all encourage me to quit smoking. But I haven't told my children what's going on. I don't want them to worry. It's not any of their business [and] I have not told them what's really going on."
"Dog" has always been weary of doctors but after his talk with Dr Oz he is making serious lifestyle changes like going to the gym, trying to quit smoking and he's eating healthier. Joking about the price of Chantix, which helps him quit smoking, he says:
"You know $600 -- what the hell is wrong with them? How in the hell can anybody afford this stuff?"
Since his wife, Beth Chapman's death, in June 2019. Three members of the Chapman family have been rushed to the hospital.
His son, Leland Chapman was rushed doing an earlier taping of their show, "Dog's Most Wanted," when injured a tendon while chasing after a fugitive.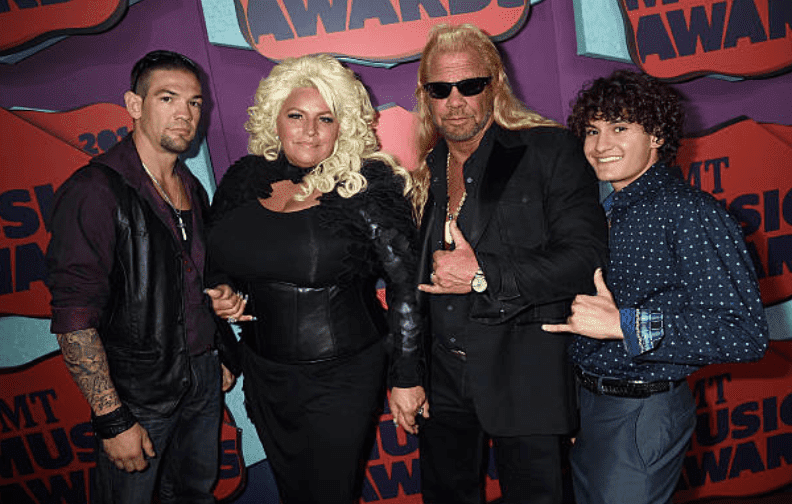 Leland Chapman, Beth Chapman, Duane Chapman on the red carpet for the 2014 CMT Music awards, on June 4, 2014, in Nashville, Tennessee | Source: Getty Images
Just weeks after his stay in the hospital for blood clots in his lungs, "Dog's" daughter Bonnie Chapman was hospitalized for chest pains.
It is reported that she is doing well and recovering at home. The cause of health scare has not been revealed to the public.
Please fill in your e-mail so we can share with you our top stories!