The HeirPod: Meghan & Harry Reportedly Carried Baby Archie's Home Comforts during the Africa Tour
During the recent South Africa tour that Prince Harry and Duchess Meghan Markle went on, they reportedly took plenty of home comforts with them to make their son as comfortable as possible.
The Duke and Duchess of Sussex spent ten days touring South Africa with their only son, Archie.
"You want to keep him comfortable the whole time."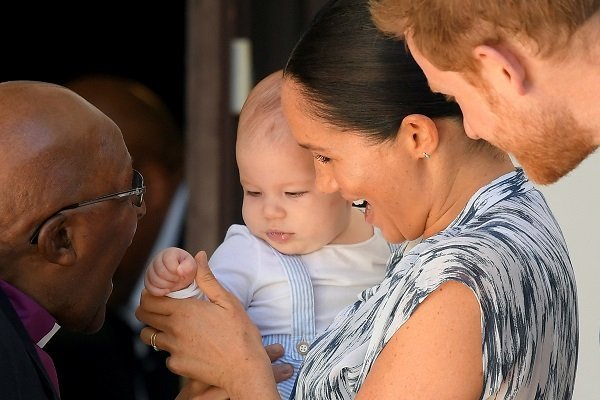 Meghan and Harry's South Africa tour
It started on September 23 in Cape Town, and, from that point on, Harry visited Monwabisi Beach, Botswana, Angola, Malawi, Johannesburg, and some other communities to fulfill their royal duties while Meghan stayed in South Africa with Archie.
The tour came to its end on October 2, when the entire family headed back to London. As expected, their journey attracted a lot of attention, mainly because they took Archie with them.
Archie was quite comfortable during the tour
In an episode of the "HeirPod" podcast, royal reporter Omid Scobie stated that Meghan and Harry took and the baby's home comforts with them to the tour. Omid added:
"I heard there were a lot of toys that they brought with him. Just all the things that make him feel like he hasn't gone anywhere, because you want to keep him comfortable the whole time."
The reporter pointed out that the main reason for Meghan not to accompany her husband in his journey was to keep Archie, who was five months old at the time, comfortable in South Africa.
Archie stole the show
Archie was barely seen during the entire tour as he made a single appearance. It took place on September 25 when he and his family met Nobel Prize winner Archbishop Desmond Tutu.
During that meeting, Meghan was heard calling her son by what appeared to be his nickname: Bubba. In a video shared on Instagram, Meghan and Harry are shown sitting and playing with their baby.
Meghan called her baby by his supposed nickname
At some point, the Duchess said: "Oh, Bubba," and sat Archie on her lap to clean his mouth with a burp cloth.
The baby was the biggest attraction during the meeting as the Archbishop Desmond Tutu and his wife, Nomalizo Leah, were entertained by Archie the whole time thanks to his calm and cheerful behavior.
More moments of the meeting were posted on the Sussex Instagram page, wherein Meghan even appears dancing with her baby while holding him up in front of the Tutus.