Carrie Underwood Shares Cute Behind-The-Scene Moment Where She Meets a Little Fan on the 'Cry Pretty' Tour
Carrie Underwood recently posted a short clip taken behind the scenes of her ongoing "Cry Pretty" Tour, but it is her heart-melting exchange with a little fan in the video that has everyone in awe. 
The award-winning singer shared the video via Instagram on Tuesday and expressed how excited she is for the progression of the ongoing tour. 
Underwood wrote in the caption:
"#Pittsburgh #Buffalo #Toronto. We had so much fun! #CryPrettyTour360."  
Like most of the other snippets she has shared from the sets of the tour, the video is well-received. It is, however, most noticeably the sweet exchange between the gorgeous singer and her special fans that left people in awe. 
While Underwood's famous hit single, "The Champion," played, the video showed tidbits from Underwood performing on stage. It then went on to show treasured moments of the star interacting with fans behind the scenes. 
In one of the scenes, Underwood is seen having a cute meet up with a little girl. She crouched low to hug the fan who was outfitted in a multicolored tutu dress and take photos with her. 
The lucky girl who has a special condition, Osteogenesis imperfecta, happily beamed as she enjoyed the once-in-a-lifetime exchange with Underwood. 
She was, however, not the only lucky one as another scene features the 36-year-old singer excitedly smiling as she greeted and took pictures with a wheelchair-bound fan.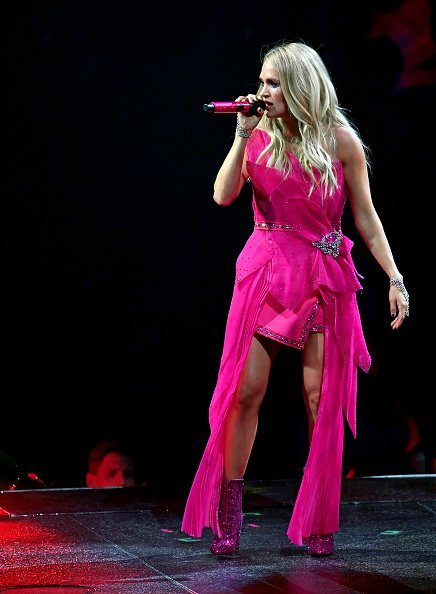 While the comments section of the post is filled with compliments from fans who have attended Underwood's concerts, it can be observed that a significant fraction didn't miss the emotional moments between the star and her disabled fans. 
One fan, @smurfette721 wrote:
"Carry is beautiful inside and out I love her and her amazing voice."
While another, @tatar1973, commented:
"Omgosh, you are so so sweet! You just made that little girls night."
The "Cry Pretty" tour, is fast running to a close. The tour is in support of her sixth studio album, "Cry Pretty" (2018), and began on May 1, 2019, in Greensboro, North Carolina, and is scheduled to conclude on October 31, 2019, in Detroit, Michigan, playing 60 shows.
It has been a busy few months for Underwood, who welcomed her second son earlier this year. Fans – and even her husband, Mike Fisher – find it hard to understand how she juggles her career with her growing family.
It is, however, admittedly just one more reason to love the singer.