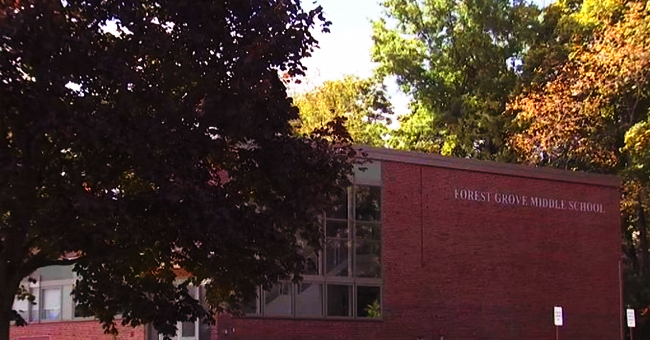 Twitter/NECN
Massachusetts Boy Suspended from School for 'Physical Assault' after Hugging Teacher during Gym Class: Report
A 12-year-old seventh-grader in Worcester, Massachusetts, got suspended and a physical assault record after hugging his teacher during gym class.
A 12-year-old unnamed student, of Forest Grove Middle School, in Worcester, Massachusetts, got a ten-day suspension, and "Physical assault" added to his record, for hugging his female teacher during gym class, NBC10 Boston reports.
IT STARTED WITH SITTING OUT DODGEBALL
In an interview with the seventh-grader's foster mom, Julie Orozco, it was revealed that the boy hugged his teacher after she allowed him to join a game of dodgeball after serving a 5 minutes sit-out punishment for disrupting the class.
The foster mom said about the punishment which she views as unfair,
"I was told he had put his hand on a teacher. I was shocked and asked for details, and then I was told that he hugged his gym teacher."
"I don't expect the teacher to have to be okay with being touched or hugged, but I do expect that as an educator, she should educate what the boundaries are in her classroom."
THE FOSTER MOTHER SEEMS TO THING RACE PLAYED A ROLE
Orozco said when she picked her foster son from school, he was crying because he could not understand why the teacher did not ask him not to hug her if she didn't want him to.
The foster mom in a separate interview said a school administrator told her the little boy's actions could be misconstrued as sexual assault, and she wondered why there's a punishment for something not spelled out in the school's handbook as an offense.
The Worcester resident noted that race played a role in her foster son's punishment because he is African-American, and the gym teacher is White.
After speaking with the school superintendent, Maureen Binienda, and appealing to the principal, Orozco got the boy's punishment reduced to a four-day suspension, and the "Physical assault," changed to "Disruption of school."
OROZCO WANTS THE SCHOOL TO MAKE CHANGES
The Foster mom equally expressed concern about the incident affecting the seventh-grader in the future. Interestingly, the little boy, who used to be a student at Elm Park Elementary School, got sent to the principal's office a lot while he was there.
Orozco explained that her foster son was in an unstable home environment at the time, and has changed, with good grades, and manners.
She expects Forest Grove Middle School to explain their expectations from students, to prevent similar incidents, and punishments in the future, and will make it known at the school's next meeting.
Please fill in your e-mail so we can share with you our top stories!