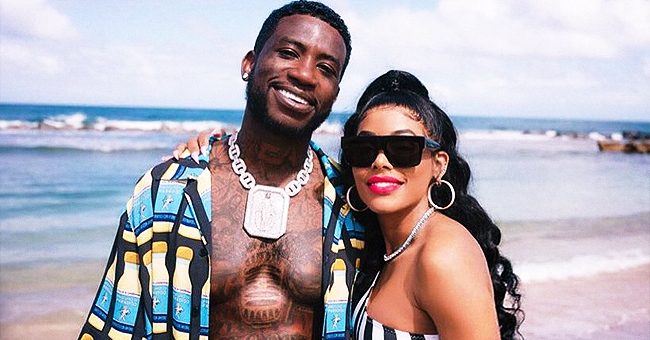 Instagram / laflare1017
Gucci Mane Praises Wife Keyshia for Staying despite His Infidelity, Drug Use & Prison Time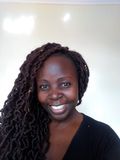 Rapper Gucci Mane was addicted to prescription cough syrup and was once sentenced to 3 years in jail for illegal possession of a firearm. Keyshia Ka'oir has been there with him through it all. At the end of his last sentence, he came out slimmer, sober, and ready to spend the rest of his life with her. The rapper recently took to Instagram to show some love for his woman.
Gucci Mane first laid his eyes on his future eyes while he was in prison looking at a magazine. "I had already been in Timbaland's 'Say Something' video and Gucci had seen the video," Keyshia Ka'oir shared with Fader. "He called [his manager] Amina from jail and he was like, 'Who is Keyshia Ka'oir? I want to meet this girl.'"
Keyshia was initially reluctant to work with the rapper. But his persistence eventually paid off and she agreed to be in his "911 Emergency" video. "That's the day we met," she revealed. "He was in love with me on sight." This was back in 2010. Since then, Gucci and Keyshia have been through a lot.
In his book "The Autobiography of Gucci Mane," the rapper details what he put his lovely lady through with his arrests and his addiction to prescription cough syrup, more popularly known as "lean." "Why haven't you come down here and bonded me out yet?" he once screamed at Keyshia after one of his arrests.
In 2014, Gucci was sentenced to three years for illegal possession of a firearm. This turned out to be one of the best things that happened to him. "Unlike a lot of guys in this place, I was getting another chance. My last one," the rapper wrote. "I couldn't drop the ball again. I needed to do more than pray. I needed to make better decisions."
According to the book, without access to lean, the rapper went into withdrawal and lost 25 lbs. in two weeks. "It's [drug use] never going to go anywhere," Gucci said on Zane Lowe's Beats 1 radio podcast when talking about drug addiction in society after his release. "It's going to always be a part of music. Think about all these rock 'n' roll stars before these hip-hop stars."
He also decided to shape up, managing to lose almost 80 lbs. Keyshia helped him through this even though they were physically apart. "I felt like I did the time with him," she admitted to Fader. "We'd work out, let's say from 8 to 10 a.m., and then by the time we shower and have lunch, he'd call. I'd ask, 'What did you eat today?'"
By the time Gucci was released in 2016, he was sober, healthier, and had a good woman by his side. He made an honest woman out of her by proposing at an Atlanta Hawks game in November of the same year. They got married the following year in October in a lavish affair.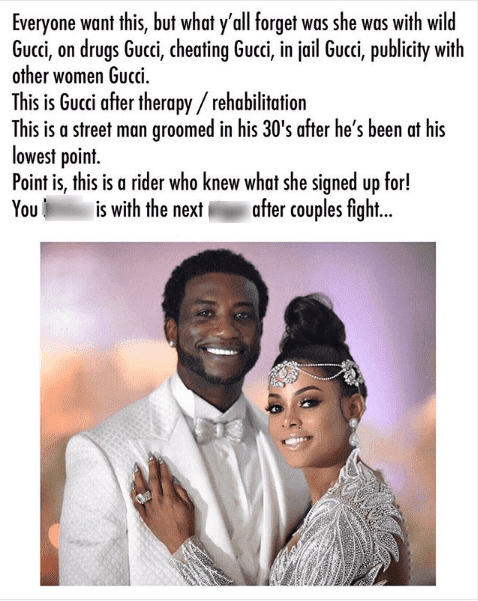 Gucci Mane and Keyshai Ka'oir on their wedding day in October 2017 l Source: Instagram
Two years down the line, the rapper posted a meme featuring a photo of his wedding and praising Keyshia."I love my wife, she stayed down!" wrote the rapper in the caption. His wife gushed over him in the comments section, replying, "Awwwwww LOVE u more, my baby! There's nothing in this world that I wouldn't do for you, Papi!"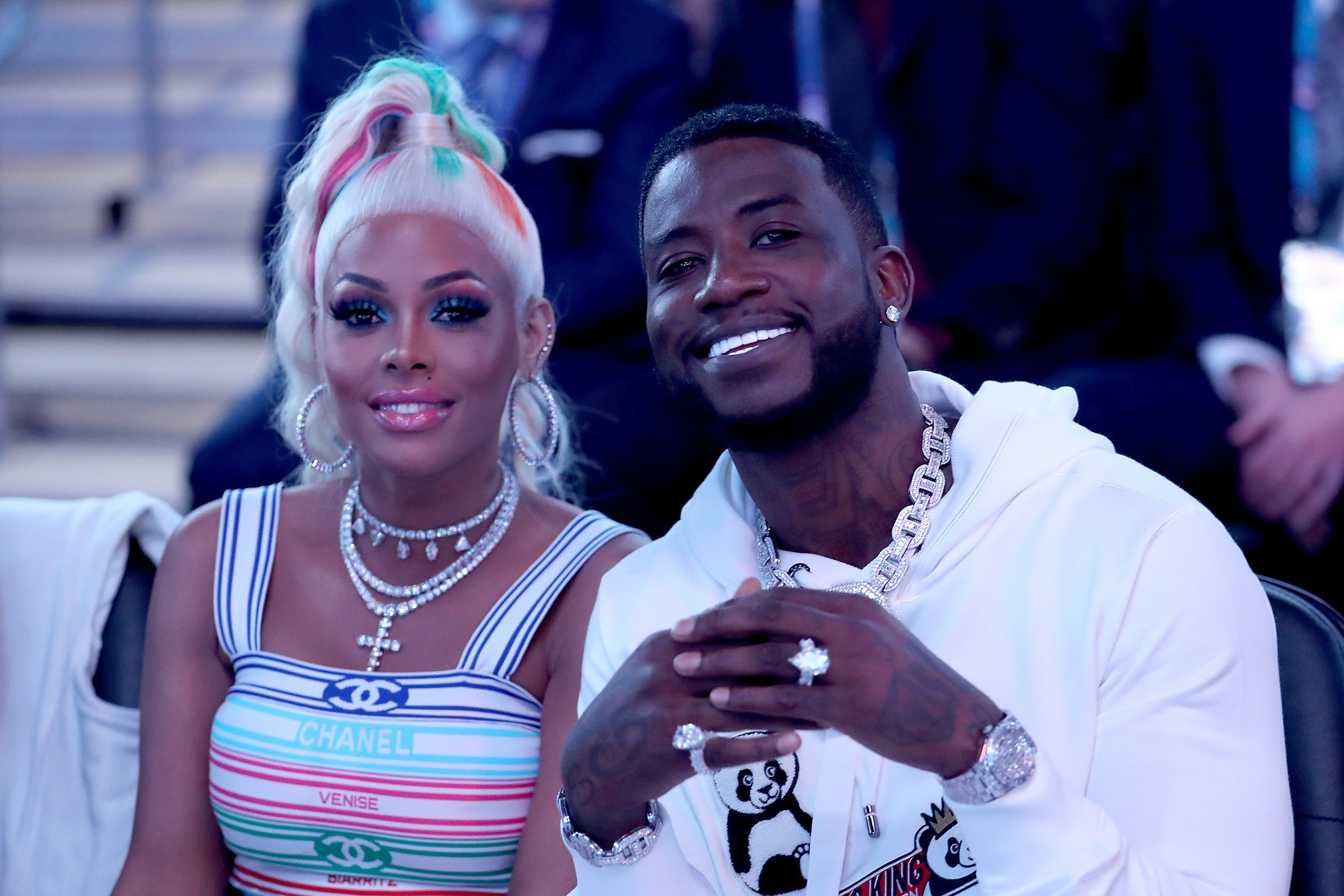 Gucci Mane and Keyshia Ka'oir at the NBA All-Star game on February 17, 2019 l Source: Getty Images
Not everyone agreed that Keyshia did the right thing by staying with Gucci. "That ain't relationship goals," wrote one follower. "A woman who goes through that much pain/emotional abuse to be with a man ain't 'SOLID'…that's 'STUPID'…Learn the difference." Another fan agreed, saying, "Black women don't need to be intimate with pain and suffering as a condition of love. And I still love y'all but those facts need to be said."
Please fill in your e-mail so we can share with you our top stories!