Interesting Facts about Farrah Fawcett's Iconic Poster Which Has Sold over 12 Million Copies
Late actress Farrah Fawcett had a fruitful career of over thirty decades in the entertainment industry, but she's mostly remembered for two things: her role on "Charlie's Angels" and her iconic red swimsuit poster, the best-selling poster in history.
The picture of Farrah Fawcett laughing with her golden locks and perfect teeth on display, while donning a one-piece red swimsuit, not only adorned the walls of bedrooms across the U.S in the '70s, it also became a defining icon of the entire decade.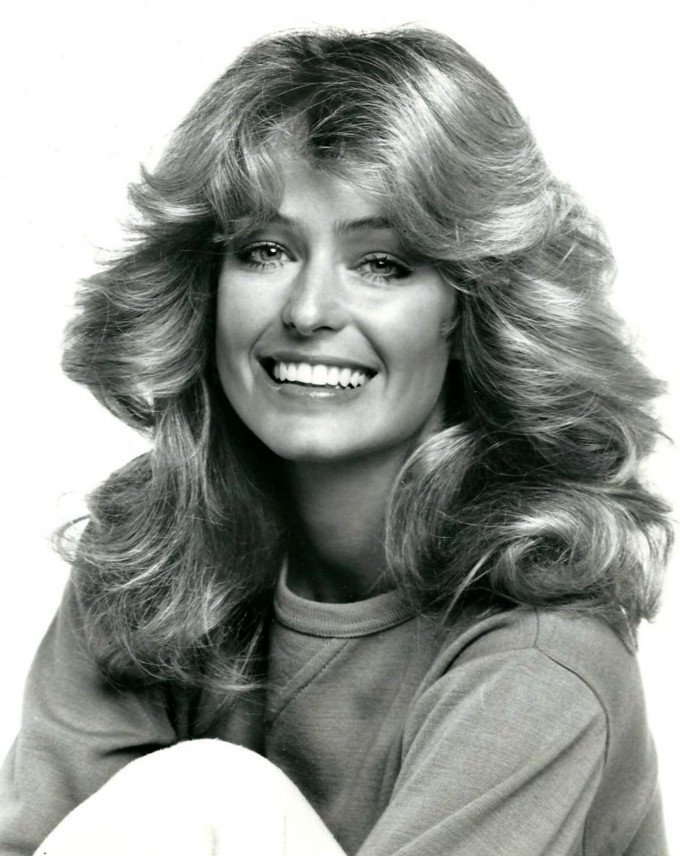 The story of how the poster came to fruition is somewhat ordinary, and that's precisely where its wonder lays.
A college kid with a genius idea
In 1976, Fawcett was still an unknown figure in the entertainment industry.
Although she was married to "The Six Million Dollar Man" star, Lee Majors, Fawcett's work was limited to TV commercials, and some small appearances on series like "The Flying Nun" and "I Dream of Jeannie."
She also had a recurring role on "Harry O," but some people were still unaware of her existence. One of them was Ted Trikillis, the co-owner of poster manufacturing company Pro Arts Inc.
"It was Farrah's pose, Farrah's suit, Farrah's idea. She picked that shot." Photographer Bruce McBroom.
That changed when the son of a neighbor suggested Trikillis could have a good business opportunity by making posters of Fawcett.
He explained that his roommates were so obsessed with the starlet, they were cutting her picture from a Shampoo ad in women's magazines to tack to their walls.
Trikillis then contacted Farrah's team, and she thought the idea of the poster was "cute." She also decided to accept the proposal because, as she explained in 1977:
"Well, if you don't sign a deal to do one, somebody does one anyway, and then you get nothing."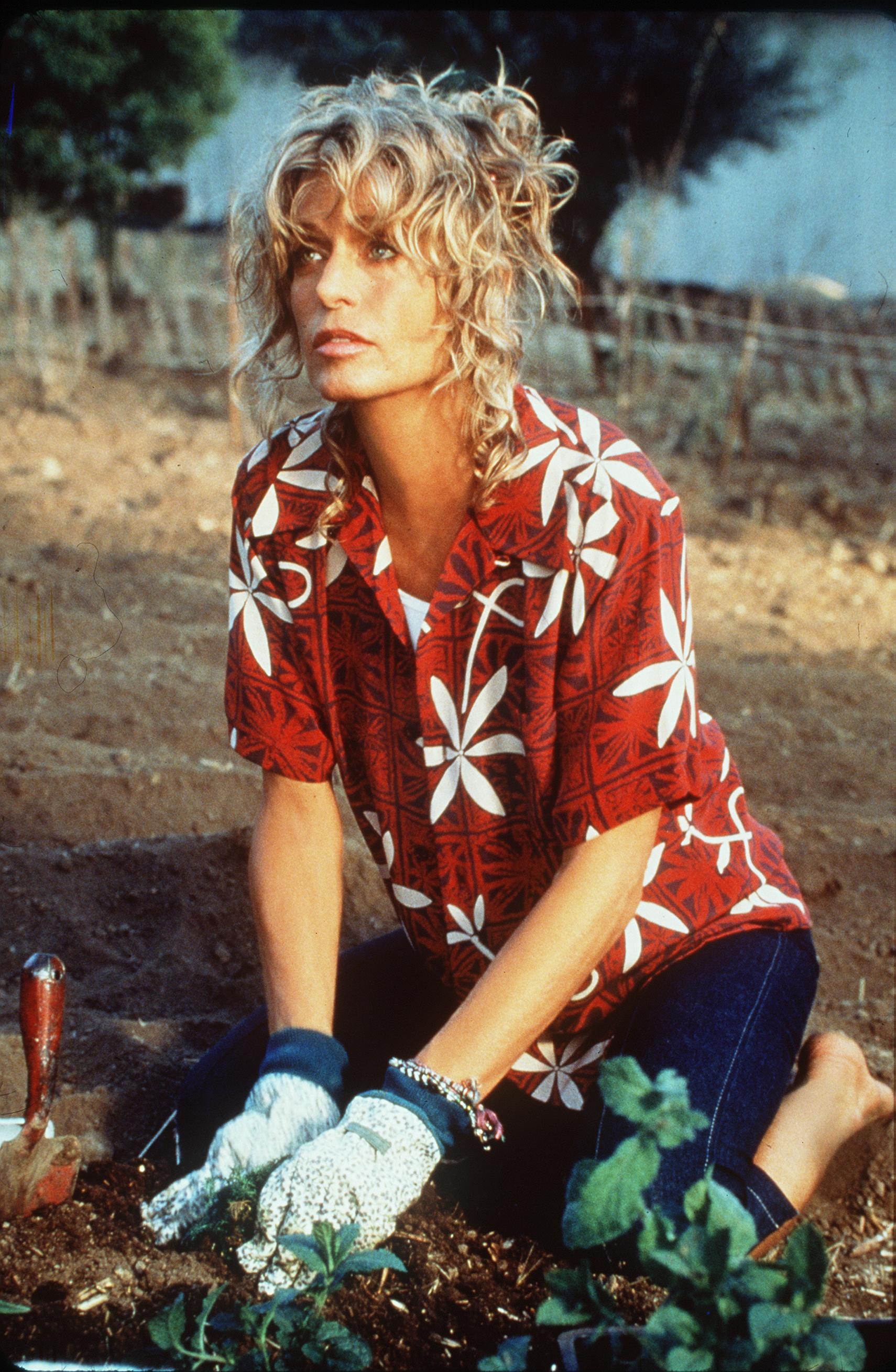 The initial requirements for the poster
Initially, Trikillis wanted Fawcett to pose in a bikini. But she wasn't on board with the idea, as she recalled:
"They wanted me in a bikini, and I said no. Then, they wanted me looking out from behind a tree, you know, acting seductively. I said, 'No, that's not me.' I wanted to be smiling, Happy."
The then 29-year-old had worked with two photographers that the poster company sent, but she wasn't happy with the pictures so, she asked Trikillis to hire a photographer she knew through her husband.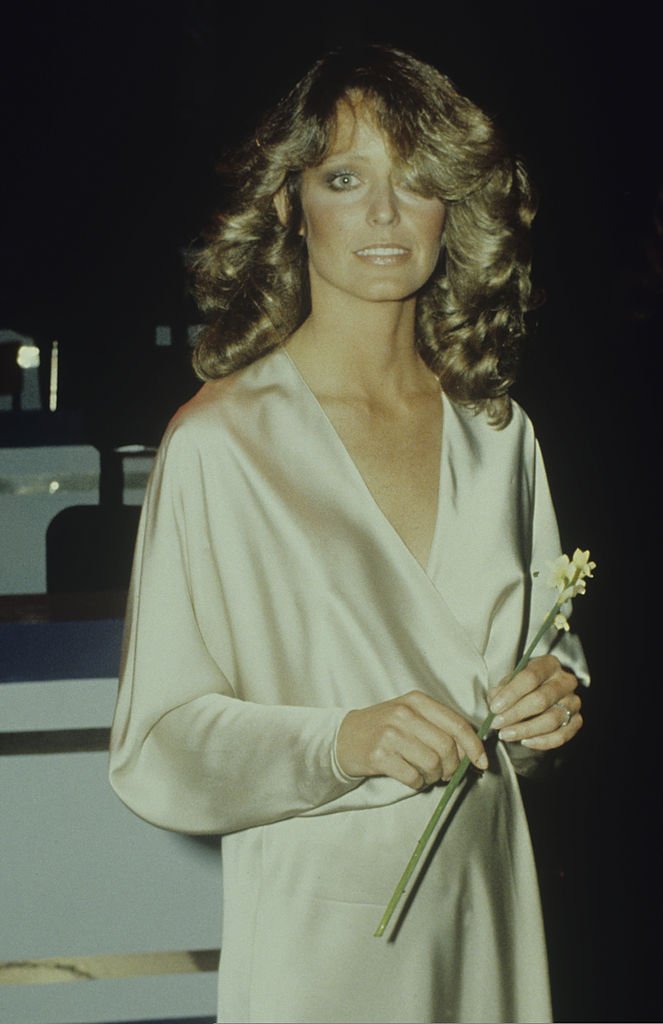 Bruce McBroom, the photographer, said he was surprised when he received the call from the poster company. And recalled what Trikillis told him:
"I've hired two photographers, and they photographed her, and she hates the pictures. Here's the thing, it's gotta be her great hair, she's gotta be smiling, she's gotta be in a bikini, and they've gotta be drop-dead sexy pictures."
The legendary photoshoot
McBroom met Farrah at the house she shared with Lee Majors on Mulholland Drive, Hollywood, on a hot day in 1976. It was just the two of them.
There were no stylists, and Fawcett did her own hair and makeup. She tried different swimsuits—ignoring the request to wear a bikini—all from her closet and none from designer brands.
They tried several swimsuits with different backgrounds through the house, but McBroom wasn't satisfied with any of the pictures, and he was getting desperate.
"I said, 'You know how you look best. Is there anything else that you've got that we haven't shot? The guy says he wants sexy,'" he recalled telling Farrah.
At her return, she stood at the doorway, donning the red suit. And McBroom knew they had hit the gold, as he recalled:
"It was like it was spray-painted on her; I don't think it was a swimsuit. I said, 'You know what? That's it!' I said, 'Farrah, just get comfortable and do your thing.' When she did the series of sitting-up poses, I said, 'We've got it.' And I heaved a big sigh of relief."
The background of the picture was an Indian blanket from Mexico that the photographer used as the seat cover of his car. He thought the colors would match the suit, and he was right.
Farrah's good eye
The deal Fawcett had with the poster company gave her the right to choose the photos that would be considered for the poster, although the company had the final choice.
After processing the film, McBroom returned to Farrah with 36 pictures for her to choose her favorite one. She marked her favorite with a star on the frame and sent the pics to Pro Arts.
According to McBroom, the first thing Trikillis said when he saw the pics was, "where's the bikini?"
However, after showing the pictures around in the company, he decided to go with Farrah's choice, and send the poster to print.
"It was Farrah's pose, Farrah's suit, Farrah's idea. She picked that shot. She made a lot of money for him and for herself, and made me semifamous," McBroom stated.
The best-selling poster in history
Once it was published in 1976, the poster became a sensation.
It helped that "Charlie's Angels" was released in the fall of that same year, boosting Farrah's popularity and the poster sales even more.
By 1977, Pro Arts had made around $6 million in sales from the poster, while Fawcett earned around $400,000 in royalties, a dazzling sum in comparison to the $5000 per episode she received on "Charlie's Angels."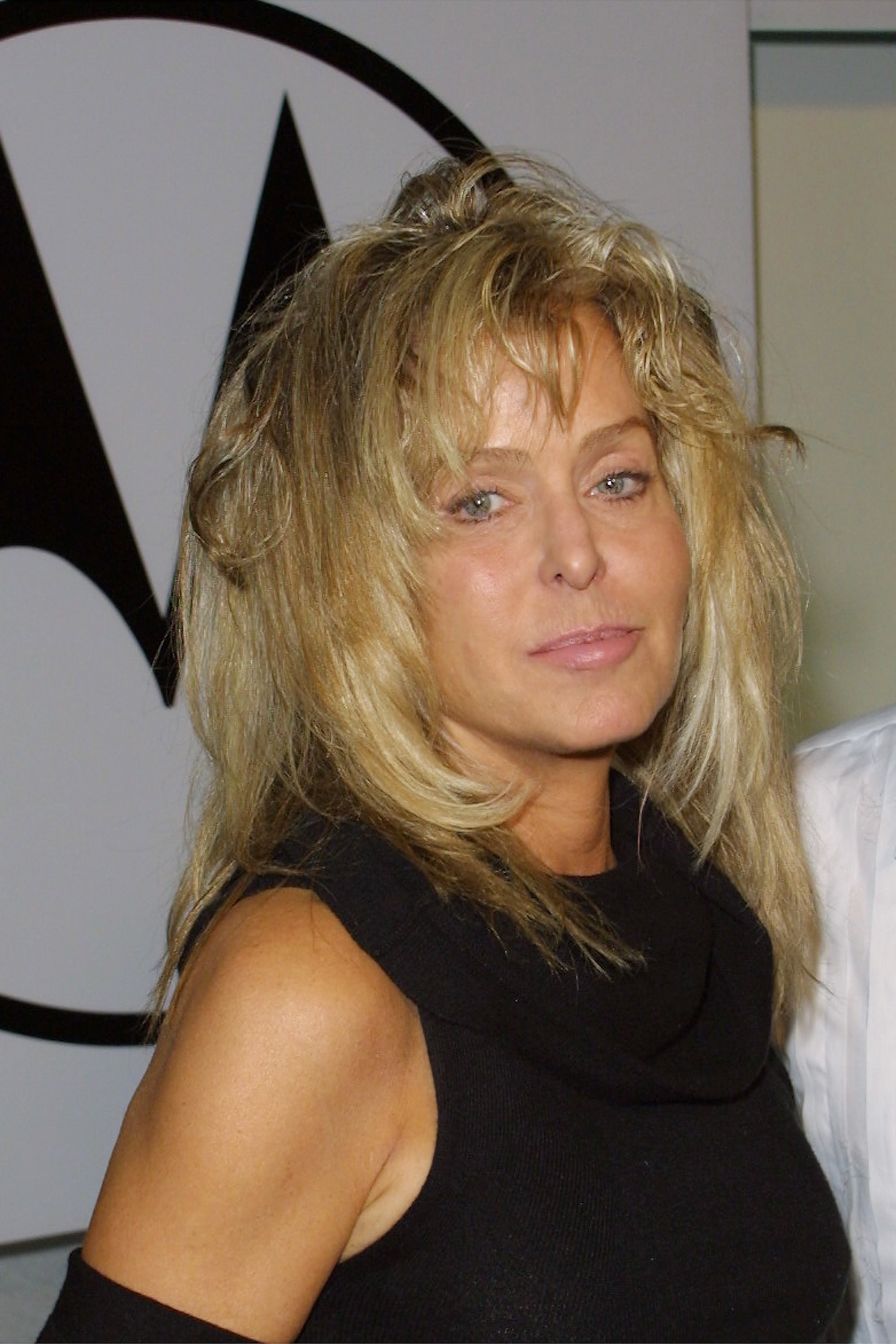 According to reports, the iconic poster went on to sell over 12 million copies, making it the best-selling poster in history.
Two years after Fawcett's death in 2009, the red swimsuit and an original copy of the poster were donated to the Smithsonian's National Museum of American History.