Sarah Hyland of 'Modern Family' and Boyfriend Wells Adams Celebrate Their Engagement in Pics
Actress Sarah Hyland and Wells Adams celebrated their commitment to each other with an engagement party to remember. 
Over the weekend, family and friends, including Jesse Tyler Ferguson, Debbie Ryan, and Adam Devine, along with his fiancé Chloe Bridges, joined in the special get-together.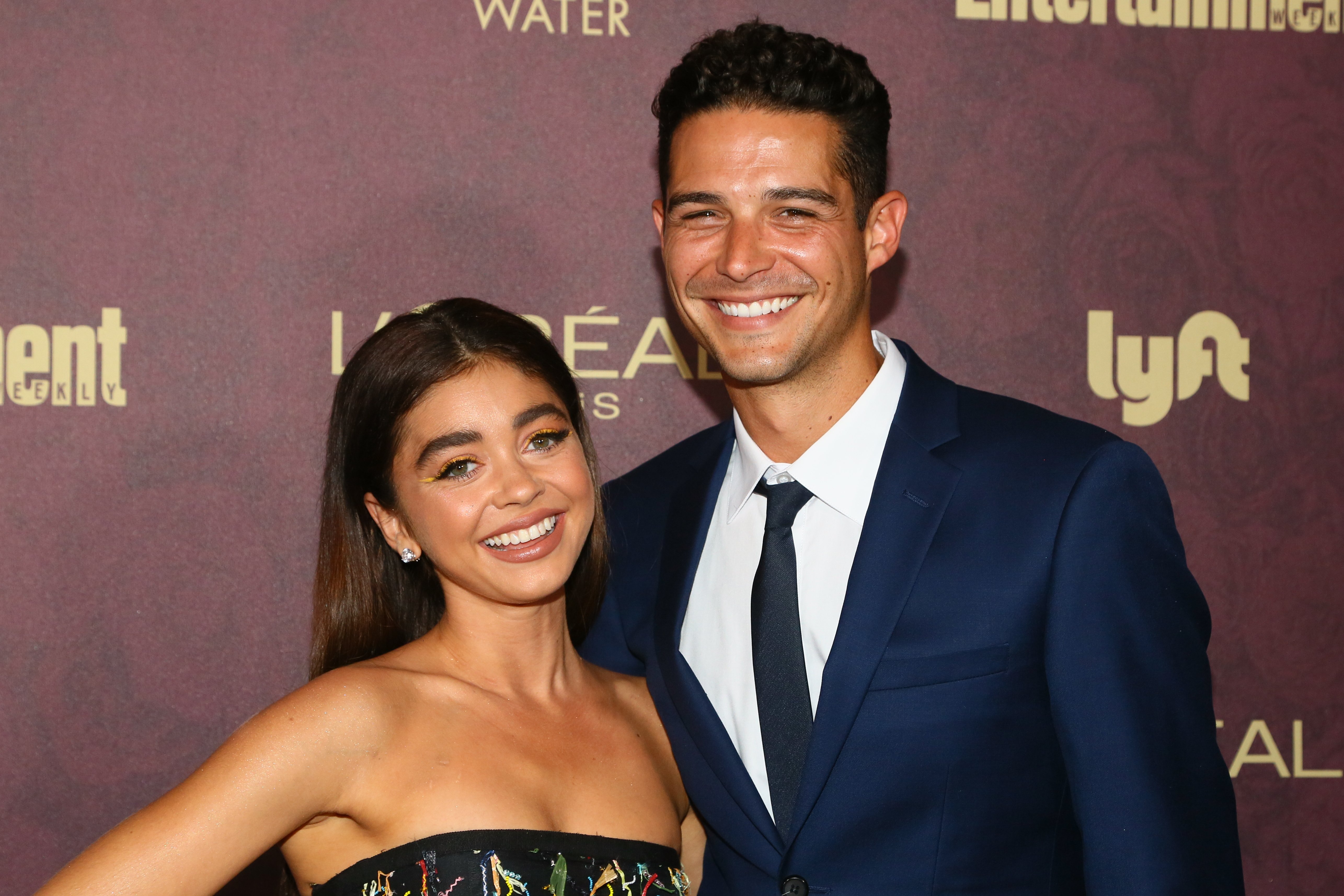 Wells popped the question while the couple vacationed in Fiji in July, and Sarah later revealed that her stunning ring didn't come as a surprise. "I told him what to get," she said.
Beautiful flower arrangements, a Prosecco and Craft Beer Bar, framed photos of Sarah and Wells, engraved napkins, along with white-and-gold cookies that read "Future Mrs. Adams," all added to the special touches of the day.
On Sunday, Sarah took to social media and shared a happy memory about their early days as a couple with a picture of them giving cheers at their engagement party, which she captioned: 
"Over 2 years ago, he asked me out for drinks and tacos. We still do the same thing now... just engaged... so Thank you @casamigos for keeping our dream alive with tequila."
Sarah initially spotted Wells while he starred on "The Bachelorette," but when he became the bartender on "Bachelor in Paradise," she couldn't help but Tweet about the hunk. Before long, he started sending her DMs, and soon they started dating.
Wells proposed with an oval diamond engagement ring designed by Lorraine Schwartz, and the beautiful ring reportedly set on a classic platinum band, has featured on various pictures shared by the couple.
"I mean, who wouldn't want to marry me?" Wells captioned a silly picture of the couple at their engagement party.
During an interview with PEOPLE, Sarah shared that her first date with Wells came days before she underwent a kidney transplant in September 2017. A sufferer of kidney dysplasia, Sarah's kidneys didn't fully develop in utero. 
"I had all these health issues at the very beginning of our relationship," Sarah said. "We had two dates before the surgery, and then I was just on massive amounts of painkillers in the hospital, FaceTiming him all hours of the day and night."
Although it surprised Sarah that Wells still wanted to date her after the introduction into her health issues, it did have the upside of bringing them closer. It also meant that their relationship started on a serious note, but they don't mind since they see themselves as kindred spirits. 
"We liked to joke when we first started dating that Wells and I are the same person with different genitalia," Sarah added. "We're so similar that it felt like meeting a kindred soul from a past life."
While on the topic of engagements, another Hollywood legend recently found the right moment to secretly pop the question to his girlfriend.
In an interview, Dennis Quaid spilled details about his engagement to his twenty-six-year-old girlfriend, Laura Savoie.