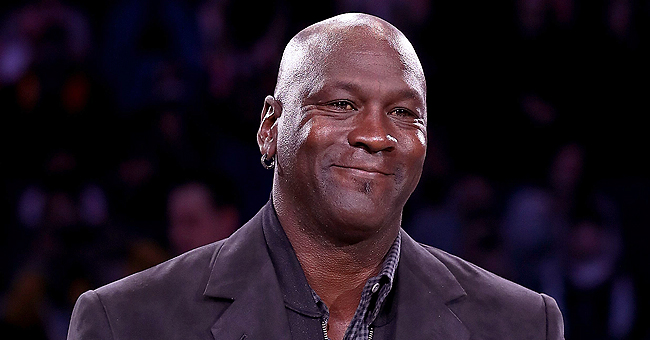 GettyImages
Michael Jordan's Daughter Jasmine & Fiancé Rakeem Christmas Shared New Family Photos with His Grandson

Jasmine M. Jordan, daughter of renowned sports star Michael Jordan, and her athlete finance revel in parenthood as they publish new photos of their son via social media.
Via Instagram, Jasmine, and her soon-to-be husband, Rakeem Christmas, have fondly shared pictures of their newborn son.
A few days ago, Jasmine, who is the product of sports star Michael Jordan's 17-year marriage with Juanita Vanoy, posted this picture of herself holding her son.
Although little can be determined of the snap, the little that is seen shows that it may have been a formal affair as Jasmine rocked a shimmery dress.
The 26-year-old's ensemble included accessories that matched her form-fitting outfit and long braids, which she pulled up into a high ponytail.
The most beautiful thing about the picture is the fond look on Jasmine as she smiled, looking at her son, who was bundled up in stripe-patterned pants, a white long-sleeved jacket, a teeny hat and baby-sized sports shoes.
Jasmine captioned the photo stating that the picture was taken during the recently held Hornets Sneaker Gala and fondly labeled the newborn her "forever date."
The simple caption reads:
"My Forever Date • mcm #HornetsSneakerGala."
Jasmine's longtime lover Rakeem isn't left out of the proud display. On October 2, the former Indiana Pacer shared a picture of himself going on an outing with baby Christmas.
Dressed in all black, Rakeeem can be seen pushing a baby stroller with nothing seen of his little son, who was born in May.
"I Miss These Duties & My Mini Me Errrrday…" the hunky athlete fondly shared in his caption.
Jasmine and Rakeem, who first met while studying in Syracuse, have noticeably kept their baby matters private with very little information known about the newborn. Even his face remains obscured from the media!
In a September 28 picture posted on Jasmine's Instagram, baby Christmas can be seen looking at an aquarium. However, even there, his face is turned away from the camera so that he still seemed unrecognizable.
There couldn't be a pair like the young Christmas couple, and their choice to keep their dealings private doesn't appear unfounded since they aren't newbies to fame.
In June 2018, the couple, who first met while studying at Syracuse, formally announced their engagement via social media.
This was closely followed by news of Jasmine's pregnancy later that year. It was, however, a more private affair when they welcomed little Christmas.
Jasmine only shared a picture of the baby boy's hand holding her finger on Mother's Day while Rakeem shared a "Family Guy"-style cartoon drawing of Rakeem and Jasmine, with a baby wearing a No. 25 Syracuse basketball jersey.
To date, the couple has not announced the child's name, and it remains uncertain whether the couple has tied the knot with Jasmine continually referring to themselves as "Mr & Mrs. Christmas" on Instagram.
Please fill in your e-mail so we can share with you our top stories!