Royal Wedding Cakes in Recent Years: From Elizabeth II and Philip's to Harry and Meghan's
Although most Royal weddings are often a lot bigger, lavisher, and more impressive than those of us commoners, all of them have something in common: wedding cakes.
Throughout the years, the Royal couples have proven how different their tastes are, and the types of cakes they chose for each of their weddings are just another distinctive characteristic of them.
Considering that Queen Elizabeth and Prince Philip's 72nd wedding anniversary is around the corner (November 20), here's a brief description of the Royal wedding cakes in recent history.
Prince Harry and Duchess Meghan
The Duke and Duchess of Sussex tied the knot on May 19, 2018. Similar to what they have done with their relationship ever since they started dating, their wedding broke many traditions.
Their cake was no different. East London baker Claire Ptak and her team at the Violet Cakes bakery made for them a lemon elderflower sponger that became the first Royal wedding cake not to be a fruitcake.
It was covered in white buttercream and decorated with beautiful fresh peonies and roses that were also white. To add some color to it, the cake was placed on a shiny golden cake stand, and some green leaves were strategically put on top.
In total, Ptak and her team spent five days to bake and ice the three tiers. They used 200 Amalfi lemons, 500 organic eggs from Suffolk, 20 kgs of butter, 20 kgs of flour, 20 kgs of sugar, and 10 bottles of Sandringham elderflower cordial.
Prince William and Duchess Kate
The Duke and Duchess of Cambridge got married on April 29, 2011. In their case, they had two cakes, one quite traditional and the other not so much. Leicestershire-based baker Fiona Cairns was in charge of the main one, which had eight stacked tiers in total and stood at 3ft tall.
Fiona and her team of 50 chefs began baking the many layers of the 220-pound cake weeks before the event took place. Each tier was wrapped in brandy-soaked cheesecloth before they were set aside to let them age for several days.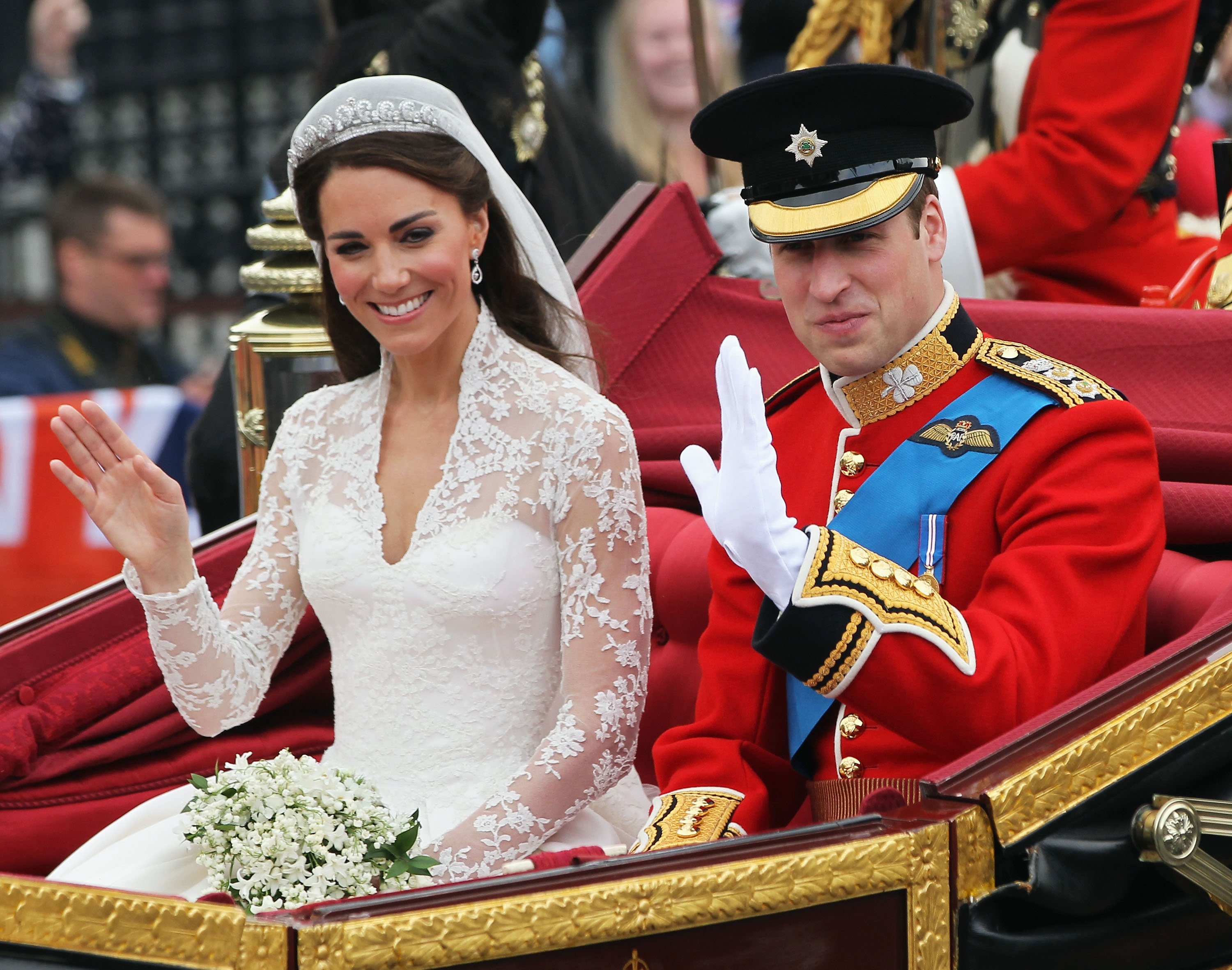 Kate asked the baker to use flowers to symbolize the four nations of the UK, including roses for England, thistle for Scotland, daffodils for Wales, and shamrocks for Ireland. It also had the flower Sweet William, which represents gallantry and finesse, to honor Prince William.
Speaking of William, he requested his groom's cake to be a chocolate biscuit type, made by McVitie's Cake Company. They used rich tea cookies, chocolate, and nuts and, instead of baking it, they froze it.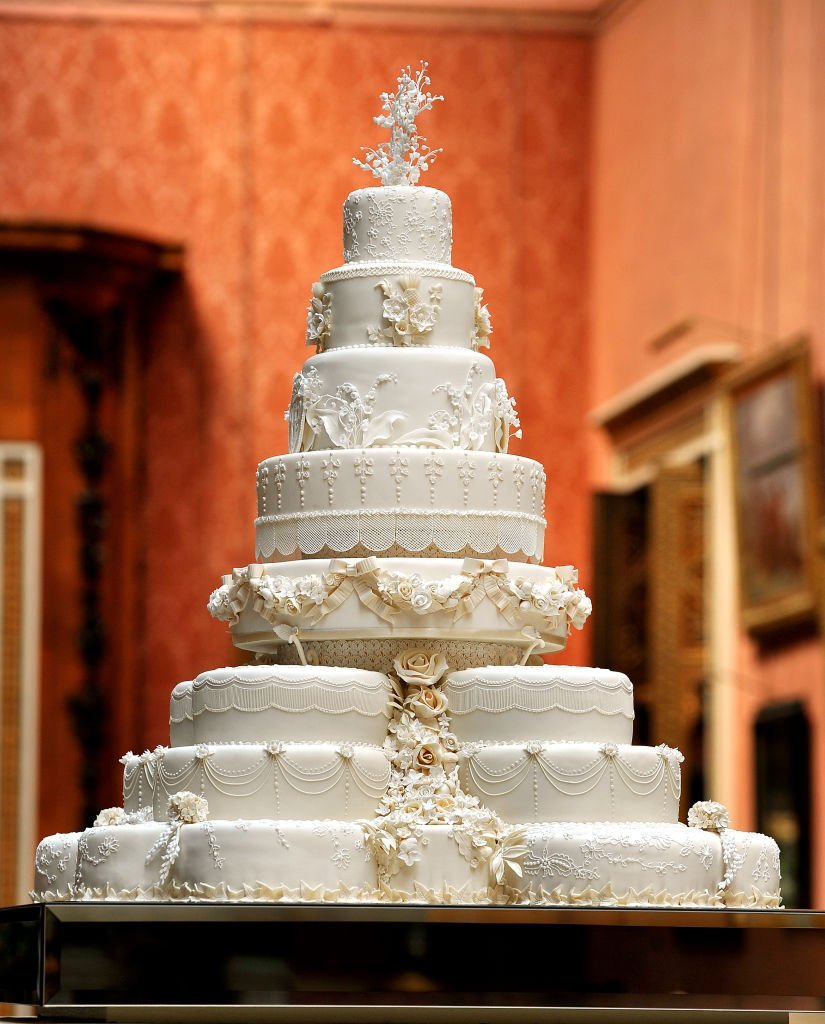 Princess Diana and Prince Charles
Prince Charles and the late Lady Diana Spencer said "I Do" on July 29, 1981. The Royal Navy's Cookery school was in charge of their five tiers, 5ft-tall, and 255-pound wedding cake.
Following the tradition, it was a fruitcake. However, Diana and Charles had many more cakes served during the ceremony, totaling 27. Another intriguing aspect of the principal one was its shape: only the top tier was round. The rest had other geometric forms, including squares and hexagons.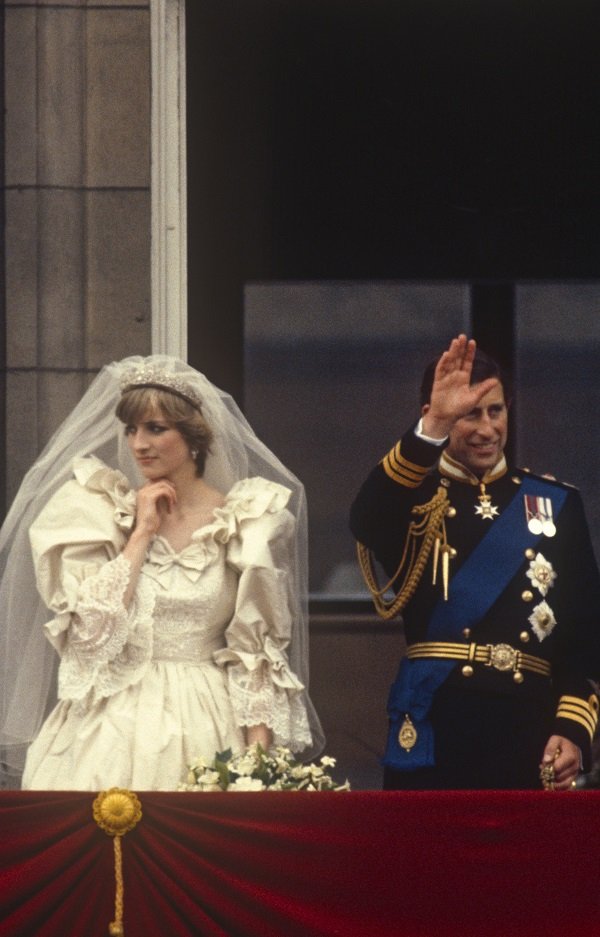 As per the decorations, the cake, which the bakers spent 14 weeks planning it, had Charles and his family's royal coat of arms, the couple's initials, and a bouquet of roses, lilies of the valley, and orchids.
Each hand-painted image took the designers up to eight hours to create. The result was worth it, thankfully.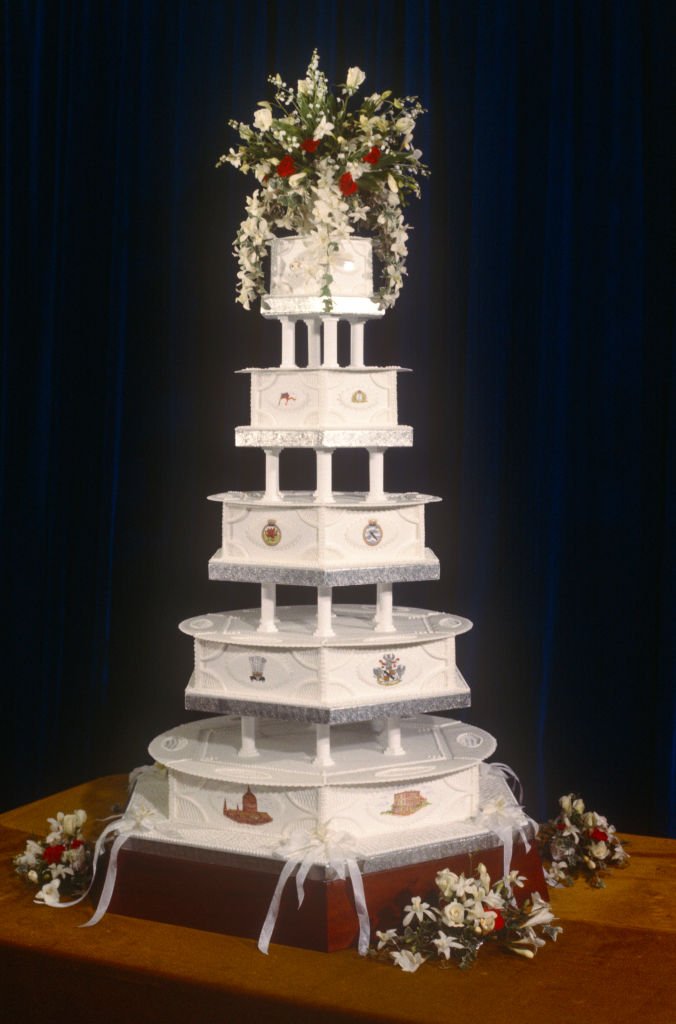 Queen Elizabeth and Prince Philip
The Duke of Edinburgh and Queen Elizabeth II walked down the aisle on November 20, 1947. Their cake was the biggest one from the list, standing at 9 feet and weighing 500 pounds.
It was cut in 2,000 slices for the guests and hundreds more of charities and other organizations. One of the most remarkable aspects of it was that one of the layers of it was kept for the christening of Prince Charles, which was held in December 1948.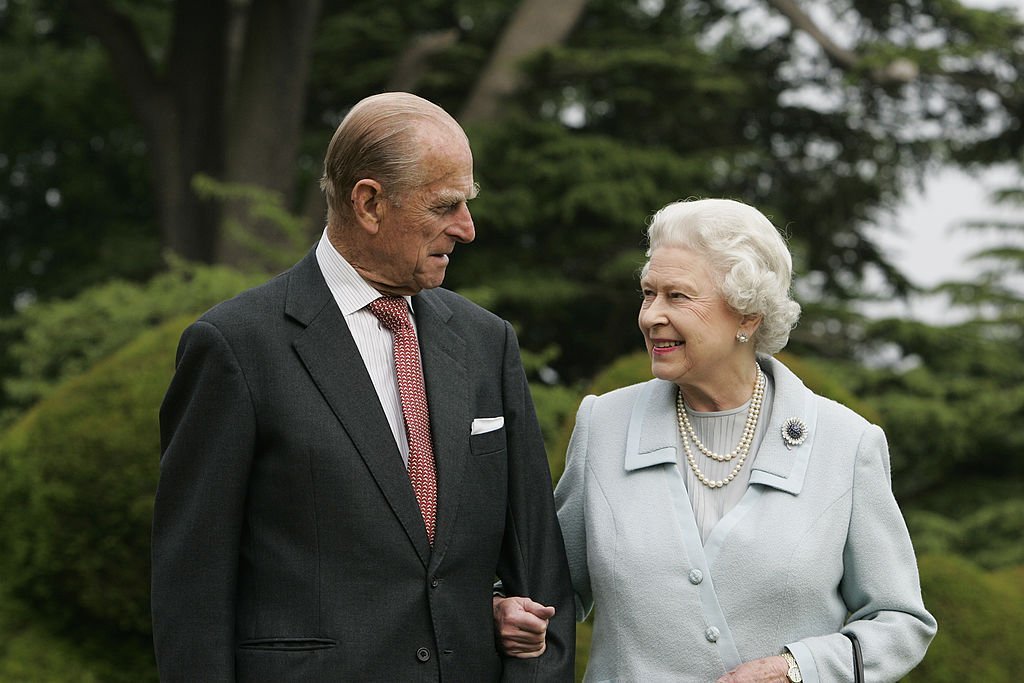 The four tiers were hand-decorated with highly detailed carvings and floral details, and, of course, it was a fruitcake.
McVitie and Price Ltd., the same bakery in charge of William and Kate's cake, was in charge of the Queen's dessert.
A royal wedding cake replicated on Good Morning Britain, 70 years later... happy anniversary Elizabeth and Philip!https://t.co/a2KwgloNsw pic.twitter.com/d2s2BUtxH1

— Good Morning Britain (@GMB) November 20, 2017
Another fun fact about Philip and Elizabeth's wedding was that they cut their cake with Philip's ceremonial 'Mountbatten' sword, a gift from King George VI.