Gwen Stefani Gushes over Boyfriend Blake Shelton's Grammy Nomination
Gwen Stefani celebrates the news of Blake Shelton's Grammy nomination by sharing a video of her teenage son's reaction to the announcement.
Gwen Stefani has proved that not only is she one of Blake Shelton's biggest rivals on "The Voice," but she is also one of his biggest fans in every other aspect of his life. 
Sharing the news of his Grammy nomination for Best Country Solo Performance for his song, "God's Country," she posts a video on Instagram of a rare intimate moment with her blended family.
Standing in their kitchen, while speaking to Gwen's 13-year-old son, Kingston, who asks Blake a question saying, "Blake, what did you just say?" He nonchalantly replies:
"I said oh by the way I got nominated for a Grammy this morning."
Clearly not expecting the news Kingston takes a step back and looks into the camera, being held by Gwen, who is giggling in the background and the teenager exclaims:
"What the heck!"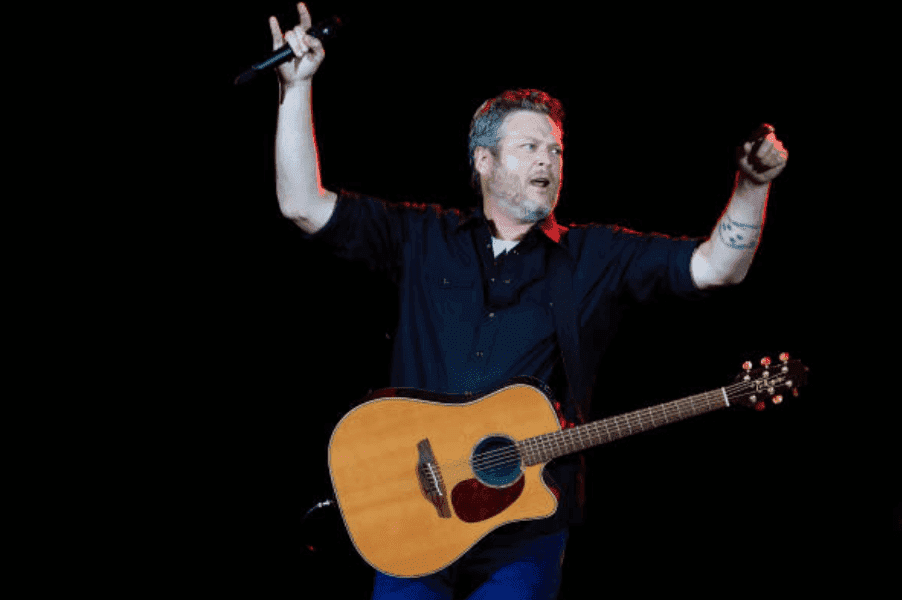 Blake is no stranger to Grammy recognition, while he is yet to win an award, he has previously been nominated eight times. In a statement to Entertainment Tonight he says:
"'God's Country' is such a powerful song and I'm so proud to be a part of it. I'm thankful that Devin [Dawson], Michael [Hardy] and Jordan [Schmidt] trusted me with a lyric that has connected so powerfully with so many people."
Blake has been nominated alongside, country stars; Tyler Childers, Willie Nelson, Ashley McBryde and Tanya Tucker. 
Not that the couple are in competition, but while Blake Shelton has six wins on "The Voice" and Gwen has none. However, when it comes to the Grammy's, she is takes the lead with 19 nominations and 3 wins over the course of her two-decade career. 
Gwen also took her celebrations to her Instagram story, where she shared a screenshot of the nominations list from the Grammy website and circlesd Blake's name, she points a large pink arrow to the Grammy logo.
She has had quite a week celebrating her boyfriend's achievements. Last week she attended the 2019 "CMA awards" for the first time, where she was seen cheering in the crowd and gave him a big kiss when he won "Single of the Year."