Antonio Banderas Poses with Younger Girlfriend Nicole Kimpel and Daughter Stella at the Vanity Fair Awards
Antonio Banderas received the Personality of the Year Award and could also count himself a very lucky guy as he posed alongside longtime girlfriend, Nicole Kimpel.
Antonio Banderas, 59, looked smart on the red carpet in a classic black suit and bowtie as he attended the Vanity Fair Awards in Madrid on Monday. 
Banderas dressed for the part
The "Desperado" star brought with him the two main women in his life to celebrate the honor of receiving the Personality of the Year Vanity Fair Award. The photos are found below.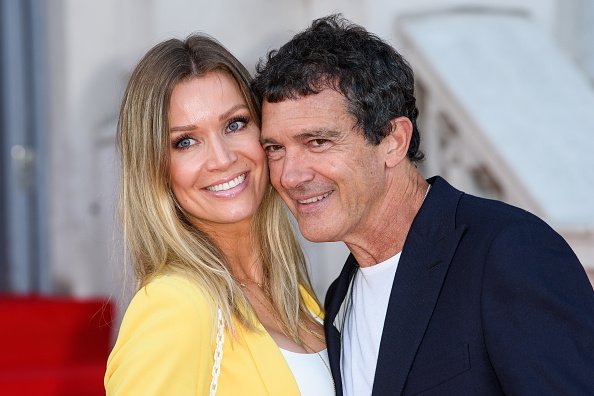 Banderas posed with his much-younger girlfriend Nicole Kimpel, 40, as well as his daughter Stella del Carmen Banderas, 23. Stella is also the daughter of Banderas' ex-wife Melanie Griffith. 
Kimpel showed out in black and purple
Kimpel, who is an investment banker according to the Daily Mail, looked stunning next to her man. She wore a purple and black dress that featured long sleeves and a low neck. 
She accessorized with a purple necklace and silver earrings, as well as a black glittery handbag with a shimmery silver strap. Her dark blonde hair fell straight with a medium part. 
Stella chose a simpler ensemble
Meanwhile, Stella looked gorgeous in a chic sleeveless black dress, which she paired with matching peep-toe heels and a black handbag. Her hair was sleeked back and tucked behind her ears. 
Both women took their turns posing with "The Mask of Zorro" star. Actress Grace Johnson also turned up to support Banderas, posing with Stella on the red carpet as well. 
How his girlfriend once saved his life
The star-studded occasion follows a recent interview during which Banderas revealed that Kimpel saved his life in 2017. The actor shared the story on "Jimmy Kimmel Live!" 
Banderas told Kimmel how he was suffering from a benign heart attack one day when Kimpel gave him a maximum strength aspirin that saved his life. 
As a result, Banderas quit smoking. He and his multi-lingual partner have now been together for five years. Additionally, he's still on good terms with ex-wife Griffith after their 18-year marriage.
Banderas was a big winner this month
Banderas attended another award show earlier this month and was joined again by his girlfriend and daughter. The three showed up at the Hollywood Film Awards where Banderas won for Best Actor. 
This time, Banderas wore a full tie with a black suit. He later shared a video and pictures on Instagram. Kimpel looked glamorous in a black dress and Stella in a red. Beautiful people surround Banderas.