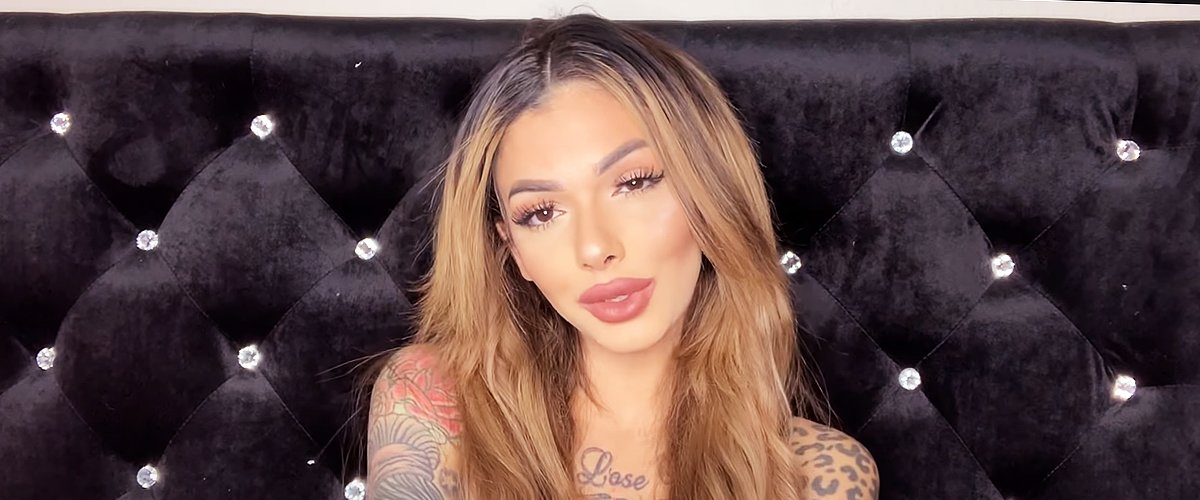 youtube.com/Celina Powell
Glimpse into the Life of Celina Powell, Known for Her Affiliation with Different Rap Artists
Many people try to avoid being the subject of gossip but not Celina Powell, who is notoriously known for her many cheating allegations with various rappers. Here are a few known facts about her.
Celina Powell has earned herself the title, "The Black Widow," thanks to the high number of scandals she has with notable figures in the American rap industry.
There is always very little verified information when it comes to Powell, which makes her a mystery of sorts. Here are a few known facts about her.
CELINA POWELL EARLY BEGINNINGS
According to reports, Powell is a native of Denver, Colorado. Born Celina Rae Powell on June 13, 1995, she is 24, and her aunt reportedly raised her.
She is one of three children and is reported to have attended Wheat Ridge High School. Very little is known about the multiracial beauty who is continuously creating a buzz on the internet.
CELINA POWELL ON SOCIAL MEDIA
Celina Powell can be regarded as a social media star with her official Instagram, @celinapowellxo, especially widely recognized. Just a few months ago, Powell took to the platform to celebrate earning herself 100k followers.
This is despite the fact that the current profile would be her seventh thanks to her many scandals both on and off the social media platform. As at the time of this article, the number of Celina's Instagram followers is well over that at 193,000, which shows enough proof of her ever-growing popularity.
Since the release of the sex tapes, there's been more drama between 69, Celina, and Snoop.
Powell also has an official YouTube platform through which she frequently shares stories about her encounters with celebrities, although not many of them can be verified accurately.
CELINA POWELL NET WORTH
Celina Powell's exact worth is unknown, but reports share that the total sum of her wealth ranges between $100,000 and $1,000,000 according to Networthstats.com.
It is reported that Powell, who has continuously been charged with allegations of extortion, gets most of her wealth from the success of her YouTube account as well as Instagram.
CELINA POWELL'S LOVE LIFE
As widely proclaimed as Powell's love life may seem, it is one that is still shrouded in mystery. She is only ever "alleged" to be in a relationship with multiple rappers with her most famous stunt being faking a paternity test to claim American rapper, Offset fathered her non-existent baby. Here are a few artists she has been famously linked to.
CELINA POWELL AND OFFSET
The rapper's marriage to Cardi B, with whom he shares a baby, almost went down the drain when Celina Powell came forward to accuse Offset of impregnating her.
At the time, Powell brought forth proof to back her claims. She publicly shared a paternity test result that showed that the star was indeed the father of her alleged unborn child.
She took it to the extreme when she posed her friend's baby to be her newborn. But, thankfully, that came to an end with the young beauty coming forward with a "sincere apology" directed at Cardi B. This is perhaps her most famous stint yet thanks to Offset and Cardi's caliber in the rap industry, but that is surprisingly not all!
SNOOP DOGG AND CELINA POWELL
Numerous pictures of Celina show that she is gorgeous, which makes most admittedly believe her claims of being in relationships with notable stars.
That includes veteran rapper and father of four, Snoop Dogg. Powell claimed she hooked up with the West Coast gangsta rap legend while listening to his gospel album, "Bible Of Love."
Soon after this, Dogg hinted at starring in an upcoming television show called "Clout Chasers." He said:
"Be on the look out for my new, new TV show. This is a good one. It's called Clout Chasers. First episode, next week. Be sure to check it out."
Other notable figures Celina Powell has been linked to include Dwight Howard and SIX9INE, who she allegedly agreed to stage a relationship with her.
Recently, Celina Powell released exclusive sex tapes of herself and rappers, Tekashi 69 and Snoop Dogg. The Instagram star made sure to inform her fans on her Instagram story about the new release.
However, Celina told her fans that to view the tapes, they had to subscribe to her account, OnlyFans, which is $29.25 a month.
Since the release of the sex tapes, there's been more drama between 69, Celina, and Snoop. Not long after Celina released the tapes, rapper Snoop Dogg took to his Instagram page to share an image of himself and his wife, Shante Broadus.
69, however, took to the post's comment section to ask Snoop why he is posting images of his wife a few days after Celina dropped his sex tape with her. 69 further stated that Shante deserved better.
This seemed to have riled Snoop, who took to his page to share more images. The drama didn't finish there. Celina poured gas to the fire when she posted a Facetime video that suggested that Snoop Dogg was asking her to team up with him against 69. It seems like when you're with Celina, the drama never finishes.
WHAT REALLY HAPPENED BETWEEN CELINA AND SNOOP
After Celina Powell accused rapper Snoop Dogg of cheating on his wife with her, many were split considering Celina's controversial past.
Snoop also didn't help matters when he denied the cheating allegations levied against him and even made light of it by telling his fans that he would be starting a new TV show called, "Clout Chasers."
However, Celina came back with a lengthy video to give full detail of her affair with the rapper. In the lengthy video, Celina revealed that she secured Snoop's number and after they began texting.
According to Celina, Snoop Dogg flew her over to Los Angeles from Colorado. During their meet, Celina claimed that she and the rapper engaged in intimate affairs, and the rapper even snorted cocaine off her chest before they finally said their goodbyes.
That was, however, not the last of it. Celina alleged Snoop later invited her to the BET Awards as his guest, but she declined since she had nothing to wear.
The influencer continued her story by stating that at a later date, she went to Snoop's house, and she was dropped minutes away from his house by Snoop's bodyguard at 5 am. She claimed that she was stranded at the time, but Snoop compensated her later by sending her $20,000.
The Instagram influencer is known to thrive on juicy drama, and this one seems to be the latest of her rendezvous. What do you think of Celina Powell? If you liked this piece, remember to share it with your friends.
Please fill in your e-mail so we can share with you our top stories!