Eve Flaunts Curvy Figure in Sparkly Catsuit, Black Thigh-High Boots & Matching Gloves for 'Voice' Performance with Gwen Stefani
Rapper Eve sparkled with rhinestones from head to toe for her duet with Gwen Stefani on "The Voice."
"
The Voice" welcomed a very special guest
in their most recent episode:
rapper Eve
, who dazzled the audience with her performance, and her sparkling costume.
Eve was there to commemorate Gwen Stefani's " Love.Angel.Music.Baby." which was launched 15 years ago, and cemented her solo career.
Gwen was joined on stage by Eve and the two women delivered an electrifying rendition of "Rich Girl."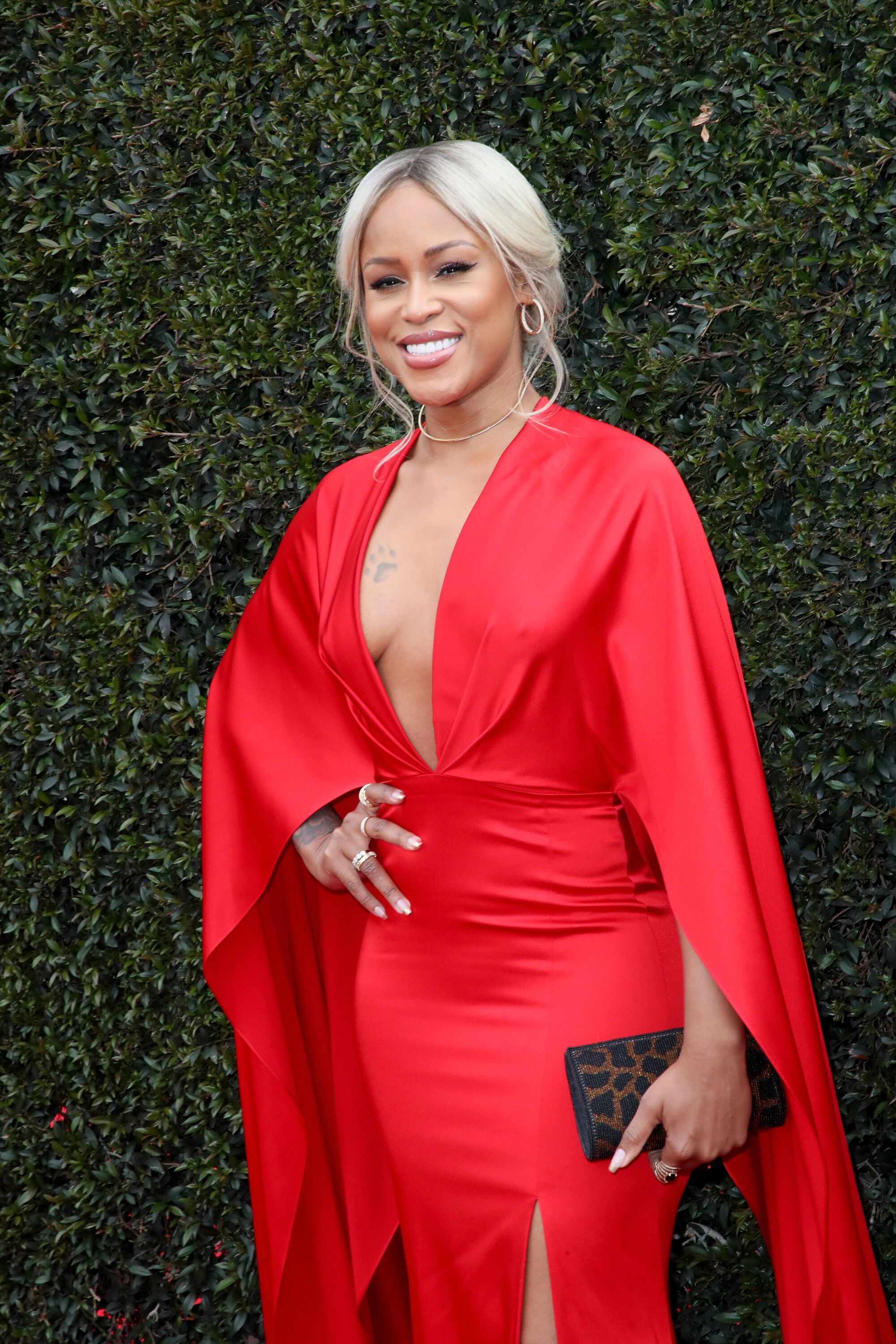 EVE SINGS DUET WITH GWEN STEFANI
Among the many hits from the " Love.Angel.Music.Baby." album, which made the No Doubt lead singer a star in her own right, was a duet with Eve: "Rich Girl."
After belting out "Whatcha Waiting For" and "Hollaback Girl," Gwen was joined on stage by Eve and the two women delivered an electrifying rendition of "Rich Girl."
EVE SPARKLES IN RHINESTONES
Eve was wearing a clinging black bodysuit studded with a myriad of sparkling rhinestones, shining black knee-high boots, and elbow-length vinyl black gloves. Her hair was swept up into a high ponytail, and she wore dramatic double-hoop earings.
As for Gwen, she looked just as stunning in a gold lace tasseled leotard, with daring cutouts over black fishnets and knee-high black boots. She wore dramatic pale blue satin puffed sleeves that made her look like an angel. 
EVE AND GWEN - TOGETHER AND AGELESS
It's hard to believe it's been 15 years since the two recorded "Rich Girl." Eve and Gwen look as gorgeous today as they did back then - and some fans say they look even better.
Applauding the whole performance was Gwen's love, Blake Shelton, whom she met on the set of "The Voice."
The couple have been in a steady relationship for years now, and this year they even brought the Stefani and the Shelton clans together for Thanksgiving on Blake's ranch.
We could hope for a summer wedding at the same venue...
EVE AND HUSBAND OF 4 YEARS CELEBRATE THEIR LOVE
Rapper Eve has celebrated her 4th wedding anniversary to millionaire  Gumball 3000 founder Maximillion Cooper.
Eve and Maximillion first met at a Gumball 300 rally in 2010 and married in a romantic ceremony on Ibiza in 2014.
After 8 years together, and 4 years of marriage, the couple seems as in love as ever, and Eve had revealed that they intend to give Max's 4 children from his previous marriage a sibling.
Sadly, the rapper has been struggling with infertility and has opened up about her struggles, hoping to encourage other women to seek help.